Big Zuu's Journey To BAFTA-Winning Fame Is Super Inspiring
Is there anything the Hungry For It judge can't do?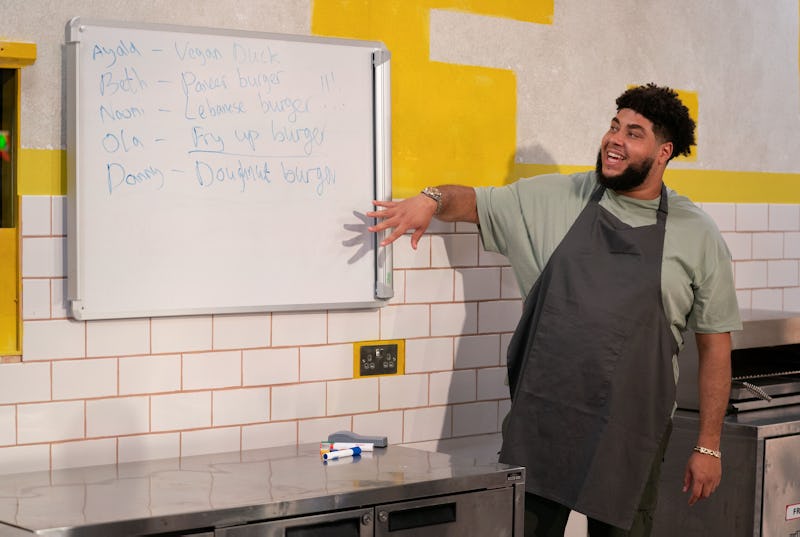 BBC/Jack Barnes
The BBC has launched its brand new cooking competition show, titled Hungry For It. The ultimate cookery crash course, Hungry For It follows ten aspiring chefs as they compete to win the praise of three judges, including television presenter Stacey Dooley and celebrity chef Kay Kay. The third judge is musician and foodie Big Zuu. For those who aren't familiar with his work, keep reading to find out who Big Zuu is and what more there is to know about the Hungry For It judge.
Big Zuu, born Zuhair Hassan, is a rapper and self-taught chef. The 26-year-old artist was born in West London. His mother is from Sierra Leone and his father from Lebanon. He is best known for presenting Big Zuu's Big Eats, a television series he launched on Dave in May 2020. The series has had two successful seasons, with a third one now in the works. It follows Hassan and his two school friends, Tubsey and Hyder, as they cook for some of entertainment's biggest names from their food truck.
Before entering the entertainment industry, though, the ex-Nando's employee spent his gap year between college and university working as a mentor for young children in a secondary school in Haggerston, East London. The avid Liverpool football club fan also attended Goldsmith's University in New Cross, South East London, to study for a community development and youth work degree.
Big Zuu is part of the rap group MTP (My Team Paid), which consists of his cousin AJ Tracey, and other grime MCs. Zuu says his music style is influenced by "old school people" from American Hip-Hop legends like Tupac Shakur to British Grime rappers like JME, Ghetts, and Skepta. Zuu released his debut studio album Navigate on October 22, 2021. He has also appeared as a featured artist on YouTube sensation and fellow rapper KSI's single "Uncontrollable" in 2018.
Since the launch of his Dave cooking show, Big Zuu has gone on to make several other television appearances including on Guessable and Channel 4's special Big Breakfast return for Black To Front day in 2021.
Taking his career to even greater heights, Big Zuu was awarded two BAFTA TV Awards at the 2022 ceremony. The awards he received were for Entertainment Performance and Features for Big Zuu's Big Eats. His BAFTA speech went viral on social media as he said, "We did this for working-class people. People who come from nothing."
Now Big Zuu is starring in a prime-time BBC Three show. Set in Peckham, South East London, Hungry For It sees ten contestants live and work together while competing to win the foodie trip of a lifetime.
Throughout the series, you can expect to see special celebrity guests such as Snoochie Shy, Michael Dapaah, AJ Tracey, Julie Adenuga, and more. There will also be appearances from professionals who work at food brands such as Nando's and Quorn as well as a few food photographers, too.
Speaking to the BBC about working on Hungry For It, Big Zuu said, "We're in a different age [and] inspiring young people to cook is really important. The next generation is fuelled by their delivery apps and they're not always inspired to get in the kitchen."
Touching on the current issue of the cost of living the UK is facing at the moment, the rapper added "We're in a cost-of-living crisis and cooking for yourself saves you money and is better nutritionally. I feel like it's important to create avenues to inspire the younger generation to get into cooking, especially through the public broadcaster that is the BBC."
Sharing what viewers can expect from Hungry For It, Big Zuu added, "Some of the mash-ups we had on there were incredible." He continued, "There are some great representations of where people come from."
Watch Hungry For It on Tuesdays at 8 p.m. on BBC Three.