Cara Delevingne Had A "Very Low-Key" Valentine's Day With Her New Girlfriend
The model and actor has been linked to Minke since they were spotted showing PDA in Italy.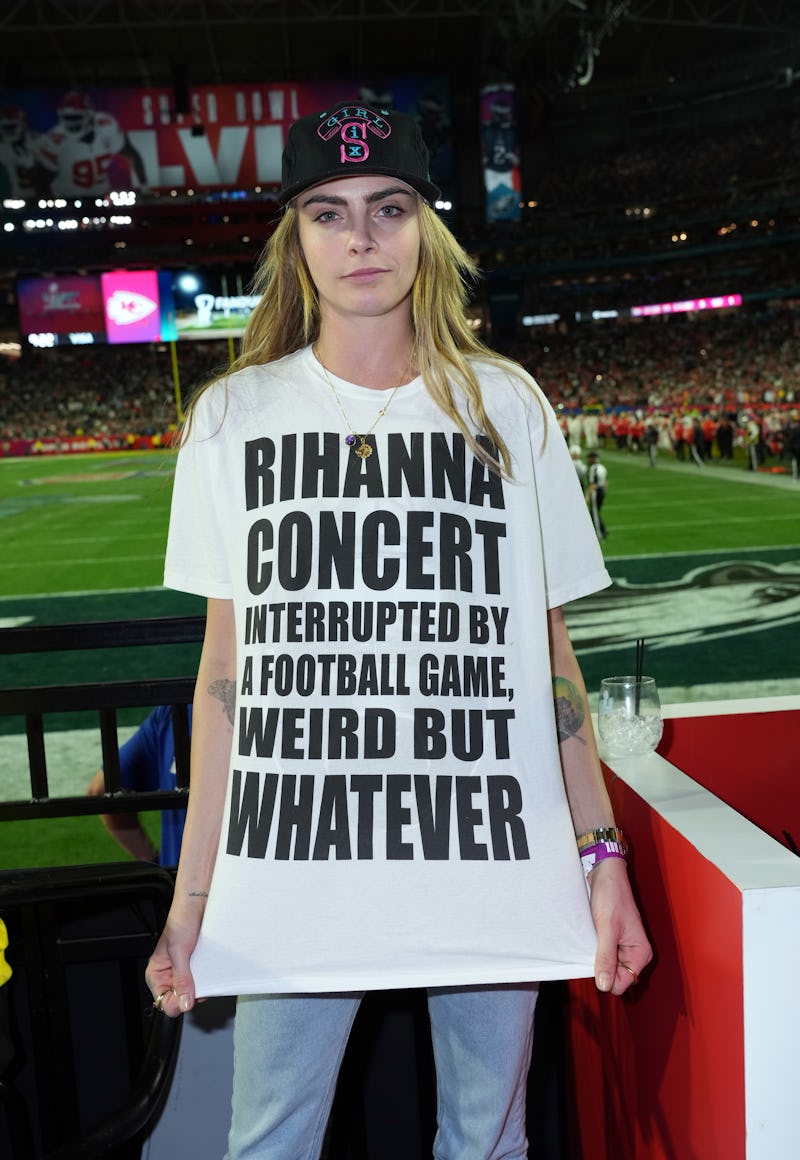 Kevin Mazur/Getty Images Entertainment/Getty Images
It's been a long road for Cara Delevingne to accept who she is, but now that she's living as an out and proud pansexual woman, fans are naturally wondering who she's been dating. The Carnival Row star has been linked to Minke since June 2022, when they were seen showing PDA on a vacation to Portofino, Italy, and they seem to still be going strong.
The couple has kept very quiet about their blossoming relationship, never posting about each other on social media. But right before Valentine's Day, they were spotted on a romantic getaway to Mexico, proving that they're still going strong. During a Feb. 13 interview on The Kelly Clarkson Show, Delevingne said the couple would be celebrating their first V-Day together in a "very low-key" way, without naming Minke directly. "Sometimes I'll do a 'Galentine's Day.' [This year,] I'll probably be spending it at home with my dogs and my girlfriend," she explained.
Like Delevingne, Minke originally hails from London. The 31-year-old singer-songwriter signed to a Nashville label when she was just 18, initially performing blues tracks under her birth name Leah Mason, before feeling restricted by her material and deciding to reinvent herself. "That's where Minke came from," she told The Line of Best Fit. "I wanted to take those [blues] roots – because that's in my DNA – and be true to my experiences. That's why [Minke] has got some blues guitar riffs in there, with modern production and pop stuff in between."
Prior to Minke, the model was linked to Sienna Miller after they were reportedly spotted making out at New York's Temple Bar by Page Six in January 2022. Delevingne dated Pretty Little Liars star Ashley Benson for two years before splitting in early 2020. That year, Delevingne declared herself pansexual in an interview with Variety. "However one defines themselves, whether it's 'they' or 'he' or 'she,' I fall in love with the person — and that's that," she explained.
However, as she told Gwyneth Paltrow on a Goop podcast in March 2021, it took her a long time to accept herself. "I grew up in an old-fashioned household. I didn't know anyone who was gay," she explained. "Actually, I think growing up… I wasn't knowledgeable of the fact I was homophobic. The idea of being [with] same-sex [partners], I was disgusted by that, in myself." She continued to expand her understanding of her sexuality on the Hulu docuseries Planet Sex, as she told Variety on Feb. 14. "Advocating is one thing, but being a part of the community and enjoying and celebrating your own queerness is different," she said. "I feel like I did that for the first time, and it was amazing. Seeing other people so proud and so comfortable with who they are inspired me so much."