Millie Bobby Brown Seemingly Announces Engagement Using Taylor Swift Lyrics
The Stranger Things star met Jake Bongiovi through Instagram.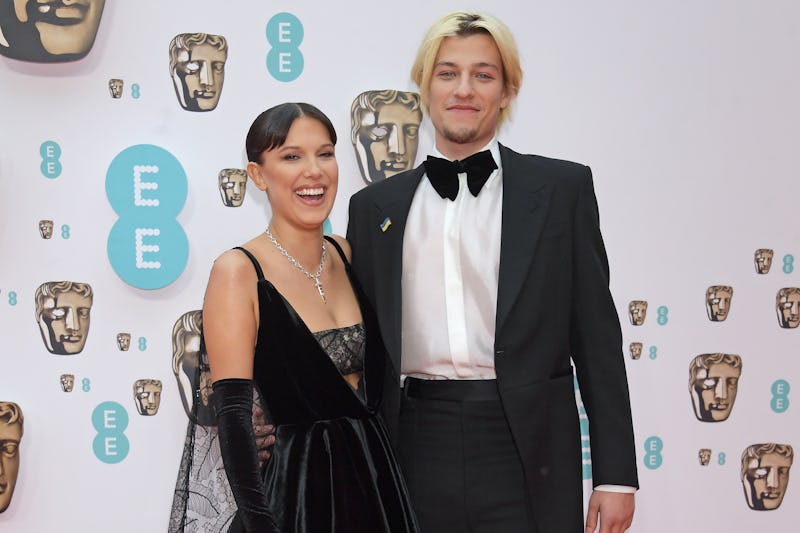 David M. Benett/Getty Images Entertainment/Getty Images
Just like that, Millie Bobby Brown and her boyfriend Jake Bongiovi are seemingly engaged after nearly two years of dating. The couple alluded to their engagement in dual Instagram posts, with the Stranger Things star showing off a sparkling new diamond ring.
Brown and Bongiovi made their red carpet debut at the 2022 BAFTAs in March 2022, stepping out together for the first time. They've since walked the Stranger Things S4 premiere red carpet together, too. Bongiovi – full name Jacob Hurley Bongiovi – is the son of singer Jon Bon Jovi and Dorothea Hurley. According to Hollywood Life, the 20-year-old has three siblings: two brothers, Romeo and Jesse, and one sister, Stephanie.
In 2022, Brown and Bongiovi started stepping out as a couple at landmark events. But the two have been romantically linked since mid-2021 and had met on Instagram. "And we were friends for a bit, and then, what can I say?" Brown told WIRED about their connection in 2022. Here's a look back at their relationship timeline.
June-July 2021: Dating Rumours
The duo was first seen together (at least, on Instagram) on June 3, 2021. Bongiovi shared a selfie of the two of them on a car ride, with the caption, "bff <3." Brown commented underneath with "BFF 🦄."Next, on July 12, the two of them were spotted holding hands while out for a stroll in New York, per PEOPLE. Bongiovi had Brown's dog Winnie in tow, carrying her in a tote bag. On July 12, Brown shared a selfie of the two of them to her Instagram story. Her face was resting on his head, and her arm around him, per Cosmopolitan. She captioned it "Happy weekend".
Oct-Nov 2021: The Soft Launch
Bongiovi turned the "couple" snaps up a notch here, posting the two of them while out for coffee. Plus, a CCTV phone camera selfie of the two of them laughing, captioned: "We're starting a band send name ideas." Brown first started posting Bongiovi to her Instagram grid on Nov. 1. At first, it wasn't clear who he was from the photos. In one post, the couple were seen embracing on the London Eye with both their faces blurred and nobody tagged. But, fans speculated in the comments that it was Bongiovi with her. And by this point, she'd become a regular feature on his Instagram, so it was kind of a given.
Dec. 2021: Spending Christmas Together
By Christmas, Bongiovi was in full view in Brown's posts. She shared a candid festive snap of them both on Dec. 25. The pair were seen in New York (under the Rockefeller Center Christmas tree) before that on Dec. 14, though, per Bongiovi's Instagram.
Feb. 2022: Brown's Barbie & Ken Birthday Bash
The actor launched a special collection of lip bundles for Florence By Mills, her beauty brand, to mark her 18th birthday. On the day (Feb. 19), Bongiovi shared a very blonde snap, wishing Brown a happy birthday. She posted the same photo. (They dressed as Barbie and Ken for her 18th birthday bash at London's Cirque Le Soir nightclub and SoHo's Windmill nightclub.)
March 2022: The Red Carpet Debut
The couple officially went public at the 2022 BAFTAs. Walking the red carpet, Brown and Jake Bongiovi matched in black. They made similar posts about the event on March 13 and March 14. Brown wore a black velvet dress, with lace embroidery, black sequins, and glass bead embellishment by Louis Vuitton, which she paired with elbow-length opera gloves and silver jewelry. Bongiovi kept it simple with a black suit, which he topped off with a bow tie and a pin of Ukraine's flag on his lapel, in solidarity with the country amid the Russian invasion.
Brown went on to share the BAFTAs stage with Florence Pugh to present the award for Best Supporting Actor, becoming an unexpected highlight of the evening. "A duo made in absolute heaven," according to one Twitter user. Brown and Bongiovi make a pretty heavenly duo too.
May 2022: Jet-Setting, Bongiovi's 20th & Stranger Things S4
On May 15, the couple coordinated their looks again. They matched in monochrome, both with blonde locks, at the S4 Stranger Things premiere. Bongiovi posted a photo of them together on the red carpet, captioned: "Congratulations babe u deserve the world love you 🥳". While Brown posted a snap of (just) herself from the premiere. On May 7, she wished Bongiovi a happy birthday, with a post of both of them mid-air, celebrating on a beach (potentially a throwback photo). The caption read: "happy birthday baby, can't wait to fly to the moon and back with you! (Schroobie noobie)".
Most recently, on May 23, the Stranger Things star posted a loved-up gallery of the two of them on holiday. It featured sunny PDA snaps, one of her asleep on his shoulders, and famous landmarks, with the simple caption, "te amo". Bongiovi posted a similar gallery, captioned: "Alexa play late night talking by Harry styles". Flying high, and blissful.
April 2023: They're Seemingly Engaged
Early in the morning of April 11, Brown and Bongiovi seemingly announced that they were engaged in dual Instagram posts. The Stranger Things star shared a black-and-white photo of Bongiovi embracing her on the beach, as she's wearing a sparkling diamond ring on her left hand. She turned to none other than Taylor Swift for her caption, using lyrics from her 2019 single "Lover," which details a couple walking down the aisle. "I've loved you three summers now, honey, I want 'em all," she wrote.
For Bongiovi's part, he shared two photos from their beach outing, including one of him caressing Brown's face as they seem to relax on a boat. The ring is not visible in either photo, but he did caption the post, "Forever," with just a white heart emoji.
Bustle has reached out to Brown and Bongiovi's reps for comment but did not receive an immediate response.
This article was originally published on