Line Of Duty Paid Tribute To Stephen Lawrence & Christopher Alder In New Storyline
A fictional character combines the devastating final moments of both men.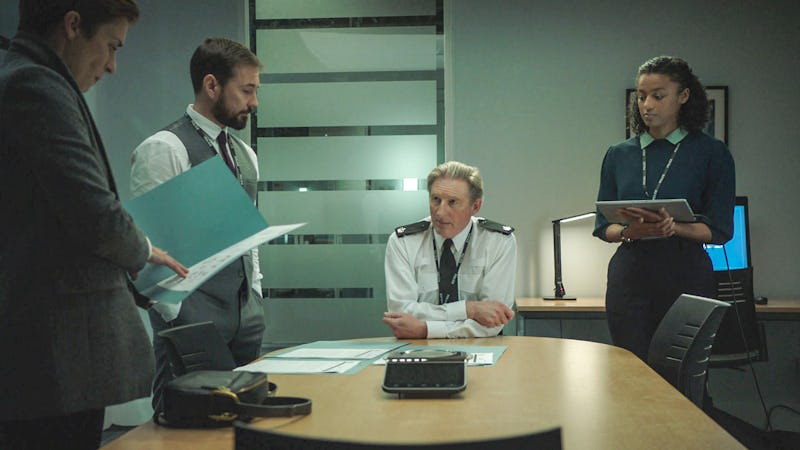 World Productions/BBC
Much like Ted Hasting's obsession with the letter of the law, Line Of Duty fans are acutely aware of the level of detail (and Easter Eggs) that go into the making of Jed Mercurio's BBC drama. Eagle-eyed viewers will not have failed to take note of a deeply meaningful fictional case in the latest episode. Lawrence Christopher's case bears a strong resemblance to the real-life murders of Stephen Lawrence and Christopher Alder. Fans are praising Line of Duty for drawing attention to these cases and continuing the conversation on institutional racism within the police. But what do we know about Lawrence Christopher's case in Line of Duty?
The sixth season of Line of Duty focuses around the investigation of the suspicious death of Gail Vella, a prominent Black journalist. In episode five, DS Steve Arnott and AC-12 finally start putting links together between Vella's death and her last investigation, which uncovered the truth about the death of a young Black architect, Lawrence Christopher, in police custody years prior. Thus, AC-12 believe, she had uncovered deeply embedded police corruption.
Per the Independent, the fictional Christopher was attacked by a gang of white youths. Beaten over the head with a lead pipe, and later died in police custody after his wounds were not correctly diagnosed. All while being racially abused by the arresting officers. The suspects – which included Darren Hunter, son of Tommy Hunter – got off "scot-free". AC-12 therefore have a major cover-up on their hands; one which would imply several high-ranking police officials.
Systemic racism within the police and institutional cover-ups make for a heavy – but all too real – storyline. The fictional case of Christopher Lawrence recalls the real-life scandals created by the murder of Stephen Lawrence and the death in custody of Christopher Alder in very accurate ways.
Stephen Lawrence was 18 years old when he was murdered in 1993 in a racially aggravated attack in South London. Christopher Alder died whilst in police custody, aged 37, in 1998. Officers were caught mocking the former Falklands paratrooper as he lay on the floor dying. Much like the fictional Line of Duty character, their families had to campaign for justice. And in the case of Stephen Lawrence, only two of the five men were ever put on trial for his murder.
While talking about the case of Lawrence Christopher, one of the show's detectives mentioned that he was an architect who had never been in trouble with the law, ringing true of the real-life Stephen Lawrence, who wanted to be an architect. DC Chloe Bishop also mentioned that the custody officers were "laughing and making monkey noises while Christopher lay dying," stating that they were later cleared of misconduct. Both elements sadly based on Alder's death.
Race and equality specialist Sofia Akel said on Twitter: "The fictional character Lawrence Christopher combines the devastating final moments of both men at the hands of racist thugs, racist police and the criminal justice system," she continued. "Since 1990 over 100 Black people have died during or following police contact. 0 police have been prosecuted for murder or manslaughter. Despite several rulings of 'unlawful killing.'"
Mercurio has previously said that the murders of Jill Dando and Maltese journalist Daphne Caruana Galizia inspired the storyline of Vella's death. Whilst he hasn't spoken about Lawrence or Christopher's deaths playing a part in his latest storyline as such, he is certainly no stranger to either; especially Stephen Lawrence. Mercurio is the executive producer of ITV's sequel to The Murder of Stephen Lawrence, titled Stephen. The former recreated the attack and followed the case through the eyes of his parents, Doreen and Neville Lawrence. The latter will portray the investigation and convictions of two of the gang members who committed the murder.