Riley Keough's Husband Had A Very NSFW Cameo In Daisy Jones & The Six
She met Ben Smith-Petersen while filming Mad Max: Fury Road before they got engaged in 2014.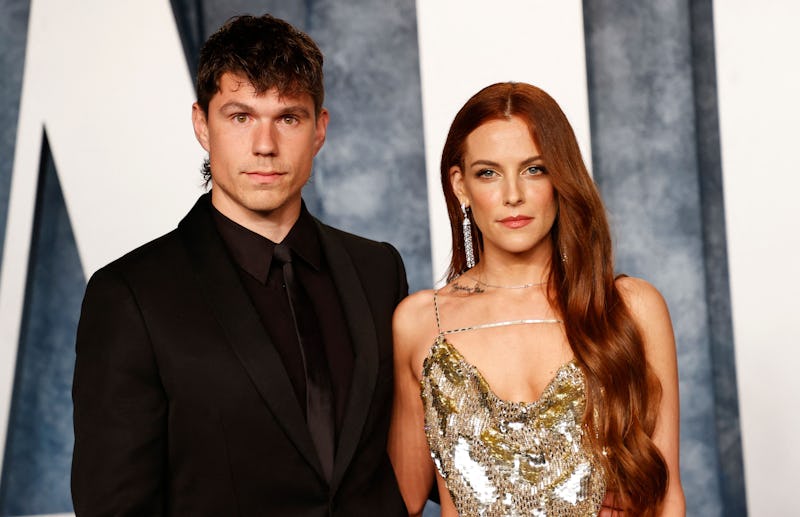 Michael Tran/AFP/Getty Images
Spoilers ahead for Daisy Jones & The Six. In Daisy Jones & The Six's seventh episode, Riley Keough's character gets married — and now fans may be wondering who Keough is married to IRL? The answer: Ben Smith-Petersen, who had a cameo during Episode 2 as part of a sex scene with his real-life wife. She revealed on Late Night With Seth Meyers that "the cameo came about because I have to have intercourse with a random person in the show, and the producers were like, 'It would be so funny if it was your husband.'"
Keough, who plays the titular character, admitted that it was more awkward than she had anticipated to have her husband as her scene partner. "I think [the producers] were thinking it would be less awkward, and then we got there and they're like, 'This is really uncomfortable.'
"For one, I've never had pretend sex with my husband," she said. "And for two, you know, normally, typically, when you do these things and it's somebody coming in for the day, you're like, 'Hello, nice to meet you,' and you kind of get down to business and it's very professional. But with him, it was just, like, really … We were just giggling the whole time."
Keough explained that her character was "not really enjoying" it. "I really kept feeling inclined to be like, 'In real life, it's not like this.' And I was like, 'I'll just keep that to myself,'" she said.
Awkward Daisy Jones cameo aside, Smith-Petersen and Keough have a love story that started in show business. The Australia native is a stuntman and has appeared in films like Suicide Squad, The Hunger Games: Catching Fire, and The Great Gatsby. He also acted in Spark and Light, which Keough appeared in. They met while filming Mad Max: Fury Road, and got engaged in August 2014. The couple tied the knot the following year, twice — their first wedding was in Nepal where they were building a school together. Weeks later, they got married in Napa, Calif.
She told USA Today in 2016 about the spark she had for him early in their relationship. "Two weeks into dating him, we were at a gas station and I was like, 'I could see myself having kids with this person.' It was kind of like I knew I was meeting my husband."
Years later, the sentiment hadn't changed. "My husband is such a good person," Keough wrote in a 2022 essay for Vogue Australia. "He's calm and loyal and strong and sensitive. He's my best friend." In the essay, she recounted the early days of their relationship, revealing that they got matching tattoos the third time they hung out. "Everything is exciting to me, with him," she concluded in the personal essay. "Every day is exciting when you're with your soulmate."
In January 2023, Smith-Petersen revealed that he and Keough were the parents of a baby girl, born in 2022. Details on the exact birthdate and name have yet to be revealed.