The New Grey's Anatomy Doctor Is Making History
You'll want to tune in on April 15.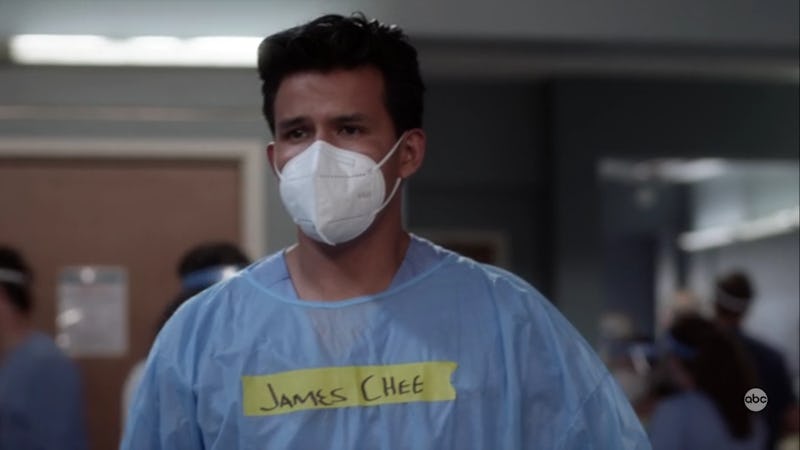 ABC
Spoilers ahead for Grey's Anatomy Season 17. With all the drama surrounding Meredith's illness, her death beach, and the endless lineup of beloved cast returns like Derek and Lexie, Season 17 of Grey's Anatomy hasn't had a chance to show too much of its newest class of interns at work. Just like the actors who play them, these doctors are entering the world of Grey Sloan Memorial Hospital at a time of major flux — but at least one of them will play a bigger role in the episodes ahead. Robert I. Mesa, who plays James Chee (as if you could forget, considering Koracick made all the newbies tape their names to their chests), has been promoted to a recurring cast member, according to Variety. Mesa, a Navajo/Soboba actor, will be the first Indigenous doctor on the show.
This isn't the first time Mesa had made history. As Variety reports, he also appeared in Manhatta, Yale Repertory Theatre's first-ever production of a play scribed by a Native playwright, Mary Kathryn Nagle. Now, as part of an unforgettable (and potentially final) season of Grey's Anatomy, he offers a fresh perspective on the hospital and its many tragedies.
So far, we have only seen James in Episode 3: Here, as part of his intern "scut," he was assigned digital filing for patients' discharges — much to his horror, though, every one of them had died. Talk about a difficult first day. But even in his brief time on screen, Mesa put on an emotional performance as a hopeful intern who's been deflated by the realities of COVID-19's deadly toll. Now that Koracick has faced the illness himself, perhaps his rough edges will be softened, and maybe he will take on a more nurturing mentor role with James. Whatever happens, we'll start to see more of James' story when he next appears in the April 15 episode.
Mesa took to Instagram to celebrate the news, writing, "I'm so excited and honored to be the first Indigenous Doctor" on Grey's." He continued and acknowledged "[how] much this is going to mean to my Indigenous Peoples."
On the show, James' intern class also includes the mother-daughter pair "Mama Ortiz" and "Young Ortiz," aka Alma (Lisa Vidal) and Sara (Melissa DuPrey). Based on Mesa's Instagram, it seems that he and DuPrey are friends IRL, too, so here's hoping we see more of them together in the episodes ahead.