Amanda Seyfried Has Made Her Pick For Sophie's Biological Dad In Mamma Mia
Could it be Sam, Harry, or Bill?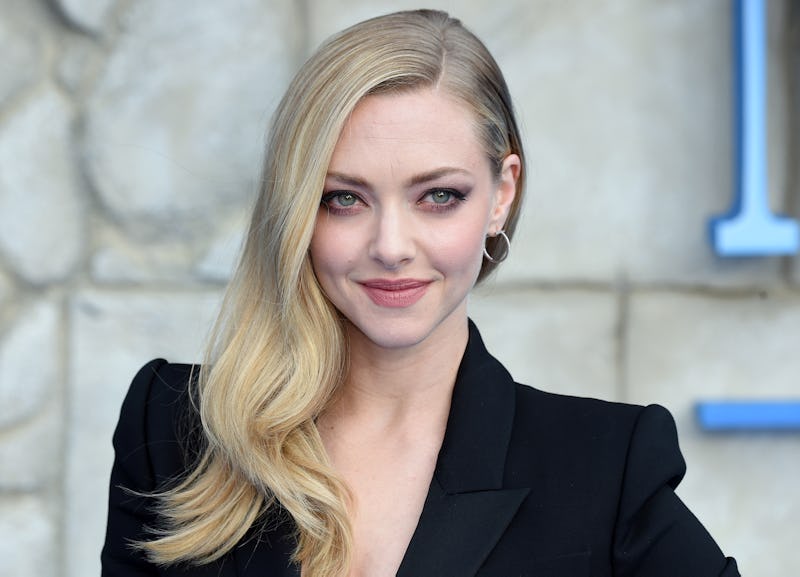 ANTHONY HARVEY/AFP/Getty Images
Fifteen years after the hit musical film Mamma Mia! was released in 2008, viewers still don't know who Sophie's actual biological father is, which is not even revealed in the 2018 sequel Mamma Mia! Here We Go Again. But Sophie herself, Amanda Seyfried, has an opinion on who it should be between Sam (Pierce Brosnan), Harry (Colin Firth), and Bill (Stellan Skarsgård), as she voiced in a Vanity Fair video posted on Feb. 22.
During the Mamma Mia! part of her "Scene Selections" video, Seyfried reflected on the scene where her character Sophie runs down a hill from her bachelorette party to ask Bill if he's her father, to which he simply responds, "Yes," shocked by the unconfirmed realization himself. "It's one of the purest moments in the movie because there's a lot of pride in Stellan, but also a lot of shock and fear," she explained. "Just full acceptance in this small amount of time. It's a full-circle moment. It's beautiful. Comedically, he's also very skilled, and because of this moment, I always secretly hoped it was Stellan that was really her father. Bill, I'm sorry."
Additionally, Seyfried loves the arc of Skarsgård's character quickly forming a bond with Sophie after living the bachelor life. "He was the person who seemed the least likely to want to have kids," she said. "There is a scene that was cut [with] a song called 'Name of the Game,' and we sing it together, and I'm begging him, 'What's the name of the game?' We had a lot of fun. We got really tight." But she also realizes how weird it would be if Skarsgård actually was Sophie's father, considering that he also played her boyfriend in the 2009 comedy Boogie Woogie. "Try that on," she joked.
By the end of Mamma Mia!, Bill, Harry, and Sam have all formed their own bond with Sophie, and she decides to accept all three of them into her life as her joint fathers, without finding out who it is biologically. Perhaps a much-demanded third movie would finally solve the mystery, but a new sequel has yet to be confirmed despite interest from the cast, including Seyfried. "I hope we do another one, but you know, no one's talking to me," she told Variety in May 2022. "I know if you ask any of the others they'll be like, 'Sure, but it's not going to happen.' But then that's what we said about the second one, and it was better than the first one!"