Anne Boleyn Cast A Fast & Furious Alum To Play The Queen's Cousin
Thalissa Teixeira is taking on the role of Madge Shelton in C5's new period drama.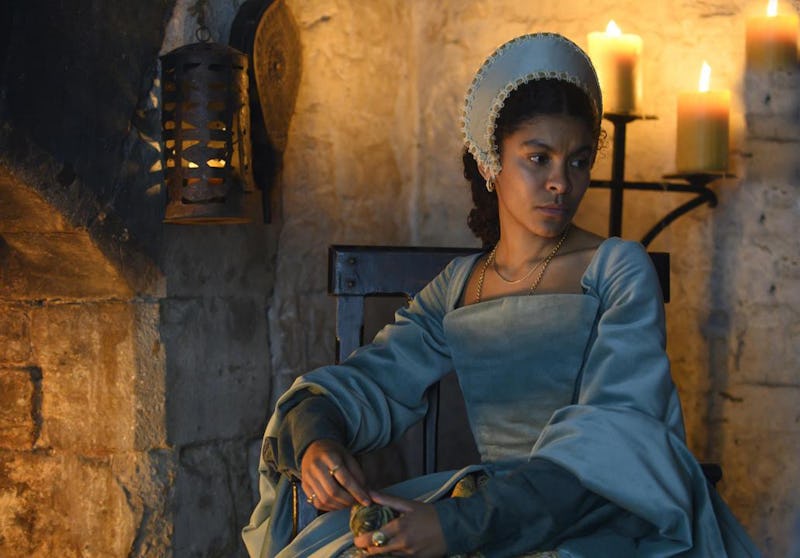 Fable / The Falen Falcon Ltd
Following the roaring success of Bridgerton and The Crown, Channel 5 have a brand new regal period drama coming to screens and it'll seriously give you your fix of scandal and huge dresses. Anne Boleyn stars Queen and Slim's Jodie Turner-Smith in the titular role and tells the story of her rise through the ranks as well as her demise and eventual execution. But who plays Anne's cousin, Madge Shelton?
If you're a fan of theatre, you may recognise Thalissa Teixeira. Entertainment Daily explains that the actor was born in Bradford but raised in Espírito Santo, Brazil. Teixeira returned to the UK with her mum when she was seven and started to pursue her acting dreams, eventually gaining a place to study at the Royal Welsh College of Music and Drama.
After leaving Royal Welsh, Teixeira took on a number of roles on stage. As her CV shows, she was in Othello, Blood Wedding, The Unknown Island, The Night Watch, and The Broken Heart. Speaking about her work in the theatre, What's On Stage called Teixeira "an actor and a half" and said "Teixeira has something that transcends talent: presence."
While she may have initially found success on stage, Teixeira soon landed a major onscreen role in BBC's The Musketeers in 2016, where she played Sylvie. Following that, she starred in a number of shorts and single episodes including Midsomer Murders, The Jonah Man, and Press. In 2019, she took on a smaller role in Fast and Furious: Hobbs and Shaw as Rosie's Nanny.
In 2020, Teixeira starred alongside Game of Thrones star Maisie Williams and Fleabag's Sian Clifford in Sky's dark comedy drama, Two Weeks To Live. In the series, Teixeira plays a police officer. "It is a good release to act a character who seems okay with shooting someone in the head," Teixeira joked to the Evening Standard at the time. "It's exciting to play a Black female cop, we don't often see roles for women like that."
Two Weeks To Live was a massive success and it wasn't the only thought provoking series Teixeira was in during 2020. She also played Gemma in the BBC series Trigonometry. Acting alongside Ariane Labed and Gary Carr, she's made up one third of a polyamourous relationship. Trigonometry explored the idea of shaping your own love life in defiance of society's rigid rules around romance.
Speaking to the Evening Standard, Teixeira said that her Trigonometry was really rewarding. "After Trigonometry, women, mostly brown women, come up to me having seen that and tell me they haven't felt like they have been represented like that on screen before," she said, "It was such a joy to be able to do that. Trigonometry offended people and I was glad that it did in a sense because then you know you are making something that is useful to other people."
While Teixeira won't be firing a gun in her latest role, she will be negotiating romantic relationships. In Channel 5's newest historical drama, Anne Boleyn, Teixeira plays Madge Shelton, a cousin to Anne and one of Henry VIII's mistresses.
In the run up to the series premiere, Teixeira spoke to the Radio Times about the decision made by casting director Kharmel Cochrane to cast Black, Asian and minority ethnic actors in Anne Boleyn's leading roles. Teixeira said, "We're embracing the fact that we are obsessed with these stories still, we're still telling stories about Anne Boleyn. And it's everyone's history. It was a British history, and Britain looks completely differently now," she said. "And I think that we can tell a story that goes beyond what we're saying. We're not just talking about Anne Boleyn. We're talking about stories about faithfulness, and sisterhood, and brotherhood."
You can see Teixeira in Anne Boleyn on Channel 5 at 9 p.m. on June 1.