Bridgerton's Simon Didn't Say "I Burn For You" & Regé-Jean Page Wants You To Know That
"This is an injustice that needs to be put right. ... I do not say, 'I burn for you'! It's not my line!"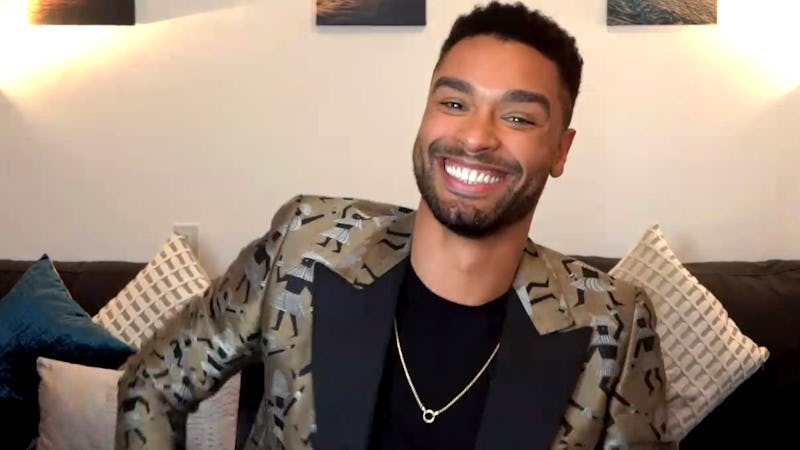 Getty Images/Getty Images Entertainment/Getty Images
As much as you may burn for Simon, Duke of Hastings, on Bridgerton, Regé-Jean Page wants fans to know one thing: He does not burn for you — mainly because he doesn't actually say the famous line in question. Bridgerton stars Page and Phoebe Dynevor just broke down the "I burn for you" scene from the Netflix show's fifth episode, "The Duke and I" — you know, where Simon and Daphne Bridgerton go from furiously arguing with each other to that scene where things escalate in approximately three seconds. Yeah, that scene.
It's not hard to see why fans have latched onto the scene. However, many have falsely attributed "I burn for you" to Simon out of pure passion, and Page is intent on setting the record straight. "No! This is an injustice that needs to be put right," he told Variety for its "Make a Scene" series. "No one's asked me about this. I do not say, 'I burn for you.' It's not my line! That's Daphne's line." Rather, he says the line, "When one burns for someone who doesn't feel the same," which leads to Daphne's heated confession.
Despite the common error, he's also admittedly flattered that some people thought he said the now-iconic line, calling it a "Mandela effect" of sorts. "Everyone clearly was feeling very burned for, which I'll take as a compliment," he said.
As for Dynevor, who actually uttered the line so emotionally and passionately, she knew what a pivotal scene the speech was for Simon and Daphne before filming. "I remember reading it and thinking, 'Wow this is the big one' because not only is it the performances but the journey that we go from fighting and not being friends to the total other end of the spectrum," she said. However, she was still surprised that "I burn for you" caught on as much as it did online. "You have no idea what lines people are going to care about," Dynevor said. "It wasn't like I saw 'I burn for you' in the script and was like, 'This is what people are going to talk about.'"
Indeed, "I burn for you" has become a cultural phenomenon. Fans have designed T-shirts, coffee mugs, and even candles with the line printed on them. Page even recreated the scene during his Saturday Night Live hosting stint in February, and he actually declared, "I burn for you, Daphne" this time. On second thought, maybe that led to the confusion. But given that Page will not be returning to Bridgerton's second season, at least there won't be another opportunity for fans to confuse who said what.