Everything To Know About Bridgerton Season 3
Nicola Coughlan calls the upcoming season "so romantic" and "very true" to the book series.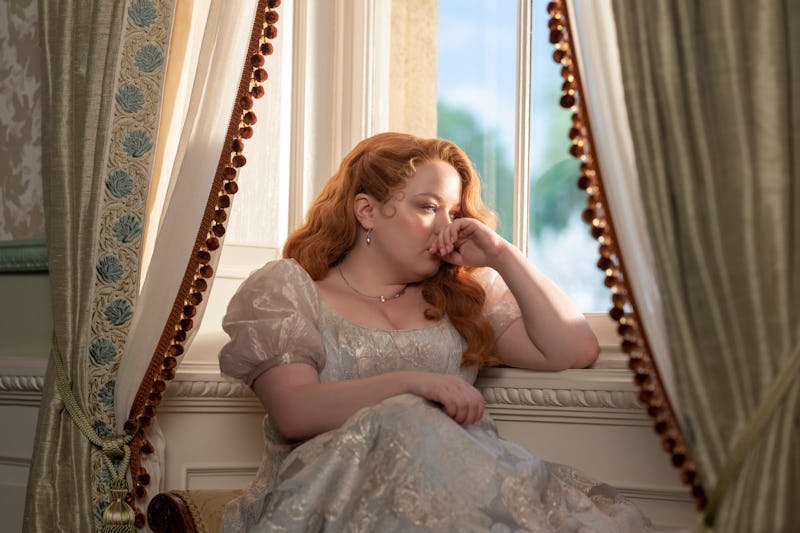 Netflix
After the sheer excitement of Bridgerton Season 2 and the spinoff Queen Charlotte, fans are eager to see the next installment of the Netflix series. Fortunately, this isn't one of those "will Netflix renew my favorite TV show or give it the ax" situations because more Bridgerton is already confirmed. Given how Season 1 captivated viewers (the show casually became Netflix's biggest hit ever and scooped up an Emmy win), it makes sense that fans were clamoring for Seasons 3 and 4 well before they even saw Season 2. Though Netflix (er, Lady Whistledown) has only announced the scantest of details about these future seasons, we already have a pretty good idea of what they will look like based on the Bridgerton books.
Season 1 followed Daphne on her search for a suitor (based on the first book, The Duke and I), and Season 2 covered Anthony's "quest to find a Viscountess" (based on the next book, The Viscount Who Loved Me). Bridgerton fans assumed the third season would follow Benedict Bridgerton, the protagonist of the third novel, An Offer from a Gentleman.
But in May 2022, viewers learned that Benedict's love triangle would have to wait, as Nicola Coughlan, who plays Penelope Featherington (aka the infamous Lady Whistledown herself), announced that Season 4 will explore Colin and Penelope's romance (from Julia Quinn's fourth installment, Romancing Mister Bridgerton). Coughlan posted, "Like Lady Whistledown I've been keeping quite a big secret for quite a long time … but I can finally tell you that [Bridgerton] Season 3 is Colin and Penelope's Story."
Although some fans were not best pleased with the show's deviation from the original book order, Bridgerton author Quinn revealed in a May 2023 interview with Insider that she is totally fine with the change, and shed light on why she thinks showrunners decided to switch up the show's romance order.
"I think they had just felt they had laid down so much groundwork because we already know Penelope," Quinn commented. "We haven't met Benedict's love interest. I suppose people are gonna say, 'They could have introduced her.' But the fact of the matter is, we haven't. And what I try to tell people is, look, once a character has their season, we don't see them as much, right? So, if you love Benedict, you want him to wait as long as possible."
Below, find out everything else we know about Bridgerton Season 3 and how the series might approach Colin and Penelope's love story.
Bridgerton Season 3 Plot
Netflix revealed details about Colin and Penelope's friends-to-lovers journey at the start of Season 3's production on July 20, 2022. The streaming platform released the official synopsis below:
"From Shondaland and new showrunner, Jess Brownell, Bridgerton is back for its third season and finds Penelope Featherington (Nicola Coughlan) has finally given up on her long-held crush on Colin Bridgerton (Luke Newton) after hearing his disparaging words about her last season. She has, however, decided it's time to take a husband, preferably one who will provide her with enough independence to continue her double life as Lady Whistledown, far away from her mother and sisters. But lacking in confidence, Penelope's attempts on the marriage mart fail spectacularly. Meanwhile, Colin has returned from his summer travels with a new look and a serious sense of swagger. But he's disheartened to realize that Penelope, the one person who always appreciated him as he was, is giving him the cold shoulder. Eager to win back her friendship, Colin offers to mentor Penelope in the ways of confidence to help her find a husband this season. But when his lessons start working a little too well, Colin must grapple with whether his feelings for Penelope are truly just friendly. Complicating matters for Penelope is her rift with Eloise (Claudia Jessie), who has found a new friend in a very unlikely place, while Penelope's growing presence in the ton makes it all the more difficult to keep her Lady Whistledown alter ego a secret."
First-look photos were revealed of the couple in June as part of Netflix's Tudum fan event, apparently confirming as Couglan said: "Season 3 is Colin and Penelope's Story."
Like Season 2, the third installment will significantly depart from Julia Quinn's novel. Based on the synopsis, it sounds like Bridgerton Season 3 takes inspiration from Season 1's romance with Colin and Penelope conspiring together on how to find her a husband, much like Simon and Daphne worked together to try to land her a prince. Whether Colin learns of Pen's secret identity — as he does in the book — remains to be seen. But of course, as in the rest of Quinn's works, expect to have some steamy moments, perhaps including a pivotal carriage scene from Romancing Mister Bridgerton.
At Netflix's Tudum event on Sept. 24, Coughlan dropped into Newton and Jessie's Bridgerton sibling portrait time to share new tidbits from Season 3. First, she revealed Episode 1's title, "Out of the Shadows." Then, she went on to read Lady Whistledown's first newsletter of the season:
Dearest Gentle Reader,
We've been apart for far too long. At last, London's smart set has made its return and so, too, has this author. As the season begins, the question on everyone's minds is, of course, which newly minted debutante will shine the brightest? The crop this year appears to be rather dazzling indeed. Unfortunately, not every young lady can attract the light.
Speaking to Elle in June 2023, Simone Ashley (aka Kate, Viscountess Bridgerton) teased what viewers can look ahead to in the show's third chapter, revealing that the Season 3 plot "is going to be hotter than ever." Meanwhile, the actor also disclosed that fans will witness a much "softer side" of Kate, who is "going to be quite content with her husband" in the new series.
Ashley isn't the only Bridgerton star to have hinted at what fans can expect in the new season. During a June 2023 interview PEOPLE, co-star Coughlan revealed that viewers can look forward to "romance all the way" throughout Season 3. "It's just so romantic," she added, before confirming that the "really special" new season stays "very true to the books."
Bridgerton Season 3 Trailer
Bridgerton doesn't have a trailer for Season 3 yet. But the hit romantic series kicked off the filming of its third season with a video from the cast celebrating their return to the set. Jonathan Bailey, Adjoa Andoh, Claudia Jessie, and other familiar faces appear in the behind-the-scenes clip, signaling with their hands the transition from Season 2 to 3. The video also teases both Colin's and Penelope's new looks for the third season. A casually dressed Luke Newton opens a carriage door to reveal Nicola Coughlan in her Penelope hair and makeup, as she announces that filming has officially begun. In a nod to the book's famous (and sexiest) scene, Luke hops into the carriage with Nicola, which will surely throw Polin fans into a tizzy.
Just a few days after Netflix confirmed that production on Season 3 had officially commenced, Bailey and Ashley shared the first glimpse of a newly-married Anthony and Kate Bridgerton (née Sharma), with an Instagram story that showed the onscreen couple's intertwined hands and a caption that read, "#Kanthony reunited."
Bridgerton Season 3 Cast
Unlike other Bridgerton series love stories, Season 3's romantic leads are people we already know and love: Playful Colin and sneaky, lovelorn Penelope are played by Luke Newton and Nicola Coughlan. Still, a few familiar faces will not be appearing in Season 3. Don't expect a return for Regé-Jean Page, who announced Simon's departure ahead of Season 2. Phoebe Dynevor also said that her character, Daphne Bridgerton, will not appear in Season 3. When Dynevor was asked what "exciting dynamics" fans could expect in the upcoming season, she replied in a January 2022 interview with Screen Rant, "Sadly, not in Season 3. Potentially in the future. But Season 3, I'm just excited to watch as a viewer."
While Jonathan Bailey (Anthony) and Simone Ashley (Kate) already saw their characters get their happily ever after in Season 2, the couple is not going anywhere. "We're going to be back!" Ashley told Deadline in late March. "Kate and Anthony are just getting started." Meanwhile, Bailey shared his hopes for the pair in an interview with Harper's Bazaar, saying that seeing them in "the honeymoon phase is essential." He also indicated that fans will get to watch them as "incredible, loving parents," saying it will be "joyful to see."
Luke Thompson, who was thought to take the spotlight as the season's romantic lead, will return to play the artistic Bridgerton brother. Claudia Jessie also confirmed she'll be returning to play the defiant Eloise. But Season 3 will see a new addition to the titular family: Hannah Dodd is set to take over the role of Francesca Bridgerton from Ruby Stokes, who has left the series to star as the lead on another Netflix project, Lockwood & Co.
On July 20, Netflix announced three new characters will be joining the ton. Daniel Francis (Stay Close) will play Marcus Anderson, who is described as "a charismatic presence who lights up any room he enters." Matching Marcus' ability to capture the attention of the marriage mart, Lord Debling will also arrive this season; Sam Phillips (The Crown) will portray the "genial lord with unusual interests." James Phoon (Wreck) is set to play Harry Dankworth, a new suitor whose extremely good looks make up for what he "lacks in wit and intelligence," according to the press release. Another casting update came on Oct. 14, when Deadline reported that Hannah New (Black Sails) had joined Season 3. Her character, Lady Tilley Arnold, is a new one described as "a firebrand widow."
On the behind-the-scenes side of things, Jess Brownell will be taking the reins as showrunner for Season 3, per Deadline. In addition to writing for Bridgerton's first outing, Brownell penned several episodes of Scandal, so she knows drama.
Bridgerton Season 3 Release Date Speculation
We don't have a release date for Bridgerton Season 3 yet, but there's reason to hope for a shorter wait than the year-plus between the first two seasons. Season 2 was beset by public health filming interruptions, but it looks like Season 3 won't face the same challenges. Netflix announced that Season 3 started production in July 2022, and about nine months later, Rhimes finally shared an update. "We've finished filming and editing. I'm having a lot of fun working on cuts to the show," she teased to Virgin Radio UK in April 2023. It seems fans may be able to see Polin's love story before the end of 2023.
How Is Queen Charlotte Connected To Bridgerton Season 3?
Spoilers ahead for Queen Charlotte: A Bridgerton Story. The prequel also included a timeline that took place toward the end of Bridgerton Season 2. After demanding one of her 13 surviving children produce a legitimate heir, Queen Charlotte learns by the end of the season that her and King George's son, Prince Edward, and his wife, Princess Victoria, were expecting a daughter (who, historically speaking, would later become Queen Victoria). It's unclear if that storyline will be explored in Bridgerton Season 3, but the new installment will continue parts of Queen Charlotte's story, regardless.
"There are some story points and story secrets that will definitely be played out in the next season of Bridgerton," Rhimes revealed to Entertainment Tonight in May 2023. "I don't know that we're going to see [Queen Charlotte's] children or any of that. For me and Golda [Rosheuvel], who plays Queen Charlotte, on Bridgerton [it] is sort of her front-of-the-house persona, who she is in front of the people. And Queen Charlotte really is the back of the house. You see the kids, you see her being a mom and I thought that was interesting for me to play with."
She further previewed Bridgerton Season 3 as being "witty, intellectual, emotional and sexy." She added, "I've been a huge fan of Penelope's for a long time, so I'm excited to have her story told."
This post will be updated with the trailer, release date, and additional plot details as more information on Bridgerton Season 3 becomes available.
This article was originally published on