Bridgerton's Nicola Coughlan Confirms Season 3 Will Focus On Colin & Penelope
Their romance was explored in author Julia Quinn's fourth book, Romancing Mister Bridgerton.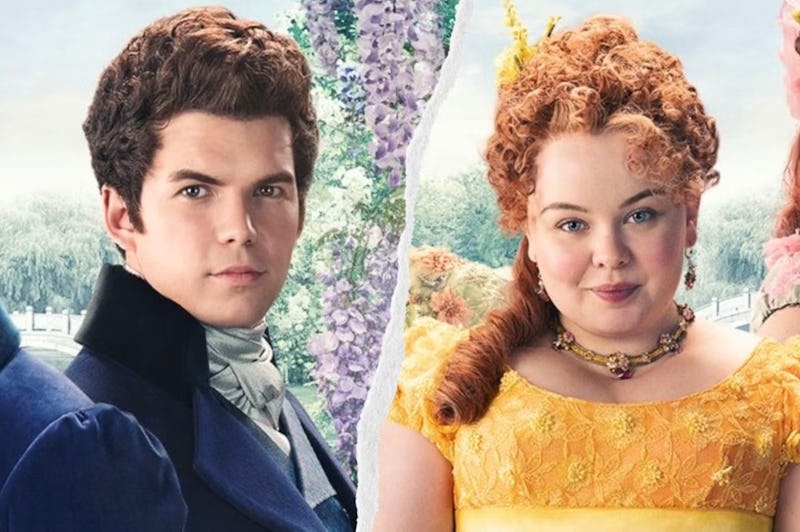 After the sheer excitement of Bridgerton Season 2, fans are eager to see the next installment of the Netflix series. Fortunately, this isn't one of those "will Netflix renew my favorite TV show or give it the ax" situations because more Bridgerton is already confirmed. Given how Season 1 captivated viewers (the show casually became Netflix's biggest hit ever and scooped up one Emmy win (and 11 other nominations), it makes sense that fans were already clamoring for Seasons 3 and 4 well before they even saw Season 2. Though Netflix (er, Lady Whistledown) has only announced the scantest of details about these future seasons, so far, we already have a pretty good idea of what they will look like based on the Bridgerton books.
Season 1 followed Daphne on her search for a suitor (based on the first book, The Duke and I), and Season 2 covered Anthony's "quest to find a Viscountess" (based on the next book, The Viscount Who Loved Me). Bridgerton fans assumed the third season would follow Benedict Bridgerton, the protagonist of the third novel, An Offer from a Gentleman, as he falls for two women.
But on May 16, viewers learned that Benedict's love triangle would have to wait, as Nicola Coughlan, who plays Penelope Featherington (aka the infamous Lady Whistledown herself), announced on Instagram what Season 3's plot will center on. Instead of following the books' trajectory and waiting for Season 4 to explore Colin and Penelope's romance (from Julia Quinn's fourth installment, Romancing Mister Bridgerton), the fan-favorite pair's love story will be the plot of the upcoming season. Coughlan posted, "Like Lady Whistledown I've been keeping quite a big secret for quite a long time … but I can finally tell you that @bridgertonnetflix Season Three is Colin and Penelope's Story."
Here is everything we know about Bridgerton Season 3 and how it might approach Colin and Penelope's arc in the series.
Bridgerton Season 3 Plot
At the end of Bridgerton Season 1, Colin and Penelope were saying goodbye — Colin was off to travel as Penelope always encouraged him to. Unbeknownst to him, though, Penelope was on the verge of her very own "I burn for you"-level love declaration.
Marina Thompson isn't a major character in the books, but she was a serious contender for Colin's love in Season 1. Though, Season 2 proved there's nothing going on between them anymore. With Marina out of the way, it seemed Penelope was nearly ready to express her true feelings for the longtime family friend, but toward the end of Season 2, she overheard him saying there's no chance he'd ever go for her. Ouch! We'll just have to wait and see how she could ever recover from that. As Coughlan told E! News May 16, she hopes Penelope will "stop thinking he's perfect and appreciate herself more."
Plus, now that Colin's sister Eloise knows that her best friend Penelope is moonlighting as the Regency-era gossip columnist, it's just a matter of time before her secret is revealed. Colin, in particular, is not a fan of the gossip-monger. But according to the synopsis for Quinn's novel, they both discover secrets about each other that test their potential for a "happy ending." We know Penelope's secret, but it will be interesting to see what Colin is covering up — a darker side, apparently. Of course, as in the rest of Quinn's works, expect to have some steamy scenes.
Bridgerton Season 3 Cast
Unlike other Bridgerton series love stories, Season 3 might not need any major cast additions because the romantic leads are people we already know and love: playful Colin and sneaky, lovelorn Penelope are played by Luke Newton and Nicola Coughlan. We will likely see new supporting faces along the way (though don't expect a return for Regé-Jean Page, who announced Simon's departure ahead of Season 2).
Jonathan Bailey (Anthony) and Simone Ashley (Kate) already saw their characters get their happily ever in the new chapter, but the couple is not going anywhere. The actors both reassured fans on that score in separate interviews that followed the release of Season 2. "We're going to be back!" Ashley told Deadline in late March. "Kate and Anthony are just getting started." Meanwhile, Bailey shared his hopes for the pair in an interview with Harper's Bazaar, saying that seeing them in "the honeymoon phase is essential." He also indicated that fans will get to watch them as "incredible, loving parents," saying it will be "joyful to see." Luke Thompson, who was thought to take the spotlight as the season's romantic lead, will return to play the artistic Bridgerton brother. Maybe his arc this season sets him up for Season 4.
Claudia Jessie also confirmed she'll be returning to play the defiant Eloise. Sharing the Season 3 news on her Instagram Stories on May 16, she wrote, "As for my personal excitement about the season… let's just say I'm excited for the amount of Eloise content we will get as a result of her (ex) best friend being the lead."
Season 3 will also see a new addition to the cast, as Hannah Dodd is set to take over the role of Francesca Bridgerton from Ruby Stokes, who has left the series to star as the lead on another Netflix project, Lockwood & Co. Dodd recently starred as a young Sienna Miller in Anatomy of a Scandal. She also appeared in the mini series Flowers In The Attic: The Origins.
On the behind-the-scenes side of things, Jess Brownell will be taking the reins as showrunner for Season 3, per Deadline, after working in Shondaland for years. In addition to writing for Bridgerton's first outing, Brownell penned several episodes of Scandal, so she knows drama.
Bridgerton Season 3 Trailer & Release Date Speculation
We don't yet have a trailer or release date for Bridgerton Season 3, but there's reason to hope for a shorter wait than the year-plus between the first two seasons. Season 2 was beset by public health filming interruptions, but if conditions are smoother in 2022, you might see Bridgerton Season 3 even sooner. Is it too optimistic to hope for another holiday season premiere, like Season 1?
This post will be updated with the trailer, release date, and additional plot details as more information on Bridgerton Season 3 becomes available.
Additional reporting by Stephanie Topacio Long and Sophie McEvoy.
This article was originally published on