Who Is Sara Bareilles' Fiancé? She Met Joe Tippett On The Set Of Waitress
The couple began dating in 2015 and share a dog.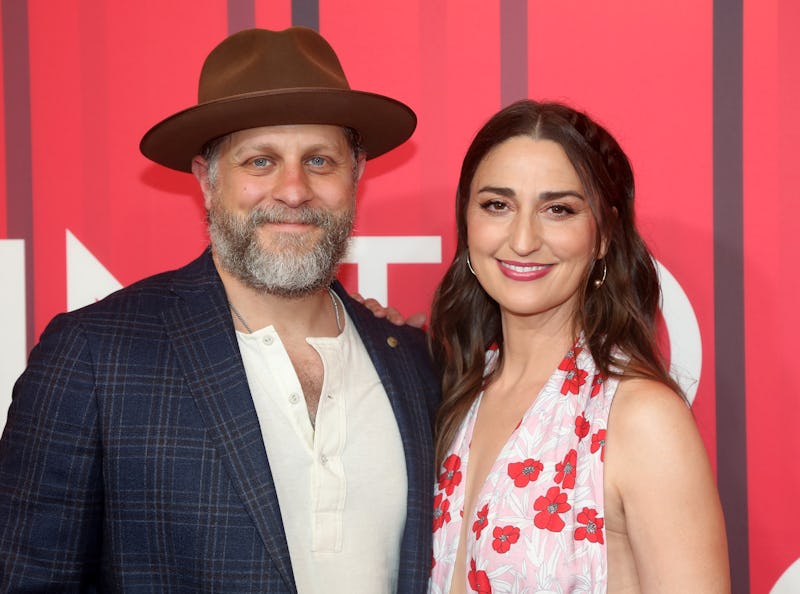 Bruce Glikas/Getty Images Entertainment/Getty Images
Sara Bareilles is basically a gift from the heavens. She wrote the acclaimed Broadway musical Waitress, she stars in Girls5eva, and she's responsible for the all-time classic "Love Song," among other hits. She's a delight to fans — and to a certain special someone. So who is Sara Bareilles dating? Bareilles, 43, has been in a long-term relationship with actor and Broadway star Joe Tippett, and as of Jan. 1, the pair is officially headed for the altar.
On Dec. 31, 2022, Bareilles shared the news on Instagram. "Yes to marrying this man. It's an easy, earned, relaxed YES," she captioned a sweet couple photo which also features her ring: a gold feather band. "You are exactly who I want. The more I know you the more I know I love you…and you have introduced me to parts of myself I was afraid to love. And now I love ME more because of you," she added.
Tippett, 43, is an actor on screen and on Broadway. He most recently appeared as a recurring guest star on the ABC drama Alaska Daily, but he was most notably on The Morning Show, Mare of Easttown, and the NBC musical series Rise. According to People magazine Tippett previously starred in Broadway's Waitress adaptation which is also how they met. Bareilles famously wrote the music and lyrics to the stage version of the 2007 film, and People reports that they first met while working on previews for the show in 2015. That's also the year they started dating.
Tippett told StageBuddy.com in 2017 that though he doesn't think of himself as a gifted singer, he still always felt like acting was the path for him. "I could've gone to college on an athletic scholarship, but I'd started dabbling in theatre and became interested in that," he said. "I came home once, flipped the TV on while drunk, and Who's Afraid of Virginia Woolf was on, right at the 'bergin speech,' I watched that and decided that's what I wanted to do."
Bareilles previously spoke about her relationship in a June 2022 appearance on The Tonight Show with Jimmy Fallon. "I was struggling with insecurities about being able to meet the challenge of it, and I felt really out of my depth," she shared about joining the cast of Girls5eva. And Tippett was the one to give her "really good" advice. "He's like, 'If Tina Fey believes that you can do this, why don't you just trust her? If you can't find it in yourself, just trust that one of your heroes is not going to put you in a position to fail,'" the Waitress star said.
Aside from his ability to dole out nuggets of wisdom, the Spirited actor also takes good care of Bareilles. In an interview with People in July 2020, Bareilles recounted her "scary" COVID-19 experience. "He did a good job taking care of me," she told the outlet, adding, "He was a good friend and companion through all of that."
Meanwhile, Tippett also spoke about Bareilles in a 2018 interview with Playbill. Though he didn't delve into their relationship, it's clear that he admires her. "Sara is one of those 'if it scares me I should do it' types of people, and I find that incredibly compelling and inspired," he told the outlet. "Her push into the raw places in search of truth and honesty has taught me a great deal."
Aside from talking about their relationship in interviews, the pair also doesn't shy away from posting cheesy tributes on Instagram. On their seventh anniversary last September, Bareilles wrote, "The world that is burning has somehow brought me someone like @joetipps who I am constantly in awe of and inspired by and challenged by and infuriated by and loved by in a way I can't even describe except I know it is Truth with a capital T," she posted.
On his account, Tippett also posts about Bareilles and their life together. In July 2022, Tippett posted a photo of Bareilles carrying their dog with a cheeky caption, "The wife and kid."
Well played.
This article was originally published on