Million Little Things Fans Will Have To Wait Yet Another Week To See If Delilah Returns
The show is taking a brief hiatus.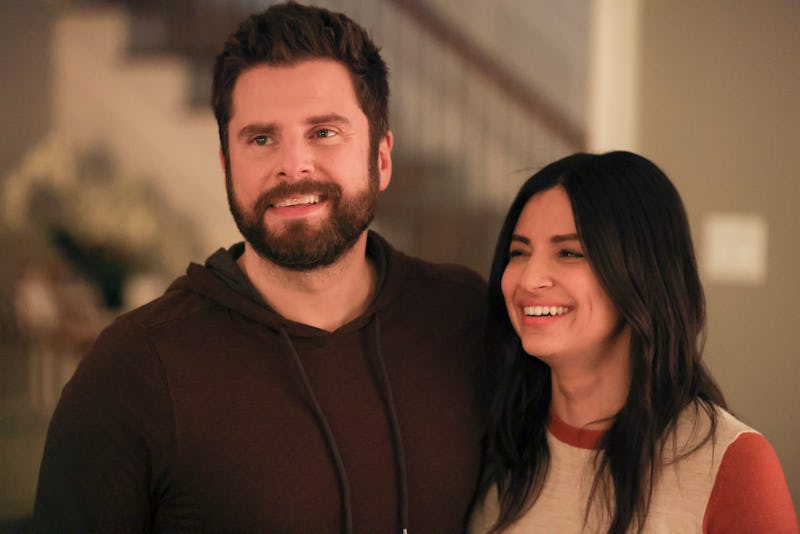 Jack Rowand/ABC
Fans will have to wait yet another week to see if Delilah will ever come back to A Million Little Things, because the show is taking a brief hiatus. Its Wednesday night time slot on April 28 is instead being filled by Joe Biden's presidential address to Congress from 9 p.m. to 11 p.m. ET. A Million Little Things will then return just a week later with a brand new episode on May 5. According to the synopsis, viewers will get to meet Gary's dad when he connects with Darcy over his time spent in the Vietnam War. This episode will also address George Floyd's death, because in the Million Little Things timeline, the video is just about to be released. (This is similar to the timelines on ABC's other shows Station 19 and Grey's Anatomy, which also had storylines about Floyd and the ensuing Black Lives Matter protests in recent weeks.)
The promo for the episode offers an even deeper look at what fans can expect. The previous episode showed Katherine getting closer to her new crush Alan, and in the preview, her husband Eddie begins to suspect that there's something going on. Meanwhile, Danny contemplates coming out at school, and Gary has a heated exchange with his dad. Delilah and Sophie are nowhere to be seen, which is not surprising given that Sophie left last week to go stay with her mom in France. Still, Delilah's storyline is taking forever to resolve, and it's been weeks since she was on the show in any capacity beyond a FaceTime call. Perhaps this will be the episode to change that.
Looking ahead, the synopsis for the May 12 episode says that the lingering effects of Floyd's death will force the group to "reevaluate their own racial biases and take to the streets of Boston," and Rome will have a meaningful conversation with his dad about how to bring about change.
Beyond that, there are still several episodes to go before Million Little Things' Season 3 finale, which creator DJ Nash recently finished writing. Last season, Nash wrote two endings — one with a cliffhanger and one without — just in case the show wasn't picked up for a third season. This time, he had a clearer idea in mind. He said on Twitter that he wrote just one ending for Season 3, and it's already been filmed. "Can't wait for you all to see it. If you thought Eddie getting hit by a car was a cliffhanger..." he teased on Twitter.
Season 3 contains 18 episodes, only 11 of which have aired so far. There are still a lot of loose ends, between Sophie's sexual assault recovery, Delilah's potential return, the fate of Eddie and Katherine's marriage, Rome and Regina recently fostering a teenager, and the always lingering question of romance between Gary and Maggie. Fans will have to wait another seven days to start getting answers, but "Until then love each other!" the Million Little Things Twitter page encouraged fans.