The Next Grey's Anatomy Episode Will Include A Major Character Return
Prepare yourselves, #Japril shippers.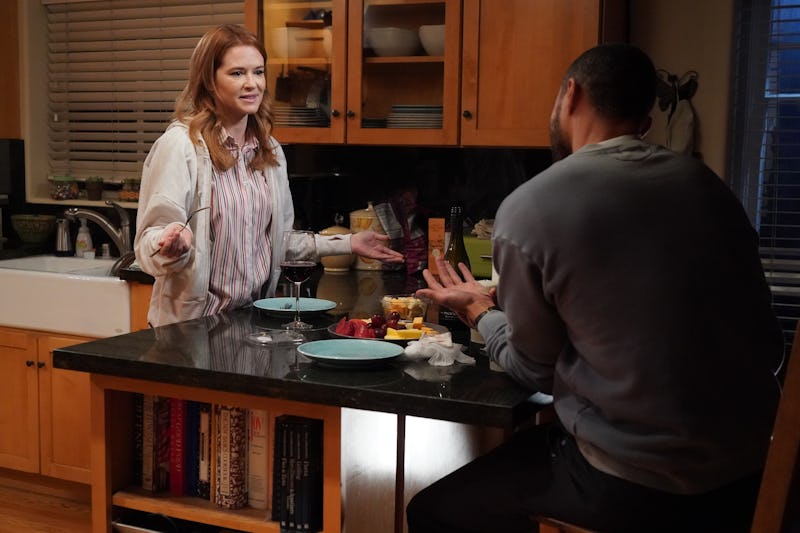 Richard Cartwright/ABC
Now that Meredith has woken up for good on Grey's Anatomy (at least, it seems like it's for good), we can finally move on to other storylines. But fans will have to wait another week to do so, because Grey's Anatomy isn't airing on April 29. Instead, ABC will air the first round of the NFL Draft, and Grey's Anatomy will return May 6.
When the show picks back up, it'll do so with one of the most anticipated returns of the season: Sarah Drew will be back as April after being written out of the show at the end of Season 14. Sure, seeing Lexie and Mark on Meredith's beach was great, but watching Jackson reunite with April will be next-level for longtime #Japril stans.
The reunion is made possible because a couple of episodes ago, Jackson took a leave of absence from the hospital. The synopsis for the next episode reveals that he went to see his dad. "Jackson pays a visit to his father that helps set him on the right path," the May 6 episode description reads. That "right path" seems to lead him to April's, because he's seen knocking on her door in the May 6 promo. It appears to be a positive visit, because they're both smiling in promotional photos.
In an interview with TV Line, Drew teased that there are "elements of closure" in Jackson and April's meeting, "but then at the same time, there are always ways to open that back up." That's pretty vague, but it could mean that Jackson potentially went to see April to restart their relationship.
Whatever the outcome, Drew was just happy to return to the show after three long years. "Walking back on set … it was such a warm and beautiful homecoming," she told TV Line. "I felt so loved and so missed." She added that it was easy to hop back into character and act alongside Jesse Williams. "We have such a fun working relationship and such a great friendship, and it's so easy to act with him," she said. "We've spent nine years crafting these stories together and going through so many different things with one another that picking up, it felt like I had seen him yesterday. It didn't feel like any time had passed."
Beyond April's big episode, there are only a few before the end of the Season 17, which could also potentially be the end of Grey's entirely. In March, showrunner Krista Vernoff told The Hollywood Reporter that she still wasn't sure if the show would be back for Season 18. "I'm planning a season and a finale that could function as either a season finale or a series finale," she said. Whether that decision has since been made internally we don't know, but the series still hasn't officially been renewed and there are only four more episodes left to air the season.
If this does mark the end for the show, at least this brief hiatus extended the goodbye by an extra seven days. Fans will need all the time they can get.