The Everything I Know About Love Crew Is Also Keen For S2
But you may be waiting for a while for a good reason.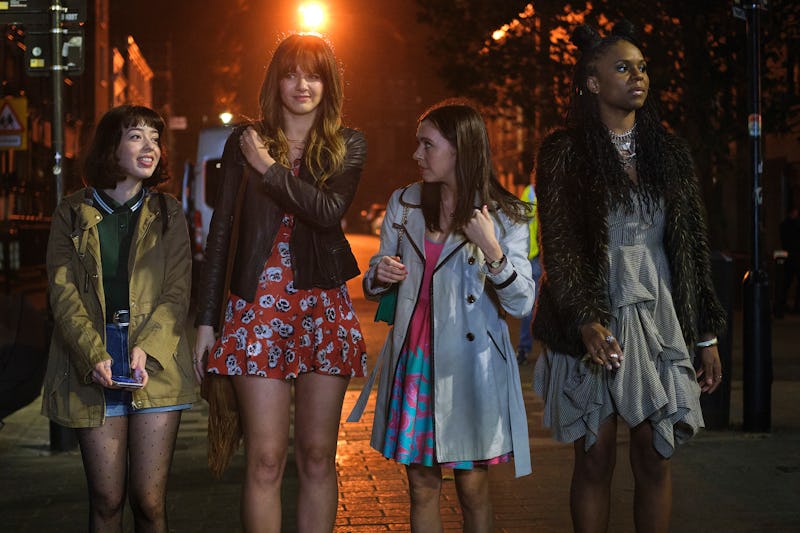 BBC
Dolly Alderton's best-selling memoir, Everything I Know About Love, hadn't even been finished when it was put forward for an on-screen adaptation. Commissioned by the BBC and starring Bel Powley, Emma Appleton, Marli Siu, and Aliyah Odoffi, the series is described as "a raucous girl gang show." Like the book which inspired it, the show was written by Alderton (she was also exec producer of the seven-part series) and follows the tale of two best friends. While not strictly true to the memoir, characters and plotlines have been created specifically for the show. So will Everything I Know About Love return for a second season?
Although nothing has officially been confirmed yet, Alderton told Bustle she is eager to work on more television and would love to return to Everything I Know About Love. "I would love there to be a season two," she said. "The book is about your twenties, we're honing in on a very specific bit, and I think the difference between a 24-year-old and a 27-year-old is enormous – like dog years – and I think there are so many stories. There are so many things I want to know about the girls: I want to know more about Nell's family, and about Amara's love life, and there is so much I would love to explore with all four of them."
When asked by Time Out whether she had ambitions to do more TV, she confirmed that she has "dreams rather than plans at the moment." Alderton also told Woman's Hour that she has another novel in the works: "I'm going to write a novel next because yeah, I do kind of fancy sitting on my own at a desk for six hours a day, just for a few months. And then, yes, I'd love to make more TV. And I'd love to make a film."
Filmed in Manchester and London, Everything I Know About Love follows four 22-year-old best friends who have just moved into a Camden house share. Set in 2012, Maggie (played by Emma Appleton), Birdy (played by Bel Powley), Amara (played by Aliyah Odoffin), and Nell (played by Marli Siu) navigate the mess and chaos of love, work, and friendship together. Speaking to Woman's Hour on the eve of the premiere, Alderton said, "I would describe it as a romantic comedy drama about two best friends, so it's the love story of two best female friends told with the same lens as you would tell a traditional romantic comedy between men and women."
As previously stated, though the programme is based on Alderton's memoir of the same title, it isn't completely "by the book". The TV adaptation has been partly fictionalised, which Aliyah Odoffin (who plays Amara) said worked well for the cast. "It's based on the world of the book, but it's not verbatim, so I don't feel like there was pressure to be exactly like anything in the book", she explained to BBC Breakfast. "Dolly gave us so much autonomy over the characters and there was such a collaborative process."
Everything I Know About Love airs on BBC One on Tuesday, June 7 at 10:40 p.m and all episodes are now available to watch on BBC iPlayer.