Watch The Emotional Trailer For Dolly Alderton's Everything I Know About Love
And the release date is confirmed, too.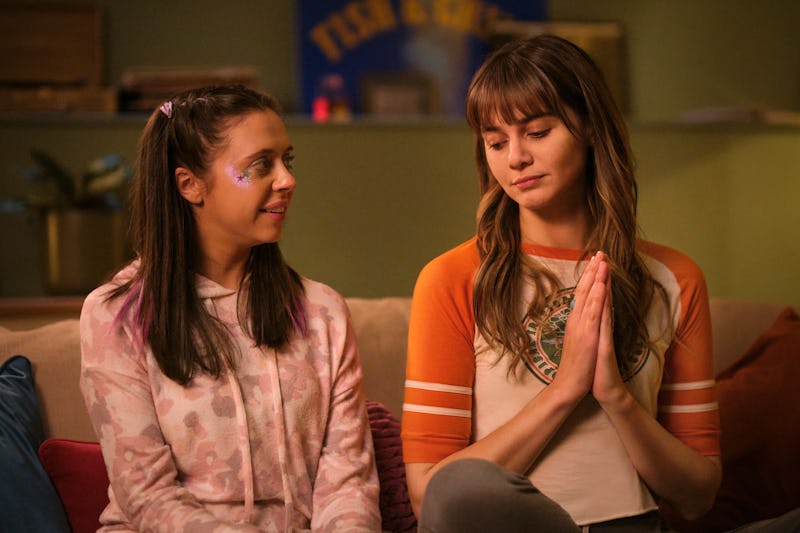 BBC
It was announced back in May 2021 that Dolly Alderton's Everything I Know About Love was being dramatised for the BBC, and now that the release date and trailer have been revealed, we're more excited than ever about seeing the bestseller come to life very soon. So, here's everything to know about the upcoming adaptation Everything I Know About Love.
Everything I Know About Love Plot
The award-winning journalist's first book topped best-seller lists when it was published in 2018; part memoir, part advice column, it sees Alderton share the secrets of the great loves of her life with her customary wit. It's like getting a sneak peak into her diary, and at the centre is Alderton's relationship with life-long friend Farley.
Rather than directly transferring Alderton's story from page to screen, the BBC adaptation of Everything I Know About Love will follow the story of childhood best friends Maggie and Birdy as they try to survive their 20s. Directed by China Moo-Young (Intergalactic, Harlots), the forthcoming drama is set in a 2012 London house-share "with flashbacks to suburban adolescence in the early noughties." A BBC synopsis goes on to tease that the series is an "unflinching deep dive into bad dates, heartaches and humiliations and begs the question: can platonic love survive romantic love as we grow up?"
In May 2021, Alderton revealed on Instagram that she had been collaborating with Working Title for four years to bring her beloved book to the BBC. She confirmed that the show will be a romantic comedy starring two best friends, written by herself and directed by China Moo-Young, who has worked on Call The Midwife and Pennyworth.
In the announcement post she joked that while the book was based on her experiences, its creation did involve some artistic licence. "Before every boy I dated a decade ago messages me today to breezily ask how I am, it's semi-fictionalised, so don't panic fellas," she wrote.
Everything I Know About Love Cast
Birdy will be played by former Bafta Rising Star award nominee and The King of Staten Island star Bel Powley, and The Witcher and Traitors actress Emma Appleton will appear as Maggie.
Joining Powley and Appleton on the cast are Marli Siu (who you may have seen on Amazon Prime series Alex Rider) as Nell, and Gangs Of London star Jordan Peters as Neil. Making their on-screen TV debuts in the series are Aliyah Odoffin as Amara, Connor Finch as Street, and Ryan Brown as Nathan.
In response to the casting Alderton said: "I am beyond thrilled with every actor we have on board for Everything I Know About Love. Aisha Bywaters (the series casting director) has helped us find our dream cast and we are so excited to see them inhabit the world of the show and bring its stories and relationships to life."
Everything I Know About Love Release Date
Filming for the series took place in Manchester and London and is coming to BBC One and BBC iPlayer on Tuesday, June 7.
Everything I Know About Love is just one of six exciting adaptations coming to BBC in the next couple of years, including a first TV project from author Candice Carty-Williams after the huge success of her debut Queenie and a new Michaela Coel project – so lots of TV treats to look forward to.
Everything I Know About Love Trailer
Ahead of its release on Jun. 7, fans have been treated to the official trailer for the upcoming series.
This article was originally published on