What We Know About The Possibility Of The Irregulars Season 2
The Netflix crime drama offers a fresh take on the stories of Sherlock Holmes.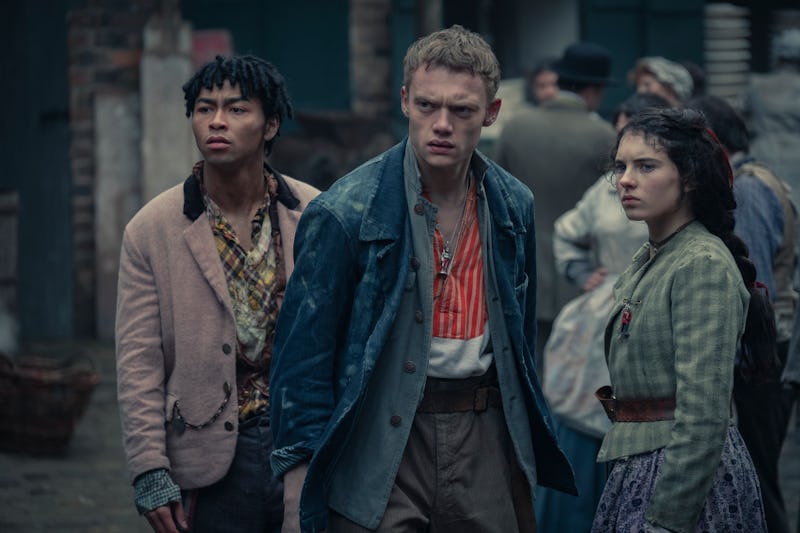 Matt Squire/Netflix
Netflix's fresh take on the stories of Sherlock Holmes revolves around a gang of misfits known as The Irregulars, who investigate a string of supernatural crimes in Victorian London on behalf of Holmes. Created by My Mad Fat Diary's Tom Bidwell, the new series is poised to become the streaming platform's next must-watch drama. But, what else is there to know about Netflix's hotly-anticipated release, and will The Irregulars return for season 2?
The very first season of The Irregulars is scheduled to drop on Netflix on Friday, March 26. With the show's debut only just upon us, it comes as no surprise to learn there is currently no news regarding a potential second series. Viewers might expect further updates in the months following the show's arrival, but for now, we'll just have to wait and see.
Per Radio Times, Netflix's The Irregulars is based on the works of Sir Arthur Conan Doyle, and centres on a gang of troubled street teens in Victorian London who are manipulated into solving supernatural crimes on behalf of the sinister Dr Watson and his mysterious partner, the elusive Sherlock Holmes. The crime drama's official synopsis reads, "As the crimes take on a horrifying supernatural edge and a dark power emerges, it'll be up to the Irregulars to come together to save not only London but the entire world."
Offering further details of what viewers can expect from the new series, The Irregulars creator, Tom Bidwell, revealed the characters of Holmes and Watson will very much take a back seat. "Our story focuses on the Irregulars, the gang themselves. It's their story, their adventure," he explained to Entertainment Weekly. "Sherlock Holmes is in the story, it's his world, but he's not the central focus. He plays a big part of it, don't get me wrong, but it's about the kids and their journeys," Bidwell added.
Holmes and Watson will be portrayed by Henry Lloyd-Hughes (The Inbetweeners) and Royce Pierreson of Line of Duty fame, respectively. Leading the show's cast as members of The Irregulars are Curfew's Thaddea Graham as Bea, The Bay star Darci Shaw as Jessie, McKell David as Spike, Harrison Osterfield as Leopold, and Jojo Macari as Billy.
Discussing the new series with iNews, Macari further warned that longtime fans of the Holmes universe should not be expecting a Sherlock-centric story. "I hope that the Sherlock purists aren't cringing and getting the pitchforks out." The actor concluded, "Ultimately the show isn't about Sherlock. It's about the gang. It's about us."
The Irregulars is available to watch on Netflix on Friday, March 26.