Is Travis Barker Joining The Kardashians' New Hulu Series?
Fans are ready for a closer look at the lovebirds' relationship.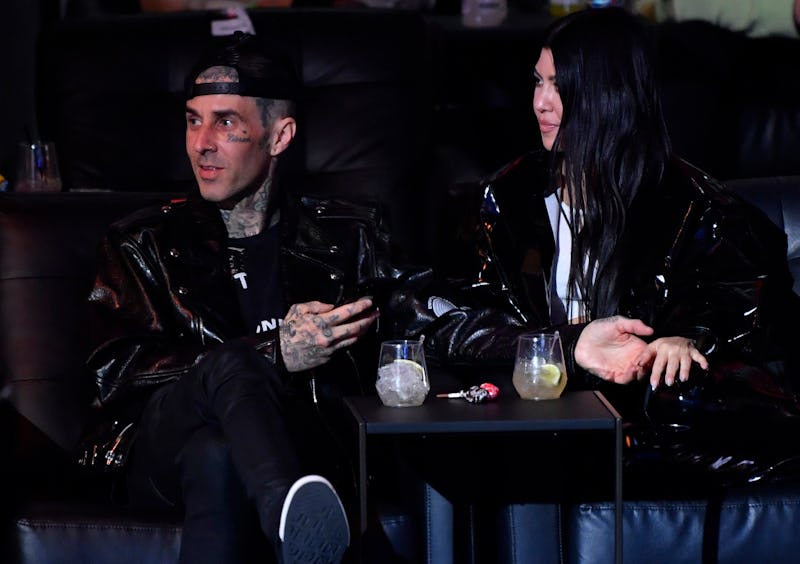 Jeff Bottari/UFC/Getty Images
Last December, Keeping Up With the Kardashian fans the world over let out a sigh of relief when news broke that once the iconic reality show ends, they'll still be able to keep up with their favorite reality TV stars on the small screen. Now, fans are learning even more about their upcoming Hulu series with details that Kourtney Kardashian's rock-and-roll beau Travis Barker will likely be making an appearance.
According to a source who spoke to Entertainment Tonight, "Travis is expected to make an appearance on the Kardashian's Hulu show. His kids may appear as well, but not as much as he will be featured." The source also said that "Travis and Kourtney are doing great," adding that Barker "just wants to keep her happy."
This report likely feels inevitable to fans who've been watching the pair since they officially announced their relationship earlier this year. The two have shared everything from joint family vacations to permanent declarations of love to even immense amounts of PDA via social media, so it's safe to say viewers have a lot to look forward to. Most recently, the drummer shared a photo of his Poosh founder girlfriend rocking merch from his pop-punk band. He chose a red heart emoji to caption the story showing Kardashian in a tan anime-themed Blink-182 hoodie. In true supportive rock-star girlfriend fashion, Kardashian reposted the photo to her stories, this time with a pleading face emoji and a black heart.
Speaking of being a supportive girlfriend, on Friday the eldest Kardashian sister wore the same hoodie on TikTok, this time in a video with her social media star friend Addison Rae. In the video, the pair both rock Blink-182 merch while lip-syncing to the track "Think About Me" by JXDN, an artist who happens to be signed to Barker's DTA Records.
Not much is known yet about the multiyear deal the Kardashian and Jenner clan signed on to with the streaming service. We do know, however, that Kris Jenner, Kourtney Kardashian, Kim Kardashian, Khloé Kardashian, Kendall Jenner, and Kylie Jenner are set to share "global content" once they're done wrapping up the 20th and final season of their beloved E! series. Not long after the news of the signing broke last year, momager Kris Jenner voiced her excitement on Twitter, sharing, "Excited to announce our new multi-year partnership with Hulu and Star and what's to come in 2021."