This Yellowjackets Fan Theory Might Reveal A Killer Twist
The teens' method of assigning tasks could turn deadly.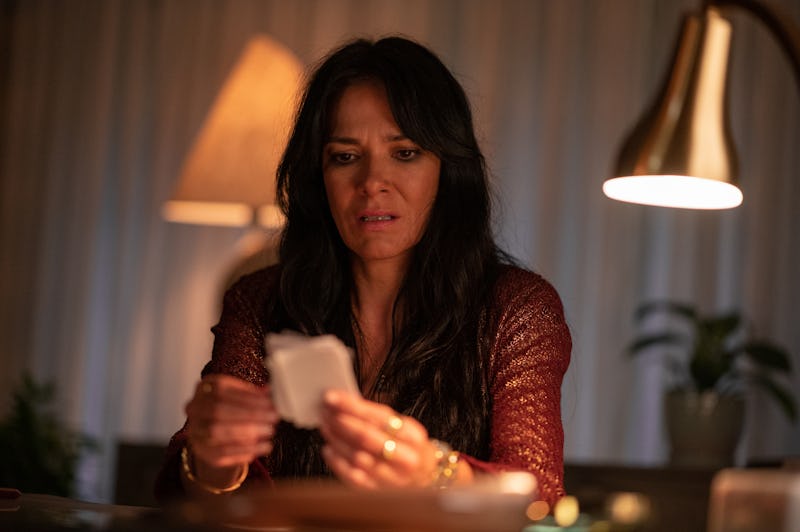 Kailey Schwerman/Showtime
For the stranded high schoolers of Yellowjackets, the delegation of daily chores comes down to the luck of the draw. The teens assigned different tasks to different playing cards, and each day, everyone picks a card. (When Misty (Samantha Hanratty) pulled a four, for example, she had to brave the cold to go fetch fresh water.) The practice seems innocuous enough, but the cards are at the center of an an ominous Reddit fan theory.
Natalie (Sophie Thatcher) has mentioned that the deck the team found was missing all of its Queens, but some speculate they'll reappear to serve a deadly purpose. In Season 2's fourth episode, Adult Lottie (Simone Kessell) seemingly hallucinated a Queen of Hearts card with crossed-out eyes, and recoiled in horror. Considering that another character with no eyes — the so-called "Man with No Eyes" who haunts Taissa — symbolizes death, some fans came to the conclusion that at some point, the teens will decide that whichever Yellowjacket draws the Queen will become the next sacrificial cannibalism victim. "What if the girl who draws a certain card is the one who gets hunted down?" one fan guessed.
Actor Sophie Nélisse, who plays teen Shauna, seemed to confirm that theory in a recent Bustle interview. Sitting alongside Melanie Lynskey, aka the adult version of her character, Nélisse told her co-star, "If you were to pick that card to get killed, we'd be like, no, let's just give it to someone else. We can't kill her. Come on."‌
Either way, the Queen cards will likely play a significant role in the plot, based on how often they have appeared. One eagle-eyed Redditor spotted the card hidden in a Yellowjackets poster (next to Lauren Ambrose's adult Van). The Yellowjackets opening title sequence also includes an image of the Queen of Hearts (with scratched-out eyes) alongside a note that says "I am grateful for my friends." Elsewhere in the sequence, someone takes a lighter to the Queen of Diamonds card, hinting that other face cards could also play a role in the future.
Some fans predicted that the Queen card also might appoint the Antler Queen, whom many previously believed to be teen Lottie (Courtney Eaton). "My theory is that there is no single antler queen, they have a certain amount of cards, whoever draws queen of hearts gets to be antler queen, and whoever draws the lowest card has to be eaten and sacrificed," one Reddit user wrote. "This is supported by the line 'it chooses' by Lottie, and the repeated mention of cards throughout the show."
There are also plenty other references to queens (e.g. Lottie's beekeeping) and hearts, including Jackie's heart necklace, which the mysterious "pit girl" from Season 1 Episode 1 was wearing when she met her end. "Shauna says at the end right before they eat Jackie that Jackie would want them to," another viewer pointed out. "What if the heart necklace is not given to anyone, and does not point to any specific girl? What if the heart necklace is put on which ever is one to be sacrificed as a way of embodying the spirit of Jackie, and convincing themselves that this person is doing this willingly? Pit girl being in a white slip when it is dead of winter points to something spiritual."
Whatever the Queen of Hearts means, you can safely bet it's nothing good.