Simone Kessell Studied Controversial Leaders To Play Adult Lottie In Yellowjackets
Warning: She isn't "all kaftans and sunshine" in Season 2.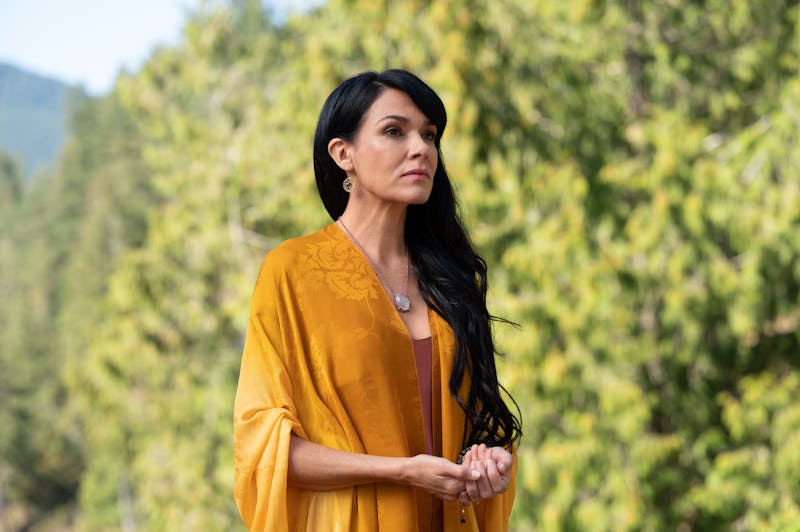 Kimberley French/Showtime
The Yellowjackets Season 1 finale teased at what's to come with one question: "Who the f*ck is Lottie Matthews?" Viewers of the Showtime drama were already acquainted with teen Lottie (Courtney Eaton), the rich soccer player turned antler queen who was forced to go off her antipsychotic medication after her team's private plane crashed in the wilderness in 1996. Until that point, there was no evidence that Lottie survived the ordeal, as she was never shown in the present timeline. However, adult Lottie, played by Simone Kessell, takes center stage in Yellowjackets Season 2.
"She's come into her life," Kessell explained of her character to Vanity Fair, ahead of the Showtime drama's March 24 streaming premiere. "She's found her voice, and she's used it in a way to help teach—she sort of brings therapy to people.... She has reinvented herself from the darkness into the light. She leads a group of broken toys. The past 25 years she's reinvented herself as a leader, as a guru, as a healer. And with that, she has created her own world."
But is Lottie leading a cult? "You could call it a cult," the New Zealand-born actor, 47, teased. "The wording of it — her community, her intentional community, her compound, her spiritual-healing community — it really is open to interpretation."
The actor warned that adult Lottie isn't "all kaftans and sunshine," though, and she studied footage of charismatic and controversial leaders, like so-called "Gucci Guru" Teal Swan, to prep for the role. Her outward appearance might not be what it seems, though. "They say some of the best psychiatrists are incredible with their patients, but at home behind closed doors, they're a hot mess," Kessell said in a separate Vanity Fair interview. "I feel like that's a slice of Lottie that we're seeing and about to see."
With three decades of acting roles to her credit, Kessell is hardly a Hollywood newcomer. She first came to Los Angeles in the '90s at the urging of ex-boyfriend Heath Ledger, becoming part of "a group of Antipodean actors" that also included Joel Edgerton. Most recently, she starred as Princess Leia's mom, Breha Organa, in Disney+'s Obi-Wan Kenobi and as the mother of Taika Waititi's Blackbeard in HBO Max's Our Flag Means Death. A mother of two sons, she also previously had parts on Reckoning, The Crossing, Of Kings and Prophets, and Terra Nova. "I really feel like I've come into my own as an actress after working for 30 years," she added.
Despite all her experience, Kessell worked closely with 27-year-old Eaton to nail her Yellowjackets character. "Courtney was amazing and she did such a great job crafting Lottie," she recently told Entertainment Tonight.
Eaton, for her part, returned the love. "Simone and I had dinner and just kind of caught up. And as soon as I met her, she was like, 'Oh, my God. You look like one of my family. Like, one of my own,'" the actor who plays teen Lottie recalled to the outlet. "Our energies aligned and I knew I could trust her with Lottie and that she understood it from the beginning."