Zac Clark Revealed How He Maintained Sobriety On 'The Bachelorette'
"Apple cider for the win!"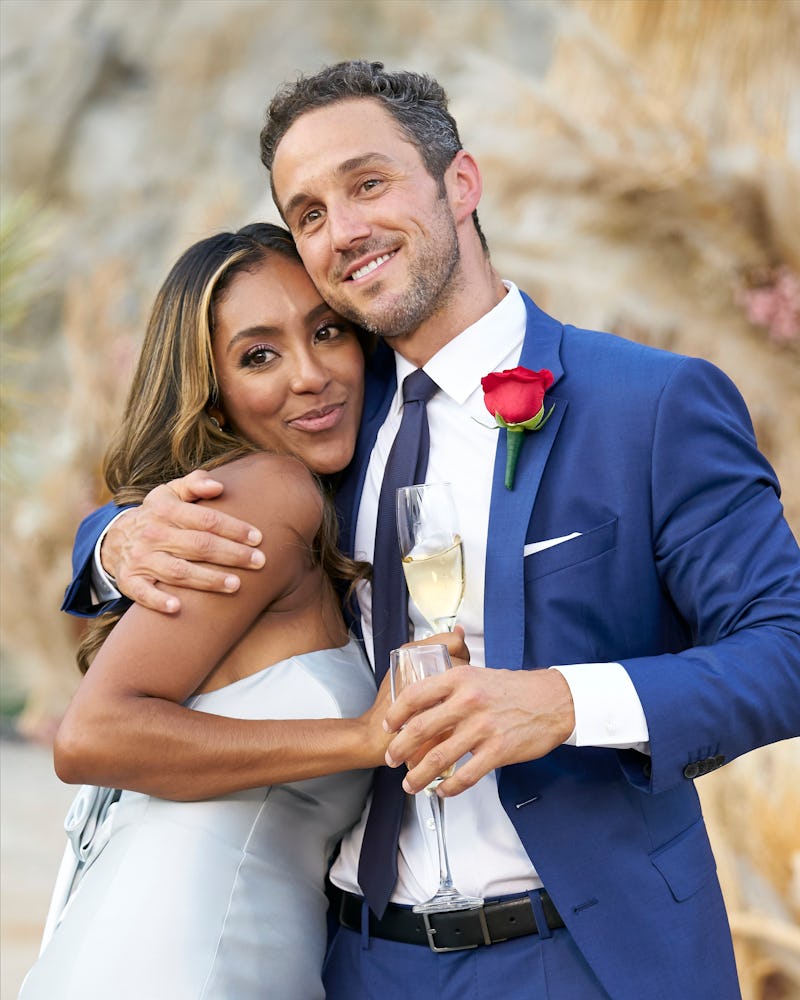 Craig Sjodin/ABC
After getting engaged to Tayshia Adams, The Bachelorette's Zac Clark continues to open up about his sobriety. Now an addiction specialist who runs his own rehabilitation center, Zac recently guest-starred on Adams' Click Bait podcast to discuss how he stayed sober while filming The Bachelorette, a show notorious for its celebratory bubbly. (Hint: a lot of sugary drinks were involved.)
Tayshia co-hosts the Click Bait podcast alongside Joe Amabile, and on the Dec. 31 episode, Zac addressed speculation about whether or not he drank alcohol while on the show. "Apple cider for the win!" Clark said with a laugh. "No, there was no drinking on the show," he continued. "Sober to me means no drugs, no alcohol, no nothing since August of 2011."
"I'm so happy we're taking about this. It is wild how much attention this gets," said Adams.
Zac added that anytime there was a toast, someone on the production crew was always there to offer him sparkling apple cider, or even ginger ale at times. Adams also chimed in on the rumors, adding, "Who's going to claim that they're sober and then when it comes to a toast, be like, 'Just one glass of champagne'?"
Zac also went on to recall when he knew for sure that Tayshia was serious about him. After one rose ceremony near the end of the season, Tayshia declined the usual alcoholic beverages.
"After the rose ceremony, there's this round of toasts," Zac explained. "The guy came out with the tray of champagne and there was four champagnes and one apple cider and she looks at him and she goes, 'No, I'm drinking apple cider with him tonight,' " he said. "And I said, 'What?!' She made the guy go back, get an apple cider while all these people were waiting."
"So, she was on team Clarky that day, and that's when I knew," he said. That was "the moment I knew Tayshia liked me."
The couple recently spent the holidays together, and told PEOPLE they're not worried about rushing to set a wedding date. "We have so many similarities regarding our goals in life," Adams said. "I've never been in a relationship like this before. Our communication is phenomenal and I feel really safe with Zac. It just feels so right. And I can't wait to experience life with him by my side."