Zendaya Is Wearing A Ring With Tom Holland's Initials & Fans Can't Cope
The actor's engraved jewellery caused quite a stir.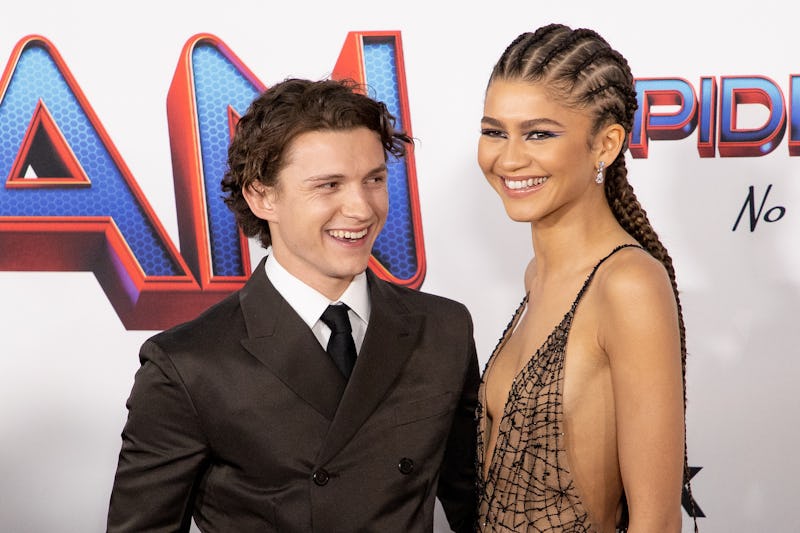 Emma McIntyre/Getty Images
Ever since the couple's palpable chemistry in Marvel's most recent Spider-Man trilogy, and their notoriously low-key off-screen romance that began in 2017, fans of Tom Holland and Zendaya have been closely following the pair's relationship. Now, eagle-eyed admirers have noticed Zendaya's adorable tribute to Holland in the form of an engraved initial ring — sparking much discussion online.
Fans first spotted Zendaya's ring, which has the initials "T H" engraved on the front, after the actor's London-based nail artist, Marina, shared an Instagram clip of Zendaya's hands while showing off her latest manicure. "The ring. I am crying," one fan wrote on Instagram, while others speculated that the pair might be engaged. Only a rumour, though. Neither Zendaya nor Holland has commented on this — yet.
This isn't the first fashionable tribute piece the couple don, though. Per Elle, a recent string of paparazzi photos also showed Holland wearing several pairs of trousers with a "Z" stitched onto the back pocket, which many fans believed to be a nod to his longtime girlfriend. "Why does he have a Z on like every pair of pants," one curious fan wrote on Twitter, while another commented: "Tom Holland having a little Z in the corner of his pockets is cute AF."
As mentioned, the couple reportedly first began dating in 2017 and have been known to keep their relationship out of the limelight ever since. The pair eventually went red carpet official back in 2021 for the London premiere of Spider-Man: No Way Home, and, more recently, Holland posted a rare comment on Zendaya's Instagram account in February 2023 following her show-stopping appearance at the NAACP Image Awards.
Speaking in 2021, Holland opened up to GQ about the couple's decision to keep their "private life private."
"One of the downsides of our fame is that privacy isn't really in our control anymore, and a moment that you think is between two people that love each other very much is now a moment that is shared with the entire world," he explained. "I've always been really adamant to keep my private life private, because I share so much of my life with the world anyway. We sort of felt robbed of our privacy."