How To Make Old Shoes Look New Again, According To A Repair Pro
For that fresh-out-of-the-box feel, no matter how many times you've worn them.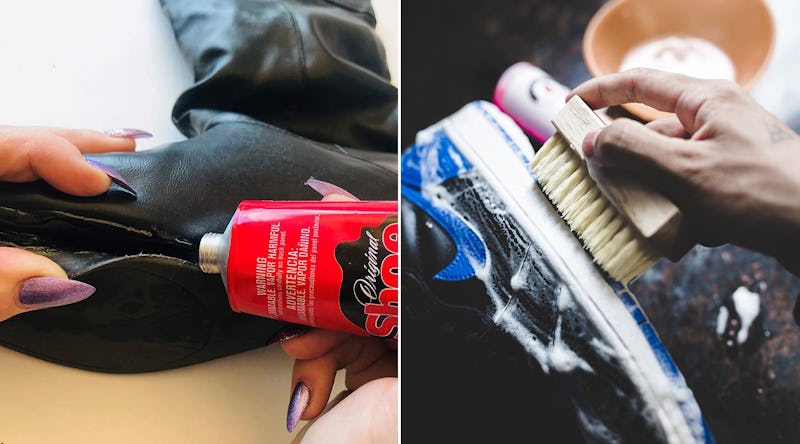 Amazon
We may receive a portion of sales if you purchase a product through a link in this article.
When you find a pair of shoes that look great and fit even better, it can be hard to say goodbye — even when they're falling apart. Luckily, if you're wondering how to make old shoes look new again, there are a few surprisingly easy ways to go about it — and most of these solutions are available for cheap on Amazon. To get some insight, I reached out to a shoe repair expert: Guy Berteau, the head of footwear and accessories restoration services over at The Cobblers.
The Expert
Guy Berteau is the Head Of Shoe Repair Services at The Cobblers, which provides professional cleaning, repair, restoration, and customization services for premium sneakers and other leather goods. He has over 14 years of industry experience as a shoe repair artisan, and also specializes in luxury handbags and luggage.
How To Make Old Shoes Look New Again
"In most cases, the heels and soles of the shoes are the first part to wear out," shoe repair professional Guy Berteau wrote in an email to Bustle. After that, the upper (or the part of the shoe that covers the top of the foot) usually isn't far behind, as these "tend to get scuffed up" pretty easily. As a result, you'll likely want to look for products that fix, reinforce, or renew these areas. For example, a good shoe adhesive can reattach soles, while a high-quality polish can help blend scuffs and add a sheen to faded, dull leather. There are plenty of solutions for the other parts of the shoe, too — like a waterproof marker that can restore the foam midsole of your favorite sneakers. (And if you're looking to seriously up your skills, The Cobblers actually offers a sneaker rescue and leather works academy.)
Yes, "it can be very hard to separate from a well-loved pair of shoes," according to Berteau, but thanks to a few hacks, you don't necessarily have to. From a pro-recommended leather dye to the best shoe cleaner to spiff up your kicks, this is how to make old shoes look new again.
How To Make Shoes Look New: The Tools You Need
In a hurry? These are the tools you need to make old shoes look new again:
1. Use A Fan-Favorite Leather Polish
"A lot of people like to polish their own shoes and there is a big community built around doing DIY shoe polishing and mirror shines," Berteau wrote. If you want to give it a try, you can start by using this nourishing shoe polish from Saphir — it's a fan-favorite pick that's earned a 4.7-star overall rating after more than 5,000 reviews. It's formulated with a beeswax base, along with carnauba wax and turpentine extract to give leather a rich, high-gloss shine. For an exact match, it's available in a handful of shades like black, burgundy, and mahogany.
A reviewer wrote: "I have to say that I'm pretty happy with this brand of products so far. I tried it out on my 20 year old Army jungle boots and I'm impressed. The boots were used, [...] resoled twice and neglected for the past 14 years (I don't have the heart to throw them away). The shine is back!"
2. Dye Shoes That Are Faded Or Discolored
"There are also some people that push it further and attempt to re-dye their own shoes," Berteau wrote, and Fiebing's dye is considered one of the best penetrating leather and suede dyes around. It permanently restores and brightens dull, faded colors without cracking, peeling, or rubbing off on things. Once dry, it also keeps materials flexible and supple. Currently, this dye has more than 4,000 reviews on Amazon (many of which say it's "easy to use"), and it comes in your choice of several colors from classic black to bright green. It's available in a formula for suede and roughout shoes as well as in a version for basic leather.
A reviewer wrote: "My favorite black Ugg boots were looking ratty and dirty due to a lot of wear and multiple cleansings. This product has them looking brand new!!! So happy!! This product was a small price to pay for the results provided."
3. Condition Your Shoes & Add Water Resistance
To get your leather protected and the color looking rich, there's Chamberlain's leather milk. Its no-mess formula quickly and easily conditions leather while simultaneously waterproofing it against future damage. According to reviewers, it doesn't have a chemical smell like other brands — one reported the scent is similar to a "balsam fir tree." It's great for use on belts and bags, but reviewers especially loved it on boots and shoes that've been through some rough times in the salt, water, and mud.
A reviewer wrote: "I've been using this product for many years, mostly on my boots. It's absolutely fantastic and fairly long lasting. It's very easy to apply, and it dries quickly. It conditions well, and it leaves leather looking new!"
4. Repair Loose Soles Or Tears With Glue
An across-the-board footwear solution, Shoe Goo can be used to stop fraying, fix holes, rebuild worn soles, protect shoes from the elements, reattach broken heels, and adhere replacement pieces. The black-hued formula sticks to just about any surface, and dries to a waterproof and flexible rubber consistency that will blend in with the original feel of your shoes.
A reviewer wrote: "I have purchased many "shoe glues" in the past with disappointing results. After glueing boots or loafers back together, after a couple of times wearing the repaired shoes, the soles have separated again and I have had to throw out a favorite pair of shoes. This product is a game changer. It is elastic enough to bend and strong enough to hold onto whatever material you want it to bond to."
5. Remove Stains & Dirt With This Popular Cleaning Kit
If you're wondering how to keep white shoes white, or looking for a way to revive a pair of work boots, this shoe cleaner kit can help. It works on most materials, including leather, vinyl, nubuck, suede, canvas, and cloth, so it's suitable for everything from sneakers to loafers to mesh slip-ons. The concentrated formula works as an all-in-one conditioner and cleaner, and comes with a durable wooden brush that gently removes dirt and stains.
A reviewer wrote: "I give this product 10 stars!! It gave my sneakers new life!!! They look brand new and a little bit definitely goes a long way… Great value with a great price!!"
6. Add Forefoot Cushioning To Worn-Down Insoles
With heels, most of the weight is on the ball of your foot — this forces toes to the front of the shoe, which can cause wear and tear in this area — this may lead to issues like foot pain and calluses. To restore some padding, try these flexible, nonslip gel cushions with a shock-absorbing design that keeps feet comfortable and supported. They apply easily with a peel-back adhesive, and have a clear design, so they can be worn with strappy sandals as well as closed-toe shoes.
A reviewer wrote: "I came across these and noticed that they have an extra padded layer in the middle, something like a little speed bump and let me tell you I love it! [...] They really added a much welcomed level of comfort. They also provide quite a bit of relief when it gets to 10+ hours. They adhere well, I haven't had any issues with bunching, sliding or outright coming off."
7. Reinforce Shoes With Adhesive-Backed Moleskin
A must-have for reinforcing shoes, moleskin can be used anywhere you need a little bit of extra padding, like in hole-filled flats, ripped shoe lining, and deteriorating canvas. This adhesive-backed cotton cloth from RadBizz is latex-free, and the fabric itself is soft, thick, durable, and can be cut into any shape you need. It can also be applied directly to the skin to prevent chafing and blisters.
A reviewer wrote: "Purchased this item for shoe related discomfort. The moleskin arrived quickly and was very well packaged in a clear ziplock bag. It is the perfect thickness - enough to avoid blisters without decreasing shoe size. It sticks extremely well and the roll will last a long time. I will definitely reorder in the future."
8. Slip These Caps Over Scuffed Heel Tips
When it comes to saving your heels (or protecting them before they even need saving), these heel caps are a great little trick. They're made from flexible rubber that stands up well to concrete, gravel, and grass, and the unobtrusive design blends in perfectly with your shoes (and conceals any wearing or scuffs). They're simple to apply: Slide them right over your heels and get on with your day. They come in two colors and multiple sizes, which are listed in millimeters so you can ensure the best fit.
A reviewer wrote: "I have an old pair of unique, favorite pair of heels. Two sizes of heel tips arrived in this package which is great in case your measurement was off. One heel was so damaged that it was a little difficult to get the tip on, but I eventually exceeded and I'm excited to be able to wear my favorite pair of shoes once again."
Available colors: Black, taupe
Available multipacks: 9
9. Reinforce Heel Plates With These Repair Pads
This sole repair solution is designed to extend the life of your boots and other shoes with a nonslip material that evens out the heel after some serious wear. The set of 30 plates comes with complimentary nails, but don't let the DIY aspect intimidate you: Most reviewers agree they are easy to pop on and you can even add a little bit of adhesive to the plate to ensure they stick on better.
A reviewer wrote: "I wear down the outside of my heels first. I superglue these on the outside so the wear pattern evens out. Saves me money and time from taking shoes to the Shoemaker to have the heels replaced."
10. Add Orthotic Inserts That Will Last For Years
If your favorite sneakers or other pair of shoes aren't as supportive as they once were, check out these Superfeet premium insoles. They're arched for comfort, are made from a high-density foam that absorbs shock and cushions your foot. They might not be the cheapest inserts out there, but according to reviewers, they're "worth every penny" as they help eliminate foot strain and last for years.
A reviewer wrote: "I love this insert. [...] Other brands' inserts are too bulky and make my shoes tight. Superfeet blue are great for my high arches; you forget you're wearing them. I used to take them and move them from shoe to shoe. Now I'm getting an extra pair after like 9 years wearing the same pair... I guess it was time!"
11. Use A Touch-Up Marker That's Durable & Water-Resistant
This waterproof midsole marker from Wilkins is great for touch-ups on worn fabric, leather, and suede footwear, and can also be used to color the soft foam of sneakers. It has an acrylic base that gives it durability and flexibility, and the angled tip makes it easy to perform detail work as well as cover larger areas. The white shade is perfect for giving sneakers that fresh-out-the-box brightness, but it's also available in other colors like red and black.
A reviewer wrote: "Great product!!!! I have zero complaints! I have a pair of black mid top Air Force 1 with a white sole. The sole turn yellowish so I repainted it with the marker. I let my shoes sit for a couple of days then I wore them I had absolutely no cracks or anything. I wore them 4 times since then."
12. Keep Shoes Smelling Fresh With These Charcoal Deodorizers
Once you've got your shoes looking like new, you'll want them smelling like it, too. These deodorizing bags are packed with all-natural bamboo charcoal, which works to absorb excess moisture and neutralize unwanted odors. Put them in your shoes overnight, and wake up to fresh-smelling footwear.
A reviewer wrote: "These are the best I have ever bought. They do their job completely on my tennis shoes. So pleased, I am ordering another set."
This article was originally published on