22 Insta-Worthy British Jewellery Brands To Watch In 2022
Whether you prefer subtle, delicate pieces or chunky statement jewellery.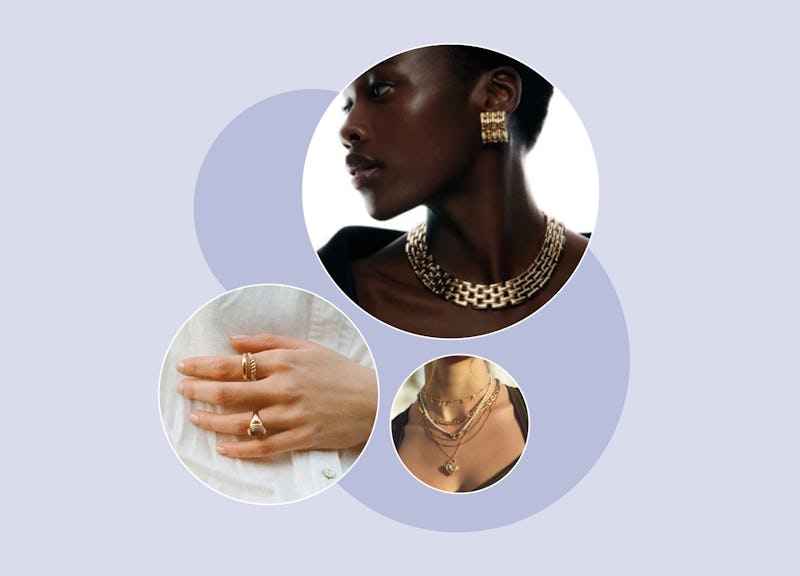 Missoma/Nasi Silver
Curating the perfect jewellery collection is a lifelong endeavour for some of us, with each piece being carefully selected to reflect our style, taste and personality. Helping us in this Herculean effort is the ever-growing collection of insta-worthy jewellery brands founded by designers here in the UK. There's a brand of jewellery for everyone, whether you prefer subtle studs and delicate necklaces or statement chunky rings and a splash of neon.
Instagram is the perfect platform to find the brand that's right for you. One scroll through your timeline or discover page and you can see not only the products you will love but the way in which you should wear them. With influencer collaborations becoming more and more common, you're bound to see images pop up of curated ears, arm parties, and layered necklaces on fashion girls and boys that'll give you all the inspiration you need.
Take Daphine, for example: the British brand that went viral after influencers started posting photos on the 'gram wearing two of their bestselling Oil rings layered up. The same happened with Susan Caplan's '80s- and '90s-inspired jewellery and the gorgeous gold pieces from Otiumberg and Missoma. And, of course, we can't forgot Khula, whose signature squiggly earrings are popping up everywhere online, being worn on the ears of Instagram's most stylish users.
Keep scrolling to read about the most insta-worthy British jewellery brands right now.
We only include products that have been independently selected by Bustle's editorial team. However, we may receive a portion of sales if you purchase a product through a link in this article.
Susan Caplan
Susan Caplan has been internationally renowned for her vintage collections for over four decades. Caplan was raised by a family of antique collectors, with her parents owning a store in Islington's famous Camden Passage. Following in their footsteps, Caplan's own jewellery lines include pieces from the last 80 years from brands including Chanel, Givenchy, Dior, Trifari, and Monet – to name a few. Most of Caplan's curated launches are one-offs and although some items will run you into the thousands, you can still bag pieces from under £100, too.
Follow @susancaplan.
Key piece:
Missoma
British brand Missoma was founded by Marisa Hordern, a designer who has always had a passion for jewellery. Missoma saw a huge surge in fans and followers when influencer Lucy Williams designed her first line with them, making pieces such as the horn necklace ultra covetable must-haves.
Follow @missomalondon.
Key piece:
Daphine
Daphine was formed in 2017 in Britain by friends Damasia Ball and Philippine de Follin. The pair are dedicated to making simple, yet standout pieces such as their Oli rings, which have taken Instagram by absolute storm. I challenge you to find a fashion editor who isn't wearing two of the rings on their finger right now.
Follow @daphine.
Key piece:
Nasi Silver
Founder Tamara Katz comes from a family of jewellers. Handcrafted by local craftsmen in Indonesia, with Indonesian, Hebrew and nature influences, her delicately designed silver and gold toned jewellery adds drama with gemstones and floating style designs. Many of Nasi Silver's pieces are multifunctional, and can transform from rings to charms, too. Meaning 'rice' in Indonesian and Malay, Nasi describes this as a "uniting soul food". "Each piece is designed with the intention of reminding you of a journey, an adventure or a time in life that makes you happy," says Katz.
Follow @nasisilver.
Key piece:
Night Time Holiday
Founder Brooke Robson started Night Time Holiday from her home in Lincolnshire, selling colourful polymer and clay earrings. These OG designs are still available (in a range of block colours or patterns) but now Brooke is also known for her chunky, irregularly shaped silver rings. Especially the limited collections that are adorned with jelly sweet looking gems. They're like a grownup version of the huge, plastic flower rings you might have worn as a child. Necklace chains, bracelets, silver earrings and charms are on offer, too. Including charms for pet collars.
Follow @nighttimeholiday.
Key piece:
SKEN Studios
Working from her Manchester studio, Sabira Silcock crafts silver and gold jewellery, etched with playful etched symbols. She started SKEN — which means 'to shine or glow' in Swedish — while on maternity leave. And of course, she designed her own engagement ring, next. From gold vermeil "marshmallow" signet rings, to "iced gem" necklace pendants — everything feels cheerful. For something that's influenced by you, SKEN is open to bespoke commissions, too.
Follow @skenstudios.
Key piece:
OBJKTS
Delicate, crystal-gem-embellished jewellery that looks more expensive than it is, the OBJKTS collection is bringing the "diamond clad, rich housewife" vibe to the masses. Their jewellery – which they describe as "classics" with "modern twists" – are designed in their London studio. And all their pieces are suitable for a layering fest, if that's your thing. Why decide between two or three necklaces when you can wear them all at once...?
Follow @objktsjewelry.
Key piece:
Roxanne First
Creating ethically sourced pieces in London, Roxanne First grew up in South Africa and has been influenced by her Italian family to create beautifully unique jewellery that is easy to layer. Her earrings are her best-known pieces, particularly her perfectly designed huggie hoops.
Follow @roxannefirst.
Key piece:
D.Louise
The original tarnish-proof British jewellery brand, D.Louise is known for gold coatings that just won't budge. Really. That's sweat proof, lotion or oil proof, waterproof and perfume proof.
D. Louise was founded by Olivia Jenkins (and named after her late mother). Jenkins had become frustrated with pieces that "turned her skin green" and lost their colour after a few wears. Each piece in her collection is made from hypoallergenic 361L stainless steel before being put through a physical vapour deposition coating process. According to the brand, this type of plating is "ten times thicker than standard gold plating" and environmentally friendly.
From chains, pendants and rings to bracelets and earrings, pieces start from under £20. Feeling skeptical? They offer a lifetime guarantee with all their jewellery.
Follow @d_louise_co.
Key piece:
Image Gang
Born in South London, and founded by Isabelle White, Image Gang's collection is a nod to the loud, chunky jewellery British teens wore in the '90s and '00s. The founder says her designed are inspired by the girls from her childhood "who would be covered in gold" with big hoops, "clown necklaces" and multiple rings.
"I remember being in high school and going to the market to get £2.00 gold hoops, and we would paint them with nail varnish so they wouldn't fade as quick and turn you green," she told Clash Music. "My dad would always send me gold jewellery as a baby from Senegal so I've always been about this gold life."
From charm-embellished anklets to chunky, square gold rings set with colourful stones, you can go as minimalist or maximalist as you like. Using a mixture of gold fill and gold-coating techniques, some pieces are especially durable for their price range. You can start shopping for under £10 (mostly in their sales, but still).
Follow @imagegang.
Key piece:
Silvermelt
Silvermelt's founders describe their brand as "two 90s kids bringing back the nostalgic jewellery but with a touch of modern chaos."
They add, "Nostalgic DIY jewellery in Sterling Silver and crystals. If you ever made play dough rings, you'll know what we are talking about!"
Handcrafted in their "cute" London studio, all their pieces are glossy, smooth and almost reminiscent of 3D bubble writing. With a futuristic, spacey feel to their entire collection (especially the 'party lip' rings), it's giving us '90s and '00s music video feels. Think Missy Elliot's "Supa Dupa Fly" or Busta Rhymes and Janet Jackson's "What's It Gonna Be?"
Follow @silvermelt_uk.
Key piece:
Only Child London
Hailing from East London, this artist-led, handmade cult jewellery brand has been making the rounds on Instagram since 2013. Think gold-medallion-style pendant necklaces, rainbow quartz stacking rings and sparkly studded pendants. Jewellery pieces that feel like a beach holiday.
Follow @onlychildlondon.
Key piece:
Seol + Gold
If you are after multiple pieces at unbeatable prices, Seol + Gold has you covered. From sculptural, thick silver and gold rings, to delicate chains, and gem-embellished pendants, there's almost too much to choose from. Their range covers solid 9kt gold, plated gold, and sterling silver. Using 18kt plating as standard for their gold pieces, they also offer a "re-plating for life" service. You just have to cover the postage, one way. It's a no brainer, then.
Follow @seolgold.
Key piece:
July Child
Gen Z, stand up. A maximalist, playful, neon miss match of quirky jewellery creations. The brains behind the concept, Sinéad Flood, describes July Child as "British cult indie jewellery" for "rascals". As a brand, they don't hold back. With an interesting collection of glass, and resin styles, alongside their silver and gold, after a few moments in their online shop, we're suddenly thinking about Futurama and Llyod In Space cartoons. What a throwback.
Follow @julychildjewellery.
Key piece:
Juicy Chews
On a similar wave to July Child, Juicy Chews is kind of like if your favourite jelly sweets were also body jewellery. No, they're not edible, but it would be easy to get confused. Founders Austin Williams and Nell Power have kind of taken the Haribo ring moment and ran with it. From resin, gelatinous flower rings, to jelly pendants on silver chains, it's a sweet shop fest. Their fan favourite, "strawb" necklace is hard to come by, and often sold out, but sensational. They've also collaborated with cult U.S. skincare brand Topicals on some custom hair clips.
Follow @juicychews.
Key piece:
Solomons & Rose
A curated collection of antique, vintage and modern fine jewellery, based in Hatton Garden. Ran by a couple known as "Charlotte & Mr S," per their official Instagram. From coveted vintage watches, to one-off, rich-coloured gems set in luxurious gold, platinum or silver, Solomons & Rose is a solid choice for your unique jewellery needs. Plus, budgets below £200 can still find a stand-out piece or two.
Follow @solomonsandrose.
Key piece:
Susannah King London
Like a magical box of enchanted chocolates, Susannah King's shop is full of chunky, oddly shaped pieces, sprinkled in rainbow coloured gemstones. Using techniques like wax carving, and drawing inspiration from stories of ancient dynasties, it's an otherworldly affair. Every piece looks like it was sourced from Narnia, Oz's Emerald City or gifted by a Pan's Labyrinth character. Most collection drops are limited edition, and they will set you back a pretty penny.
Follow @susannahkinglondon.
Key piece:
Khula
This brand needs no introduction, having become a cult fave among UK jewellery lovers. Meet Sophia Tassew's oversized squiggle earrings. Available through periodic collection drops, each pair is like a vibrant, uplifting moment for your ears. They sell out quickly, so be prepared.
Follow @khula.store.
Key piece:
Kerchung!
Cheeky slogans, porcelain rings, and pendants, with gold fill or silver detailing define this brand from Karen Cheung, who is an illustrator as well as a jewellery maker. Her signature, porcelain-led pieces are inspired by her "occasional rage and bad language" and are emblazoned with phrases such as "f*ck this* and "sod off". Pieces are typically double fired, glazed and reversible for wear. Collection drops happen periodically.
Follow @kerchungcreative.
Key piece:
The Hirst Collection
A fabulous, curated collection of costume jewellery and coveted powerhouse brand vintage pieces, too. Alongside sparkly, intricate silver marcasite jewellery, set with juicy, vivid coloured stones. They also stock a huge range of pieces from independent jewellers, from antiques to modern crafted jewellery. The Hirst Collection is also surprisingly budget friendly, with the mantra "it's much more fun to have lots of jewellery than to have just one expensive piece."
Amanda Wrigley sits at the helm of the brand. She says she cut her teeth in the industry young, "touring Antique shops in my pram" with her mum. Prices start from £19. It's '50s Hollywood glamour, for high street prices. Run, don't walk.
Follow @thehirstcollection.
Key piece:
Otiumberg
Otiumberg was founded by two sisters, Christie and Rosanna Wollenberg, who both have years of experience in fashion and design. For this reason, their jewellery is beautifully designed down to every last detail. Their earrings are particularly cute.
Follow @otiumberg.
Key piece:
Zoe and Morgan
Zoe and Morgan has actually been around since 2005 but their designs continue to be some of the coolest and most chic around, taking inspiration from the founders' surroundings in England as well as New Zealand. They also offer a bespoke service.
Follow @zoeandmorgan.
Key piece: