Blue Ivy's Grammys Purse Costs More Than Your Rent & She's Only 6 Years Old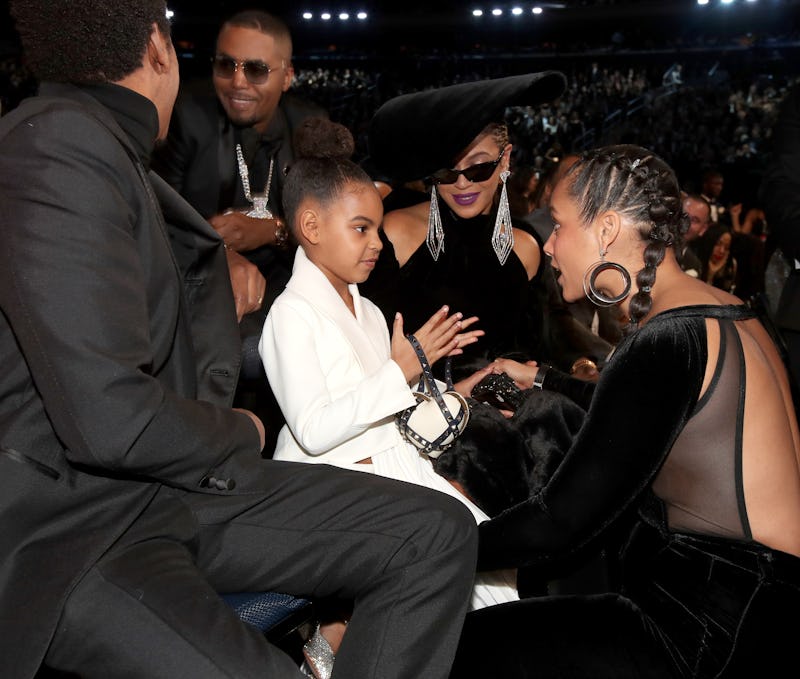 Christopher Polk/Getty Images Entertainment/Getty Images
While you were busy staring at Beyoncé's fabulous Grammys hat, there was an even more luxe product sitting right next to her. As PopSugar found, Blue Ivy carried a Valentino purse to the Grammys, and people have a lot to say about the pricy accessory. You're never too young to make a style statement, and Blue's heart-shaped, studded leather bag proves it.
Although Jay-Z was in the spotlight at the pre-Grammy event and Beyoncé was in the spotlight for simply being herself, it was Blue Ivy that stole everyone's hearts at the event. She might not have walked the red carpet, but the toddler definitely made a statement with her pricey handbag and that adorable moment she shushed her parents.
But let's cut to the chase when it comes to her accessories. Blue Ivy's Valentino purse costs $2,675. Now reread that sentence and keep in mind that she is only six years old.
Yes, the famous toddler has a bag that costs more than your rent. But did you really expect anything less? Considering that Beyoncé wore $6.8 million worth of jewelry to the Grammys, it's safe to say that she gets it from her momma.
Blue Ivy clutched her white, heart-shaped bag close throughout the entire night. The accessory, which is available on the Valentino website right now, is wrapped in leather straps with studs on them. It matched perfectly with her all-white suit and will make you instantly jealous.
This isn't the first time that Blue Ivy has caught the attention of the fashion world with her accessories. At the 2017 Grammys, she carried a pink, glittery cat purse on her arm. Of course, it was no average accessory. The pink bag was from Gucci and cost a cool $1,895. If that isn't enough to make you want to play dress-up in her closet, then I don't know what will.
Blue Ivy carried both purses like a pro. But, to be fair, if you had an accessory that cost that much, you would probably be clutching it for dear life too. She always stuns at every single awards show that she goes to with her parents, but this outfit was particularly chic.
The price and the designer of the adorable bag are known, but there is one thing that's still a mystery. People are dying to know what Blue Ivy carries in that bag of hers. Because if the bag alone costs over $2,000, just imagine what could be inside.
To say that people are obsessed with Blue Ivy's accessory is an understatement. From the look to the price, people can't get enough of this toddler's stunning bag. Here's what people have to say, so you can see for yourself. Spoiler alert: This is an infamous moment that will go down in Grammys history.
Blue Ivy was very protective of this accessory. She clutched it for dear life throughout the night, which was absolutely adorable — and made for a really great meme.
Which leads to the second-best question: What is in that purse? Must be something good, if she's being so protective of it.
She had her hands on her mom's purse at one point throughout the night as well.
Or there's the possibility that she is just royalty and knows how to keep it proper. After all, she is raised by an American that's basically royalty.
The moment is just too adorable for words. Luckily there are emojis to tell the world how fans truly feel.
The purse was held tight in her hand throughout the shushing event as well.
Because when you're this well-dress, they make sure you are in the front.
This six-year-old lives a fancier life than you probably ever will. But at lease there are memes, so you can laugh through the pain.