The 12 Best Strapless Bras For Small Boobs That Won't Fall Down
We only recommend products we love and that we think you will, too. We may receive a portion of sales from products purchased from this article, which was written by our Commerce team.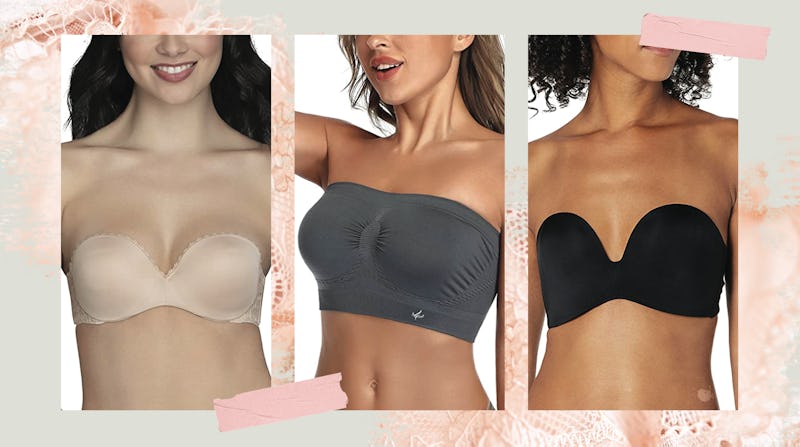 Amazon / Bustle
If you've ever worn a strapless bra to a formal event, only to find it around your waist before the cocktail hour has ended, you know that the best strapless bras for small boobs are invaluable because they actually stay in place. All bra sizes are fabulous because boobs are just plain fabulous, but if we're being honest, there are always going to be struggles that those of us with small boobs face that will seem foreign to anyone with big boobs, and vice versa. And, strapless bras? Challenge with a capital "C."
I've had friends remark how "lucky" I am because I can comfortably squeeze my B-cup breasts into those sticky silicone bra cups that stay up by themselves and work like a charm under halter tops, backless dresses, and other confounding articles of clothing. And I'm not knocking them because lots of women love the strapless freedom they provide. Personally, I've found if you need any support at all in the boob area, it also helps to own a few good conventional strapless bras that won't slip or fall down, are comfy, and will support a smaller chest. This means looking for features like elastic, nonslip silicone lining, a wide back, or clever shaping, which can help a supportive strapless bra stay where it's most, well, supportive. A comfortable strapless bra is one that fits correctly, so it helps to look for a bra with an inclusive size range to accommodate all kinds of bodies.
So, where are all of these magical strapless bras for small boobs? These strapless bras for small boobs will keep you supported and won't morph into an unwanted belt.
This article was originally published on