17 Quotes From Famous Feminists To Share On Women's Equality Day
"We cannot all succeed when half of us are held back."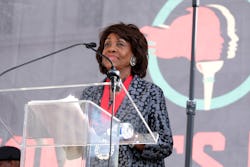 Sarah Morris/Getty Images Entertainment/Getty Images
Wednesday, August 26 is Women's Equality Day, marking 100 years since the 19th Amendment was officially certified to the United States Constitution. What better excuse than a milestone in women's rights to take note from some feminist foremothers and celebrate with inspiring quotes for Women's Equality Day.
As mentioned, Women's Equality Day commemorates an important milestone in women's suffrage. The first bill for women's voting rights was introduced in 1878. As history suggests, that initial bill was rejected. A bill regarding women's suffrage continued to be reintroduced and subsequently rejected every year for the next 41 years. Yes, four decades of "no thanks to bills allowing women to vote." A version of the bill finally passed in 1920 as the 19th amendment. However, this still did not guarantee all women the right to vote.
It's no secret that the suffragette movement in the U.S. has a contentious history with the civil rights movement. While the 19th Amendment was undeniably a step in the right direction, it most directly benefited white women. "Literacy" tests as part of Jim Crow kept Black voters out of polling places well into the 1960s. Native Americans were barred from voting as recent in U.S. history as 1948 due to certain state laws. Because they were denied citizenship, Asian Americans also couldn't vote until the early 1950s. It wasn't until 1965, when the Voting Rights Act passed, that universal suffrage was a guaranteed right.
While, in theory, everyone has the right to vote, the reality is that systemic barriers remain in place that prevent many women and men from exercising their right to vote. Voter suppression still prevents Black people, Latino people, and other citizens in marginalized communities from true access and ability to vote. Such measures to cut early voting and laws regarding voter IDs in turn deny citizens access to the voting booth.
August 26 serves as an important reminder both of how far we've come as a country and how far we still must go. The work is far from over; the fight for women's rights is still very much a fight. Here are 17 quotes from famous feminists to keep you inspired in the fight for equal human rights on Women's Equality Day and beyond.
This article was originally published on