If You're 1 Of These 3 Zodiac Signs, Stay Single This Summer
Make it a season of self-love.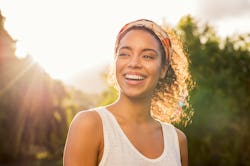 Shutterstock
Although it may seem nice to have someone around to make your summer nights even hotter, dating during a pandemic might prove to be more trouble than its worth. In fact, there are three signs who'll be better off staying single during summer 2020. So, if you happen to be a Taurus, Capricorn, or Pisces, let's just say it may be in your best interest to make it a summer of self-love.
As astrologer Clarisse Monahan tells Bustle, this summer is going to favor fun, passion, and flirtation over anything deep or serious. For example, Mars, the planet of passion and sex, will be in its home turf, Aries. According to Monahan, fire signs (Aries, Leo, and Sagittarius) will feel a heightened sense of desire. Their libidos will be strong, and they'll be more enthusiastic about dating than other signs.
Venus, the planet of love and beauty, will also be in flirty Gemini until August 12. Venus in Gemini will be making a nice, easy sexile to Mars in Aries, meaning the energy will be great for meeting new people. So, if you need a good distraction from everything going on in the world right now, this summer might bring you something light and short-term.
While the rest of the zodiac might enjoy a good summer fling, Monahan says these three zodiac signs will be better off staying single in summer 2020.