This Zodiac Sign Is Most Likely To Break Your Heart This Summer
Watch out for those heavy-hitter planets.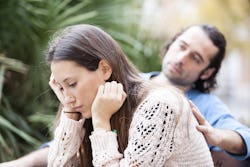 Shutterstock
Let's be real: The last thing you need to deal with right now is heartbreak. Fortunately, astrology is here to guide you in the right direction. Whether you're looking for some summer love or drama-free fun over the next few months, your birth chart can reveal which sign you should probably avoid dating. According to astrologers, there's one zodiac sign most likely to break your heart this summer, based on your own zodiac sign.
It may actually be the perfect time to learn which sign you should be cautious of because the cosmos seem to favor more serious relationships this summer. As Veronica Perretti, astrologer and cosmic coach, tells Bustle, there are three "heavy-hitter planets (Jupiter, Saturn, and Pluto)" in Capricorn, which is a sign that doesn't shy away from long-term commitments. "If you've been non-committal in the past, this may be the summer you decide to settle down with just one partner."
It's important to note that sun signs can give you an idea of what your relationship with someone will be. It's not the whole picture. So if you are interested in a sign that you're not compatible with, it's perfectly OK to give them a chance. Astrology is here to provide you with information, and what you choose to do with that is totally up to you.