6 Fascinating Facts About Being Ambidextrous That Most People Don't Know
It's a real-life superpower.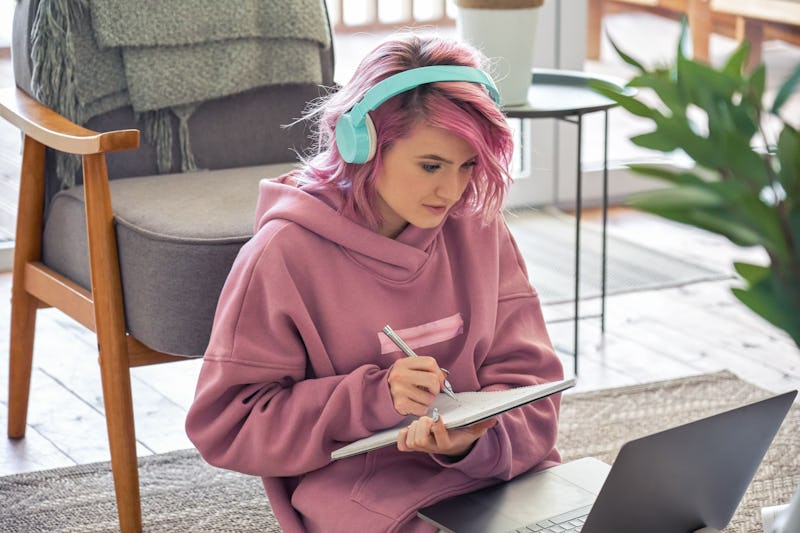 Shutterstock
Having the ability to use both your right and left hands with ease is a skill not many people are blessed with. Imagine if your handwriting looked beautiful no matter which hand you wrote with. Or if you had the ability to hit a home run holding the bat either way. According to psychologist and author Charlotte Reznick, Ph.D., someone can officially be defined as ambidextrous when they are "able to use both right and left hands equally well." This could come in handy (pun intended) in a lot of scenarios.
For the most part, everyone develops either a right hand dominance or left hand dominance, and the vast majority of people will fall under the right-handed category. "Research over time and across cultures and socioeconomic levels points to a strong genetic influence [toward] which hand will be dominant, and indicates that 10% to 12% of the population is left-handed," Reznick tells Bustle. So, when the unusual left-handed person comes along, you might be surprised by what you're seeing. Writing script with the left hand? How strange! But believe it or not, a pen can feel right at home in both hands for a select few.
If you're a right-handed person and the idea of doing anything with your less dominant hand makes you feel like the world is suddenly spinning backwards, you know you're not gifted with this special skill. In fact, as you'll learn in more detail, people who are truly, thoroughly ambidextrous are extremely rare. Not superhero recruited into X-men rare, but still, rare. What's more, there are a lot of surprising traits that come along with the ability to use either hand.
Studies referenced:
de Kovel, C. G., Carrión-Castillo, A., & Francks, C. (2019). A large-scale population study of early life factors influencing left-handedness. Scientific Reports, 9(1). https://doi.org/10.1038/s41598-018-37423-8
Papadatou-Pastou, M., Ntolka, E., Schmitz, J., Martin, M., Munafò, M. R., Ocklenburg, S., & Paracchini, S. (2020). Human handedness: A meta-analysis. Psychological Bulletin, 146(6), 481–524. https://doi.org/10.1037/bul0000229
Rodriguez, A., Kaakinen, M., Moilanen, I., Taanila, A., McGough, J. J., Loo, S., & Jarvelin, M.-R. (2010). Mixed-handedness is linked to mental health problems in children and adolescents. PEDIATRICS, 125(2). https://doi.org/10.1542/peds.2009-1165
Hubbard, E. M. (2007). Neurophysiology of synesthesia. Current Psychiatry Reports, 9(3), 193–199. https://doi.org/10.1007/s11920-007-0018-6
Experts:
Charlotte Reznick, Ph.D., psychologist, child and adolescent psychotherapist, former UCLA Associate Clinical Professor of Psychology, and author of The Power of Your Child's Imagination
This article was originally published on