3 Zodiac Signs Aquarius Likely Regrets Breaking Up With
You'll rarely see this water bearer crying over an old flame.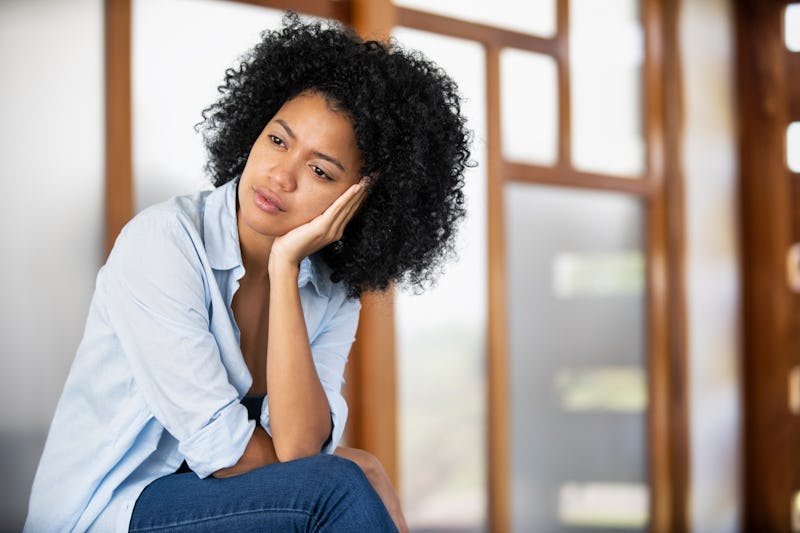 Mindful Media/E+/Getty Images
As the ultimate freedom-seeker of the zodiac, Aquarius tend to do just fine after a breakup. This progressive sign is always looking towards the future. They're more logical than emotional, so you'll rarely ever see them crying over an ex. Even when they're in a relationship, the zodiac's water bearer can come off a little too cool and detached for someone who craves affection. However, this fixed sign is loyal to the core. Although they may not seem like the type to care about an ex post-breakup, there are three zodiac signs Aquarius will likely regret breaking up with.
"In true quixotic style, the water bearer is an Air sign who's always focused on a distant star," Elisa Robyn, Ph.D., an astrologer and astrology transitions consultant, tells Bustle. "A true Aquarian will rarely, if ever, think about their exes. That happened in the past, and the future is much more exciting and enjoyable."
However, it's important to note that Aquarius is one of the most unpredictable and inconsistent signs in the zodiac. So when it comes to them, you can expect the unexpected. "Turning on their aloof button, the ex might simply cease to exist, or Aquarius might find a reason to forgive and forget," Robyn says.
When it comes to love, Aquarius is an all-or-nothing sign who rarely ever jumps into relationships. Not many people know how to keep their interest long-term. That's one of the biggest reasons why the following three zodiac signs will always have a place in Aquarius' heart. According to Robyn, Aquarius will regret breaking up with them the most.
Source
Elisa Robyn, PhD, astrologer and astrology transitions consultant