15 Genius Storage Solutions For Your Next Bathroom Refresh
These are a few of our favorite things.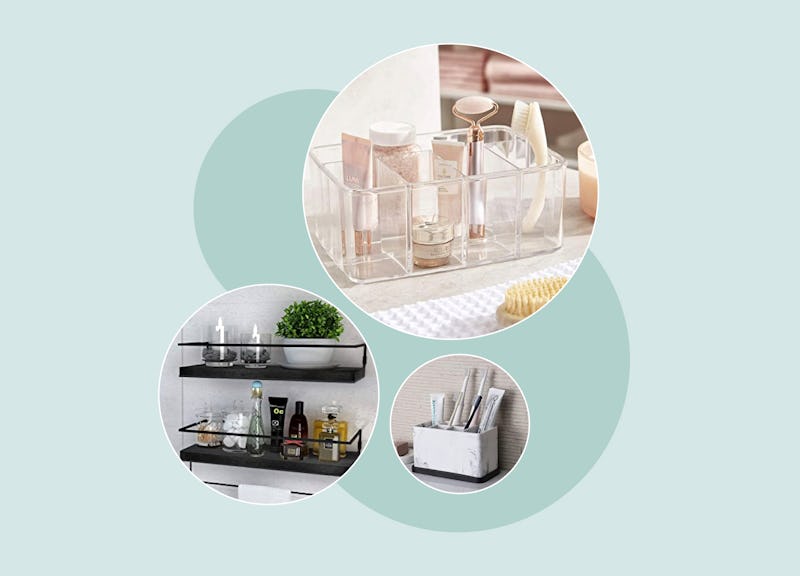 Bustle/Amazon
Whether you refer to it as the powder room, lavatory, or even water closet, the bathroom is an inescapable part of your daily routine and can either be really organized or a hot mess. Don't worry — it's totally natural for this space to get a little cluttered from time to time with all of the self-care gadgets and TikTok-influenced makeup that wander in and out on everyday. Thankfully, there are seemingly infinite ways to divide and conquer your go-to products, towels, and other bathroom essentials with just a click of the add to cart button.
For keeping your toothbrushes nice and tidy, there's a sleek holder designed specifically for your handheld bristles. If you're just wanting to get rid of overly branded packaging and switch to something more neutral, look no further than bamboo-lid jars and a push-button soap dispenser that stays put in the shower. Maybe your biggest concern is keeping your daily supplements in order. In that case, there's an ultra-structured bin that will do the trick in no time. See? Seemingly infinite options here.
Your bathroom doesn't need to be perfectly put-together all the time, but these genius storage solutions will aid in sprucing up the majority of your space. After all, there is no better feeling than walking into a streamlined space where you know exactly where the fresh towels are and how to access the emergency TP. Okay, maybe that's a little niche but you get the picture.
We at Bustle only include products that have been independently selected by our editors. We may receive a portion of sales if you purchase a product through a link in this article.