AirPods Pro Are 20% Off For Cyber Monday
Snag these last-minute savings.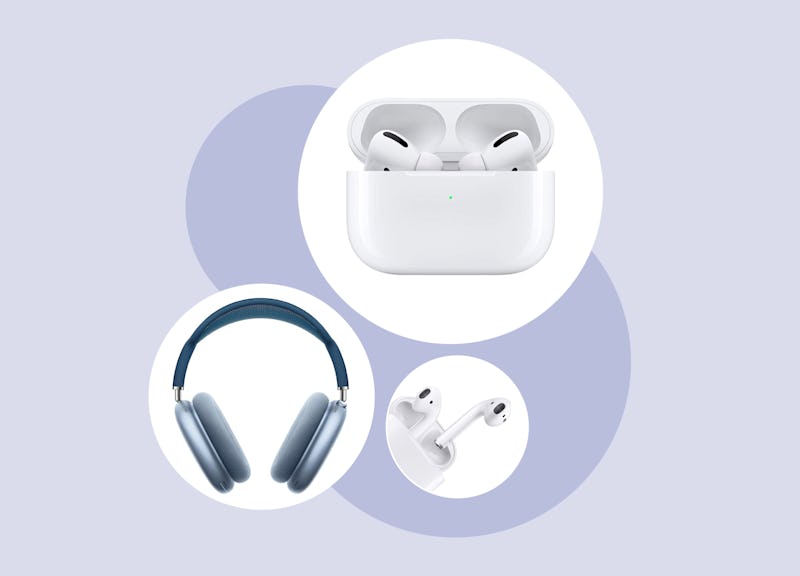 Apple
'Tis the season of savings. If you're prepping for early holiday deals and have a tech-lover on your list (who doesn't these days?), then you've probably been marking your calendar for Cyber Monday. While Black Friday deals on tech products have come and gone, Cyber Monday is a great day for shopping for electronics, specifically, as they usually come with extra mark-downs. And, if any of the gadgets on your gift list include Apple products, you'll be happy to know that there's plenty of Cyber Monday Apple deals still available.
With plenty of deals on everything from AirPods to MacBooks, you're sure to find the perfect gift for your loved ones this holiday season. (Or, if you've been waiting to purchase a new Apple device for yourself, now is a great time to invest in a discounted option.) On Apple's site, Black Friday and Cyber Monday sales kick off on Friday, Nov. 26 and go through Nov. 29. If you buy select products directly through Apple, you'll receive a gift card to use on future purchases; $50 when you buy certain iPhones or Apple Watches, $75 when you buy AirPods, etc.
While many companies mark down any leftover inventory from Black Friday on Cyber Monday, TechRadar notes that this will only happen if their stock doesn't sell out by Monday. If the gadget on your list is an absolute must-have, you may want to opt for buying on Black Friday for extra security — especially since you can most likely buy it online anyway. Below, check out the 11 best Apple Cyber Monday deals you'll want to scoop up ASAP.
We only include products that have been independently selected by Bustle's editorial team. However, we may receive a portion of sales if you purchase a product through a link in this article.
$300 Off iMac
With a substantial size and cost, iMacs are a big investment typically saved for one's home office. If you've been hoping to add an iMac to your WFH flow, now is the time to buy with an over 26% discount.
19% Off Leather MagSafe Case
You can get Apple's MagSafe-compatible case for iPhone 13 Pro Max for over $10 off on Cyber Monday. There are similar discounts on the silicone and clear versions of the case.
Over 10% Off AirPods Max
Apple's over-ear AirPods Max give a retro touch to the futuristic feel of AirPods. This is a great gift for the hipster in your life — or anyone who is big on music but not keen on in-ear devices. On Amazon, AirPods Max are available new and used for up to $150 off the sticker price, depending on the color.
20% Off AirPods Pro
With noise cancellation and a sleek fit, the AirPods Pro arguably offer some of the best features in the AirPods series. See what the hype is about at a discounted cost.
$130 Off MacBook Air
Light-weight and light on your wallet, this discounted MacBook Air listing is one of the most affordable options for a new MacBook.
Save 50% Off Beats Over-Ear Headphones
Even though wired headphones are supposedly cool again, you can't beat (ahem) these over-ear headphones when it comes to comfort.
28% Off AirPods (Second Generation)
While Apple's latest version of its classic earbuds are also on sale for Cyber Monday, they're only $10 off. The second generation is just as high quality (albeit with a shorter battery life), and available for 28% off on Amazon.
$40 Off Apple Watch SE
The very serviceable Apple Watch SE is $40 off for Cyber Monday on Amazon, making it a perfect gift for someone who's finally ready to dip their toes into the world of smartwatches.
Save $500 On MacBook Pro
It may not have Apple's latest M1 chip (nor the MagSafe charging that Apple brought back in its latest model), but for $500 off, this Intel-powered MacBook Pro is mighty powerful.
23% Off MagSafe Charger
Love charging your phone without having to plug anything in? Snag an extra MagSafe Charger at this super-low price.
25% Off MagSafe Battery Pack
Avoid that sinking feeling of being out for the night at 10% with this MagSafe battery pack. The external power source charges your phone by spooning it (no, really).
This article was originally published on