The 11 Best Coffee Table Books For Decorating, According To Interior Designers
We only recommend products we love and that we think you will, too. We may receive a portion of sales from products purchased from this article, which was written by our Commerce team.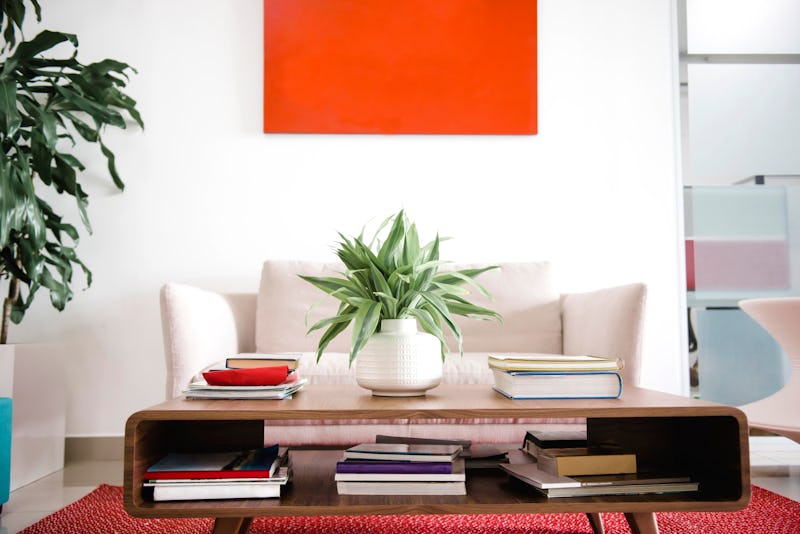 mgdfoto / Shutterstock
When you're styling your home, small items like coffee table books are a great way to add personality and dimension. The best coffee table books for decorating should reflect your interests and work with the style of your home. You'll want to aim for pretty spines or covers, but picking a book that you'll actually enjoy flipping through is of the utmost importance, according to longtime interior designer Joe Cangelosi of Joe Cangelosi Design. "The best coffee table books are those that first and foremost reflect the person who lives there. They have to love it, otherwise... why have it?"
What to look for in a coffee table book
Cangelosi suggests starting with books in a subject area that interests you, whether that's fashion, photography, or architecture. But another approach comes from Maddy Kozoyed, owner and interior designer at Whatsoever Things are Loverly, who tells Bustle, "My advice is to go for something aspirational and exciting. Yes there are a ton of beautiful coffee table books out there that will look stylish in your space. But the one that is meaningful to you will be the most impactful." Meaningful books, she explains, can serve as inspiration or conversation starters, as well as "visible reminders of your priorities and aspirations in life."
How to choose the best books for your space
However, while the content of your chosen books is important, Kozoyed cautions that their appearance matters, too. To pick the books that will look best in your space, opt for books that offer a pop of color or blend with your decor. There are a few different ways to go about this, so do what feels right to you. Kozoyed explains, "I love using books with bold color spines and fun title fonts. That way, they make a statement, but are super easy and sustainable to swap." On the other hand, interior designer Kimberly Horton of KH Home Design points out that "typically, going with a neutral binding allows more flexibility in the other design elements," which could make it a great choice if you aren't settled in your style just yet, or just really like a clean, airy aesthetic.
How to style coffee table books
You'll also want to think about where you plan to place your books before you pick one (or several) for your home. According to interior designer Marissa Pellegrini, who blogs at Barely Keeping It Together, "Coffee table books are great to stack on a coffee table (touche I know!), anchor a smaller decor item like a crystal or small decorative object, or use in styling a bookshelf." They can also be placed on other surfaces around your home, like nightstands, console tables, and more.
Wherever you plan to place your books, there are many ways to style them. Kozoyed explains, "My favorite way to style coffee table books is to use them as trays or to create dimension on a flat surface. Stack multiple to add height, use them to corral remotes and candles, or let their covers be worn by cocktail glasses." Interior designer Ginger Curtis, owner of Urbanology Designs, provides additional guidance. "Generally, you want to stack two or three coffee table books depending on their size. Next to the books you want to follow the 'rule of three' to create three different heights. For example, a small vase and a sculptural piece next to them to 'ground' the books, so they don't look out of place." For stacks of books, it generally looks best to put larger books on the bottom and smaller ones on top.
Ready to add coffee table books to your decor? Here are some top picks that professional interior designers and Amazon reviewers love.
Experts:
Joe Cangelosi, interior designer and owner of Joe Cangelosi Design
Maddy Kozoyed, interior designer and owner of Whatsoever Things are Loverly
Kimberly Horton, interior designer and owner of KH Home Design
Marissa Pellegrini, interior designer and blogger at Barely Keeping It Together
Ginger Curtis, interior designer and owner at Urbanology Designs and author of Beauty by Design