The 5 Best Dust Mite Covers For Mattresses & Pillows
No more sniffling and sneezing while you sleep.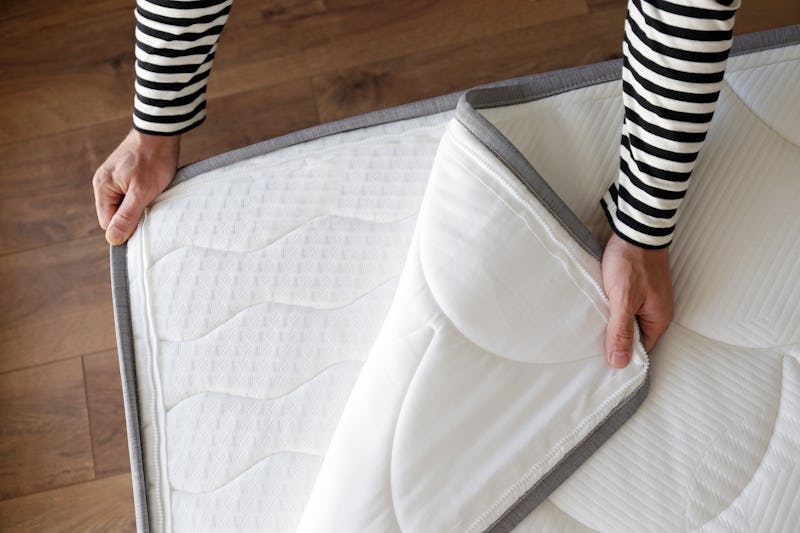 Shutterstock
We may receive a portion of sales if you purchase a product through a link in this article.
Dust mites are one of the most common causes of allergies or asthma, but since they are typically too small to see in bedding materials, they're not the easiest things to tackle. Luckily, the best dust mite covers can help keep this common allergen at bay when it comes to your mattress — arguably the hardest bedding material to clean — as well as your pillows. While size and fit are important, the material is likely the most influential factor when looking for a cover.
What To Consider When Shopping For The Best Dust Mite Covers
Dust mites live in mattresses, pillows, and bedding materials, and survive by feeding on skin cells. People who are sensitive to dust mites generally react to the proteins in the waste that they leave behind or in the carcasses of dead dust mites. In order for a dust mite cover to be effective, it needs to be woven tightly enough to trap dust mites completely and prevent them from accessing their food source.
Material
Top-selling mattress protectors and pillow covers use different types of fabrics including cotton, polyester, bamboo, or microfiber. While they all help to minimize dust mites, they come with their own additional benefits. For example, if you want a breathable mattress protector, cotton is a good bet, while bamboo is naturally temperature-regulating, so ideal if you tend to sleep hot and want a dust mite bed cover with cooling capabilities. Traditional polyester is great if you're looking for a durable, waterproof mattress protector, but you may want to look for a cotton top to keep the mattress cool — as polyester tends to warm up.
Covers Versus Encasements
Generally speaking, there are two styles of dust mite mattress covers: those that look similar to standard protectors with a fitted elastic hem, and mattress encasements, which zip to enclose the mattress completely from all sides. Encasements offer the best protection against dust mites by a long shot, however they can take some effort to pull over your mattress, so consider this when deciding which style is best for you.
Similarly, if you're on the hunt for pillow covers, you'll get the most protection from an encasement that zips closed, as opposed to a protector that simply slips over your pillow.
Ultimately, your choice will be a matter of personal preference based on your unique sleep-related needs. Whether you're a hot sleeper who could use a layer of cooling material or are just looking for a simple, cost-effective solution, these are the best dust mite covers for a sniffle-free night.
Shop The Best Dust Mite Covers
In a hurry? These are the best dust mite covers:
1. The Most Popular Dust Mite Cover
With an impressive 256,000-plus reviews and 4.6-star overall rating, the SafeRest mattress protector is an Amazon best-seller with an established following. It features a soft cotton construction that's free of vinyl, PVC, phthalates, and fire retardants, along with a membrane coating that's waterproof and hypoallergenic to protect against fluids and dust mites. Plus, it's noiseless and carefully fitted for a quiet, movement-free layer that won't affect the feel of your mattress. Last but not least, it's washable and dryer-safe for easy cleaning down the line.
One reviewer wrote: "We have this SafeRest mattress protector on every bed in our home. You make an expensive investment on a mattress - PROTECT IT! I love it because it protects against any accidental spills - as well as acting as a top barrier for dust mites. Easy to wash and dry. Extremely stretchy sides makes it easy to put on the mattress."
Material: Cotton terry exterior with waterproof membrane | Cover or encasement: Cover | Available sizes: Twin, Twin XL, Full, Queen, King, California King
2. The Most Popular Dust Mite Pillow Protectors
Dust mites live in all types of bedding — not just mattresses — so if you're looking for more coverage, these are some of the best dust mite covers on Amazon. Boasting a 4.7-star overall rating, they're made from a blend of tightly woven polyester and nylon, and finished with a zipper for full encasement. For upkeep, they're washer- and dryer-safe.
One reviewer wrote: "I have terrible allergies and my Dr suggested these. I put my pillows in the dryer for 30 minutes to clean them and then put the covers on them and added my normal pillow cases. I could tell the very next morning they helped bc I wasn't stuffy and I had no allergy symptoms! So thankful I found this product!"
Material: Polyester and nylon | Cover or encasement: Encasement | Available sizes: Standard/Queen, King
3. The Most Protective Mattress Cover
If you want full coverage, it's worth going all in for this mattress encasement that comes highly rated by reviewers. It's 100% waterproof, and constructed with stretchy polyester, a polyurethane backing, and a cotton terry surface that reviewers have reported is "soft" and "quiet." Also designed to block bed bugs, it features a zip-on design — so you may need an extra pair of hands when pulling it over your mattress. This pick is washer- and dryer-safe, and free of vinyl, PVC, and pthalates.
One reviewer wrote: "Excellent for allergy sufferers. I have purchased one of these for each bed in my home and have found them to be very effective in both protecting the mattress and keeping any allergens in the mattress from affecting the sleeper. Machine washable, too."
Material: Cotton, polyester, polyurethane membrane | Mattress or encasement: Encasement | Available sizes: Twin, Twin XL, Full, Full XL, Queen, King, California King, Crib (multiple mattress depths available)
4. The Most Waterproof Mattress Cover
If perspiration or accidents are your primary concern after dust mites, the UltraBlock mattress protector is the way to go. It's the only option on this list that's been tested against 100 gallons of water and still remained dry, so many of the reviewers trust it to stand up to kids, pets, and other messes. Despite its waterproof material, it's still soft, nontoxic, odor-free, and carefully fitted — and, of course, it helps to eliminate dust mites and other common allergens. It's free of PVC, phthalates, and vinyl, and as a few customers raved that it's "completely silent."
One reviewer wrote: "I purchased this for our mattress back in 2020 because my son co-sleeps with me and my husband. This mattress protector has saved our mattress from getting ruined countless times! My son at the time was still an infant and would sleep long stretches so there were occasional accidents but never has his pee ever soaked through the protector! It's really soft and silent."
Material: Polyester exterior, polyurethane layer | Cover or encasement: Cover | Available sizes: Twin, Futon Full, Queen, King, California King, RV King
5. The Most Cooling Mattress Cover
For those who tend to sleep hot, many mattress protectors can feel too warm and restrictive. Luckily, the top of this premium mattress protector from PlushDeluxe is made from bamboo fibers, so it's cooling, breathable, hypoallergenic, and moisture-wicking — all while remaining waterproof and protective against dust mites. It's also noiseless and free from PVC, phthalates, and vinyl.
One reviewer wrote: "With severe allergies to dust, I was looking for bedding that would help with my allergies. My prior bedding worked, but did not allow for air circulation, which made me hot when I slept. This allows for circulation and the bamboo inhibits penetration by dust mites."
Material: 40% bamboo, 60% polyester | Cover or encasement: Cover | Available sizes: Twin, Twin XL, Full, Queen, King, California King
This article was originally published on