The 6 Best Eyeglass Cleaners For A Streak-Free Shine
We only recommend products we love and that we think you will, too. We may receive a portion of sales from products purchased from this article, which was written by our Commerce team.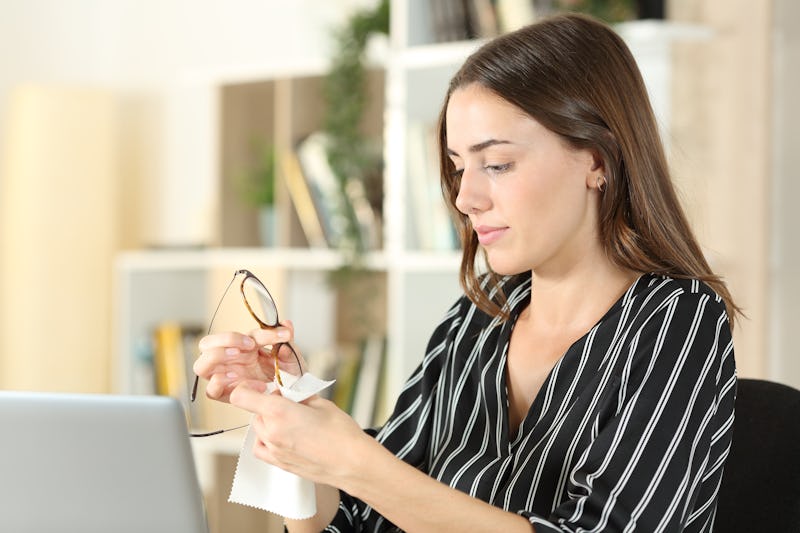 Shutterstock/Antonio Guillem
If you're struggling with fingerprints and foggy lenses, investing in one of the best eyeglass cleaners can help you see the world in a whole new way (literally). Eyeglasses are an investment, though, so to find a safe and effective clean, we sought the advice of two eye-care experts.
First: What not to do: Brad Brocwell, Doctor of Optometry and Vice President of clinical operations at My Eyelab warns against using household cleaners which "can contain harmful chemicals that may slowly disintegrate the protective coating on your lenses." He also advises against wiping your lenses against your clothes, which may contain dirt particles that can scratch your lenses. In that same vein, Michael Shumski, MD, of Magruder Laser Vision recommends against using a paper towel to dry lenses, and instead recommends using "a microfiber cloth that won't scratch or damage your glasses," along with a cleaning agent like a spray, liquid, or wipes. For even more lens clarity, Shumski recommends investing in an an anti-fog spray, which will "prevent water droplet formation or condensation from occurring on your glasses."
Beyond that, you'll just need to find the method that works best for you. Individually packaged pre-moistened wipes can be stashed in your desk or purse (perfect if you're always on the go), but if you're looking for versatility, the best glasses cleaner would be an all-inclusive kit that comes with a spray bottle and foldable cloth. You can also opt for a reusable tool that removes smudges and dust with carbon pads, an easy method that doesn't require any liquid. Of course, it's always a good idea to keep your glasses in a protective case to shield the lenses from scratches and dust when you're not wearing them.
With all that, here are the most effective glasses cleaners to help you keep your specs looking crystal clear.
1. The Overall Best
Not only does this eyeglass cleaning kit come with a streak-free cleaner that's safe for all types of glasses (even anti-glare lenses), but it has tons of accessories, too. Boasting a 4.7-star overall rating after more than 7,000 reviews, the set comes with two 8-ounce bottles of ammonia-free, alcohol-free, and silicone-free cleaner that clears your glasses without leaving residue behind. It also comes with a 2-ounce bottle, which is the perfect size to travel with, as well as two reusable microfiber cloths and 26 individually wrapped lens wipes. Even better, this kit can be used on other screens or lenses, and many reviewers also use it to clean their televisions, phones, and computers.
According to one reviewer: "A few wipes of the cleansing wipes and my lenses were streak-free and crystal clear. The spray in combination with the cloth is definitely an alternative if you don't have the wipes on hand to clean your device or glasses. Definitely value for money with this kit. 10/10 would recommend."
2. The Runner-Up
Another highly rated pick, this plant-based lens cleaner is not only alcohol-free and fragrance-free, it's also nontoxic. This kit includes one 8-ounce bottle of cleaning fluid as well as six cloths made from Japanese microfiber, which is ultra-fine and dense, so as not to leave lint behind. While you get a little less bang for your buck than the top pick, this is your best bet if you're looking for something gentle.
According to one reviewer: "I don't know what they made the spray and cloths from but it has to be magic. I didn't think it was possible to keep my glasses clean after one night but Calyptus has shown it is very much possible. If you want haze-free, smudge-free, smear-free glasses, buy this. You won't be disappointed."
3. The Best Travel Set
If you're looking for something more compact, this travel cleaner kit comes with three 2-ounce spray bottles you can easily tuck into your carry-on or purse while you're traveling. You also get one Japanese microfiber cloth that you can wash and reuse over and over again. And the best part? This cleaner is so gentle that you can use it on virtually any electronic screen or lenses — even the ones with special coating.
According to one reviewer: "I've been buying this brand for a couple years and swear by it. Takes one cleaning, no steaks and breaks down all grime and oil. Easiest cleaning process competed to others that require 2-3 cleanings to remove all oil from glasses and frame. I'll never buy anything else! Travel case is perfect and small enough to fit in small backpack/purse spaces."
4. The Best Lens Wipes
When it comes to cleaning your eyeglasses on the go, nothing quite beats the convenience of a pre-moistened wipe. These 200 individually wrapped cleaning wipes from Optix 55 can be kept in your office desk, in your car glove compartment, or in your bag. The box has a perforated opening that allows for quick, easy access — so you can grab a handful of wipes whenever you need. Each wipe is treated with Optix 55's ammonia-free formula, with a lightly textured surface that effectively removes dirt, residue, and fingerprint smudges from your eyeglasses. Like the other options on the list, these are also suitable for use on computer screens, binoculars, TVs and more.
According to a reviewer: "These wipes are perfect! They don't streak, they open easily-which may seem trivial, but some wipes are too flimsy and never open correctly. These wipes are large enough to tackle more than one item at a time, so you really get a lot of use from them!"
5. The Best Reusable Cleaning Tool
Here's an alternative method to cleaning your eyeglasses that doesn't involve sprays, wipes, or microfiber cloths. This dual-sided dry cleaning tool is equipped with a retractable brush on one side to dust away debris and a microfiber head on the other side, which wipes off oil and smudges from your eyeglass lenses. The tool is designed to gently clean your lenses, without removing the special coating on the surface. Plus, the carbon pad helps reduce static on the lenses, which helps keep airborne particles away. Since it only measures 4 inches long, it's small enough to carry with you in your purse or pocket. According to the manufacturer, the substance-free cleaning technology is the same that NASA uses to clean glass in space. In other words, it's super effective.
According to a reviewer: "Quick and excellent job of cleaning glasses! Love the fact that there is no waste like typical lens wipes. It's small and very portable. A great gift for yourself and anyone wearing glasses! Buy them!"
Available colors and styles: 17
6. The Best Set Of Microfiber Cloths
It's easy to accidentally misplace your microfiber cloths in between cleanings, which is why it's a good idea to stock up. This multipack of cleaning cloths from MagicFiber comes with six high-quality microfiber cloths that you can reuse up to 500 times each, and the set has earned a 4.7-star overall rating after 37,000 reviews. Measuring 6 inches by 7 inches, the large cloths quickly remove smudges, dirt, and dust from your glasses without removing the anti-glare coating. Keep a cloth in your car, in your drawer, and in your purse — you'll still have a couple left over that can serve as backups in case you lose one.
According to a reviewer: "I have been ordering these cloths for years now and they are amazing! They are so soft and clean my glasses very nicely. No matter how dirty or how many smudges I have on my glasses, these cloths always clean them! Definitely recommend them!"
Available multipacks: 2-Pack, 6-Pack, 13-Pack, 30-Pack, Extra-Large Pack
Also Great: This Spray That Prevents Your Glasses From Fogging
If your glasses tend to get hazy, you may want to add this best-selling anti-fog spray to your shopping cart. It's made from a special, silicone-free formula that prevents your lenses from fogging up, even in high humidity. This spray is so effective that it's even used by first responders and military personnel to keep their glasses and protective eyewear clear, according to the manufacturer — so you can feel confident knowing that this stuff really works.
According to one reviewer: "In the age of masks and fogged glasses finally a product that works! Spray it on. Wipe it down and like magic your glasses stay clear while wearing the mask. I will say that I have to use it every day but, it hardly takes any and I believe this bottle will last at least six months at this rate. Great stuff!"
This article was originally published on