The 6 Best Kitchen Trash Cans To Suit Your Home's Style
We only recommend products we love and that we think you will, too. We may receive a portion of sales from products purchased from this article, which was written by our Commerce team.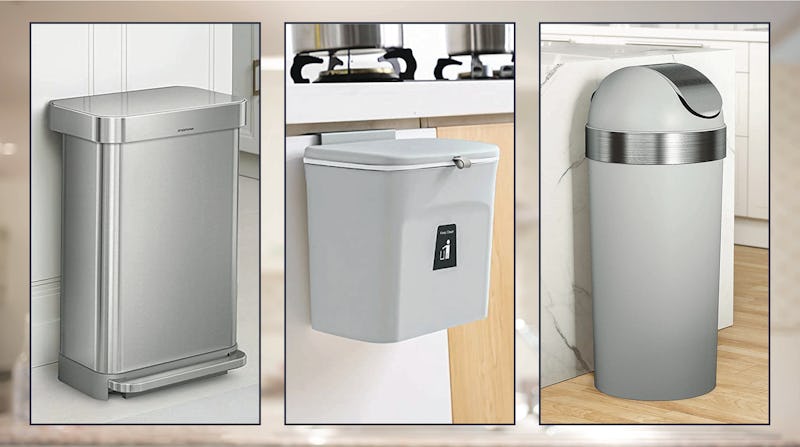 Bustle / Amazon
When it comes to your kitchen, not any trash can will do. The best kitchen trash cans come in a variety of shapes and sizes to best accommodate your space, and they're made with durable materials like plastic and stainless steel to ensure that they will hold up to daily use and be easy to clean. (Because kitchen trash can get messy!) You can also choose from a range of lid styles that are easy to open and close — even when you're mid-recipe and have messy hands — yet keep odors contained when not in use.
As you shop, you'll come across a range of types of kitchen trash cans and lids, and the right one for you will be a matter of preference. Step cans with foot pedals are among the most common and offer hands-free convenience: Simply step on the pedal to open the can. If you'd prefer not to touch your trash can at all, opt for a more modern touchless kitchen trash can, which incorporates motion-sensor technology that opens when your hand is near it. On the other hand, if you prefer something even more basic, one with a swing-top lid might be a better fit. You can just use the back of your hand to swing it open, and it doesn't require the use of a foot pedal at all.
Looking for a small trash can for your kitchen (say, for composting)? Consider getting a model you can hang from the inside of a cupboard or attach to a wall. Or, if you have space for something larger, a dual kitchen trash can with two separate bins is a great option that makes recycling a breeze.
As you shop, keep an eye out for any extra features you might appreciate, such as built-in rings or rims to keep the trash bags in place. Some models include quiet soft-closing lids and odor-absorbing filters or deodorizers, too. While these additions are not necessarily requirements for every home, they can add a nice touch.
Read on for the best kitchen trash cans you can buy on Amazon.
1. The Overall Best Kitchen Trash Can
With a 4.8-star overall Amazon rating, this is a fan-favorite option from the popular trash-can manufacturer simplehuman. It has a silent-closing plastic lid that you open by pressing the steel pedal, which is designed to last 150,000 steps. One fan described, "Lid is snug and significantly reduces odors." The stainless steel exterior features a fingerprint-proof coating to cut down on pesky smudges. One reviewer described it as "strong, durable, easy to clean."
A liner rim holds your trash bag firmly in place, and if you turn the can around, you'll find a built-in back pocket for storing extra liners — the trash can is compatible with simplehuman's liners, as well as other tall kitchen trash bags. It comes with a five-year warranty.
Material: Stainless steel
Dimensions: 15.9 x 13.3 x 25.8 inches (width x depth x height)
Capacity: 12 gallons
Promising Amazon review: "This is the best kitchen trash can we have ever had. We love the large capacity, the easy pedal operated opening, and the quiet, slow closing lid. Bags never slip down, remaining firmly in place, while the top of the can covers the top edge of the bag so everything looks neat and clean."
2. The Best Budget Step Can For Kitchens
This large-capacity Glad kitchen step trash can features Clorox Odor Protection on the inside of the lid to prevent the growth of odor-causing bacteria. Plus, many users have attested that the trash can is easy to clean. According to the manufacturer, the trash can is compatible with any 13-gallon trash bag, such as these tall Glad bags. It comes with a two-year warranty
There are some drawbacks to such a budget-friendly option: Some reviewers have reported that the lightweight plastic isn't the sturdiest if the can is empty, which can cause it to tip over when you press on the pedal. While it does have built-in rings to hold the trash bag, reviewers have written that they don't always stay snapped in place like they're supposed to. But if you simply need a basic step can and won't mind handling it gently, this one's worth considering.
Material: Plastic
Dimensions: 18 x 14.5 x 25 inches (width x depth x height)
Capacity: 13 gallons
Promising Amazon review: "I have this in my kitchen, and so far I really like it. It keeps smells out extremely well, and lasts a family of three about a week before it needs to be changed but even then there is no smell. Very easy to put bags in and they don't slide in and make a mess because of the latches. It does have a difficulty closing and opening once it's heavy, but I don't think that's a big deal and it's to be expected. Would recommend, thumbs up from me."
3. The Best Swing-Top Kitchen Trash Can
This swing-top kitchen trash can is made of durable, easy-to-clean polypropylene. While swing-top lids typically don't seal shut like flip-top lids, many reviewers have claimed that this trash can still effectively keep odors inside the can. One reviewer wrote, "Best trash can to contain odors! Perfectly matches my kitchen and still have it after 7 years!"
Reviewers have noted that the removable ring effectively keeps the garbage bag from falling down and peeking out of the trash can. Additionally, it's easy to remove the whole lid if you're throwing in bulkier items like boxes or scraps. The trash can is compatible with 20- and 30-gallon bags, is available in four sleek colors, and comes with a five-year warranty.
Material: Plastic
Dimensions: 14.6 x 14.6 x 35 inches (width x depth x height)
Capacity: 16.5 gallons
Promising Amazon review: "Love this can. Much better than having to touch a lid or deal with the broken foot pedals. Fits perfectly in my kitchen."
4. The Best Touchless Kitchen Trash Can
This touchless trash can offers motion-sensor technology, which allows for effortless use: All you have to do is wave your hand across the sensors to open the plastic lid. One user described it as having a "sleek and clean design, very quiet operation." A built-in carbon odor filter neutralizes odors. The manufacturer claims the stainless steel exterior is both smudge- and fingerprint-resistant — one reviewer agreed, writing that the can "doesn't show finger prints." Another reported that "color and material allows for easy cleaning and no smudge marks."
The trash can comes with a one-year warranty and is compatible with 13-gallon bags. It can be operated via AA batteries or a power adapter (both sold separately). While the manufacturer does not list specifics regarding battery life, one reviewer wrote: "I have been using it for six months and have still not had to replace the batteries yet." One potential drawback to this tech-savvy trash can? Some reviewers have reported that the built-in plastic ring that holds bags in place is a bit flimsy.
Material: Stainless steel and plastic
Dimensions: 12.6 x 11.6 x 31.3 inches
Capacity: 13 gallons
Promising Amazon review: "I am super happy with my purchase. It definitely helps when your hands are full of trash and you don't have to struggle trying to open the lid, motion will be detected and the trash lid opens."
5. The Best Over-The-Door Kitchen Trash Can
This over-the-door plastic trash can was designed with small spaces in mind. It comes with a removable over-the-door hook that allows you to hang it from a cabinet door or drawer (just make sure the thickness is less than 0.95 inches). An adhesive hook is also included, which allows you to affix the trash can to a flat vertical surface, such as on the inside of the cabinet under a kitchen sink.
According to the manufacturer, the trash can's sealed lid locks in odors. You can open the lid one of two ways: by flipping it up or by sliding it over and down the side. Additionally, the included scraper lets you easily clean the inside of the can. "I love that it's easy to clean!" wrote one reviewer. It doesn't feature a ring for liners, but it comes with 20 bags to get you started — when you run out, just snag some 2-gallon trash bags. The manufacturer will refund you if you're unhappy with the trash can in the first 18 months.
Material: Plastic
Dimensions: 9.8 x 10.47 x 6.54 inches (width x depth x height)
Capacity: 1.8 gallons
Promising Amazon review: "I needed a small trash can that would fit inside my kitchen cabinet and close. This product fit the bill. It came quickly and it was very easy to install even for someone who can never understand directions. It even came with bags! The lid can go in front or back which was why I bought this. Works like a charm. I couldn't be happier."
6. The Best Dual Kitchen Trash Can
This dual-compartment trash can is made with fingerprint-proof stainless steel and has two compartments for trash and recycling. There are two different soft-closing lids — one for each of the compartments. One reviewer described it as "amazing at masking odors and fits perfectly." Additionally, the manufacturer claims that the sturdy foot pedals can last over 100,000 steps.
Instead of rings, each bin has a little hole near the rim that you can tuck the excess bag into to secure it in place. One reviewer noted, "Both containers are easy to clean and they're made of sturdy material plastic. Very smooth inside so nothing really sticks to it." Plus, the built-in side handles make it easier to carry the trash can you ever need to move it. According to one user, 8-gallon trash bags fit well in the large bin. Another reviewer recommended 3- to 4-gallon bags for the smaller bin. This trash can comes with a three-year warranty. It's also available in a larger dual-lidded model with two 30-liter bins, as well as two dual-sided options that feature a single lid.
Material: Stainless steel
Dimensions: 23.8 x 12.6 x 19.4 inches (width x depth x height)
Capacity: 7.9 gallons (large compartment) and 4 gallons (small compartment)
Promising Amazon review: "We've had it for about a month now and really love this can. It's compact and looks really nice in our kitchen. The dampened close of the lids is a nice touch up. It's really easy to place the bags in it and it holds the bags pretty well, which was not the case with previous trash cans we had."