The 5 Best Mats For Under Dog Water Bowls
We only recommend products we love and that we think you will, too. We may receive a portion of sales from products purchased from this article, which was written by our Commerce team.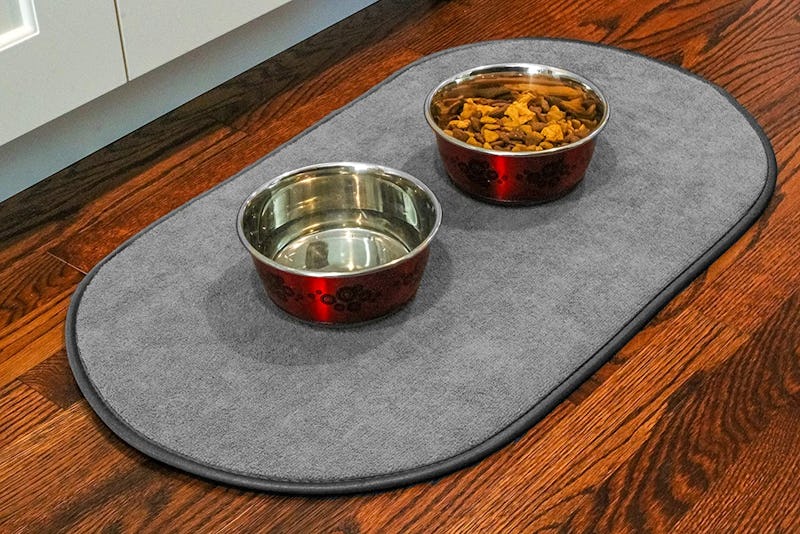 Amazon
To contain the spills and splashes that inevitably happen, the best mats for under dog water bowls can help — and, while you're at it, you might as well get one that's large enough for his or her food bowl, too. The size is going to be your most important factor. However, you'll also want to consider the material and the additional features that keep your floor cleaner (and your pet-care routine easier).
Before you do anything else, measure your dog's food and water bowls to ensure that they'll fit comfortably on your mat of choice, since you'll want a good amount of extra space around the bowls to catch the overspill. Some of them are offered in a few different sizes, but most of them aren't. As a general rule of thumb, the bigger the dog, the bigger the bowls — so the bigger the mat.
Next, consider the material; you'll either want something that absorbs the spills (like microfiber) or allows the moisture to sit on top (like silicone or PVC) so you can wipe it up later. If you do choose to go the absorbent route, make sure it's quick-drying to prevent the growth of mildew. Non-absorbent mats should have grooves, a pile, or a lip around the edge to catch and secure the water, so it doesn't roll off onto the floor.
Your feeding mat should be nonslip, pet-safe, and easy to clean. These five options are best-sellers because they meet all those criteria and more.
1. The Best Dog Bowl Mat For Small Dogs
I have an 11-pound dog (who spills his water and tosses his food all over), and this option from mDesign is my feeding mat of choice. It's big enough to catch spills, but small enough that his bowls fit compactly against a wall in my tiny kitchen. It also has both interior grooves and a raised outer lip to catch messes. Plus, it's made from nontoxic silicone that is dishwasher-safe, nonslip, and easy to roll up and take if traveling. I also love the clear color option, which is subtle and looks nice in the feeding area.
Dimensions: 8 by 16 inches
Available colors: Clear, Espresso Brown, Gray, White
One reviewer wrote: "Perfect size for my little dog's smaller dog bowls! We wanted something to protect the floors, but everything we found was so much bigger. This is a perfect size — it will catch his mess but we won't trip over it."
2. The Best Mat For Medium & Large Dogs
For medium or bigger dogs, there's the Reopet silicone mat, which is a best-seller in the feeding mats category for being simple but effective. Its waterproof, nontoxic silicone material is easy to clean and has a raised border to keep messes contained. It's also offered in two different sizes and eight different colors — and each one is dishwasher-safe, too.
Dimensions: 18.5 by 11.5 inches, 20 by 15 inches
Available colors: Black, Blue, Brown, Green, Gray, Navy Blue, Pink, Red
One reviewer wrote: "Having a big dog, he drips and gets water EVERYWHERE when drinking from his bowl. I've had a material-like mat in the past. This one was easy to clean in the sink without having to throw it in the washer/dryer and keeps his leftover water and food in the proximity of the mat."
3. A Secure Tray That Comes In Elevated & Flat Versions
The PETMAKER bowl tray is non-skid, has a super high back border, and offers raised circular edges around both bowls. As a result, it successfully keeps the bowls in place — but it's also made from dishwasher-safe silicone that catches both food and water spills. Finally, it comes in a neutral gray that matches just about any home, and you can get it in an elevated version to prevent strain on your dog's neck and digestive system, too.
Dimensions: 21 by 10.5 inches
Available colors: Gray
One reviewer wrote: "My 6-month-old puppy kept playing in her water bowl and tipping it over. I've tried other solutions and nothing worked. So far this is keeping my floors dry."
4. A PVC Mat That Catches Messes
Because it has carpet-like fibers but is actually made from PVC, this Stellaire Chern mat traps water and kibble until you're able to dry it, shake it, vacuum it, or give it a quick rinse. (It's also a top pick for protection around litter boxes, since it effectively traps litter before it can end up all over your house.) Finally, since it's waterproof, nonslip, and can hold a surprising amount of water, it's a fan-favorite when it comes to protecting hardwood floors.
Dimensions: 24 by 16 inches (small), 35 by 25 inches (large)
Available colors: Gray
One reviewer wrote: "Ordered because my lab creates an absolute pool when he drinks water. With this mat my wood floors are no longer being damaged daily."
5. The Best Budget Water Bowl Mat
Thanks to its rounded corners and stylish trellis patterning, this pet bowl mat looks like a placemat. (You can also get it in solid gray or typography designs.) That said, it still protects your floors with its highly absorbent microfiber material which dries quickly to prevent the growth of bacteria and mildew. It also features an anti-skid backing. In case of stains, you can also spot-clean it. Get it in two sizes to suit a wide range of dog bowls — all for less than $10.
Dimensions: 12.5 by 21.5 inches (regular), 16 by 27.5 inches (XL)
Available colors: Trellis, Grey, Typography
One reviewer wrote: "Works great for my dog's food and water, makes their food space look nice and keeps spills off the floor. Buy it if you need a good product like this."