The 10 Best Peel & Stick Wallpapers For Textured Walls
You *can* give your uneven walls an update!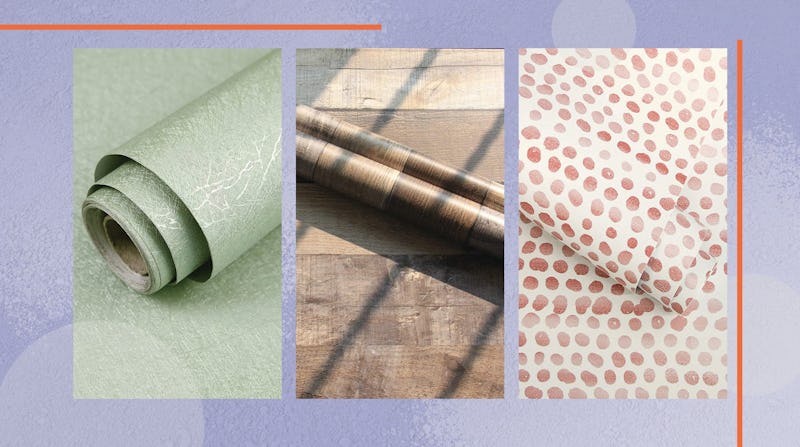 Bustle/Amazon
We may receive a portion of sales if you purchase a product through a link in this article.
While peel-and-stick wallpaper isn't typically recommended by manufacturers for textured walls due to possible application and adhesion issues — as well as the potential of being able to see the wall texture through the paper — professional wallpaper installer Adrienne Scanlan explains that DIYers have had success with it. The best peel-and-stick wallpapers for textured walls feature a busier design to conceal unevenness, have a strong adhesive to stick securely, and are thicker, which can "mask the blemishes better than a thin paper," according to Scanlan.
The Expert
Adrienne Scanlan is the founder and owner of About Murals, a wallpaper mural company based in ​​Hamilton, Ontario. Her murals have been featured on the DIY Network and HGTV. She's also a professional wallpaper installer who creates video tutorials to help others learn how to successfully hang wallpaper in their own homes.
What To Look For When Shopping For The Best Peel & Stick Wallpapers For Textured Walls
While there are a vast number of peel-and-stick wallpaper options on Amazon, not all of them are ideal for bumpy or uneven surfaces. You'll want to prioritize finding wallpaper that can disguise the texture beneath it. With that in mind, your best bet is to look for wallpaper that features a busy pattern (like intricate florals, modern geometric options, or even picks that mimic natural materials like wood or brick) or a textured wallpaper (like embossing or glitter), since these will likely hide the "bumps better than a solid color," according to Scanlan. Another option to consider? While technically not wallpaper, 3-D peel-and-stick tiles are a thicker option that'll provide even more coverage on textured walls.
Finally, if you're concerned about peel-and-stick wallpaper working on your textured walls, consider doing a test sample before diving in all the way. Scanlan recommends placing a small amount of wallpaper on the desired wall and waiting a few days before trying to remove it. When you do, "there should be some resistance," explains Scanlan. "If it comes off very easily, it's not a good idea for your wall."
Shop The Best Peel & Stick Wallpapers For Textured Walls
In a hurry? Here are the top picks for the best peel-and-stick wallpapers for textured walls:
Get ready to pull off a seriously amazing transformation in your home — these peel-and-stick wallpapers are a great way to upgrade your textured walls.
Expert:
Adrienne Scanlan, founder and owner of About Murals, and professional wallpaper installer