The 25 Best Peloton Accessories
Take your home workout to the next level.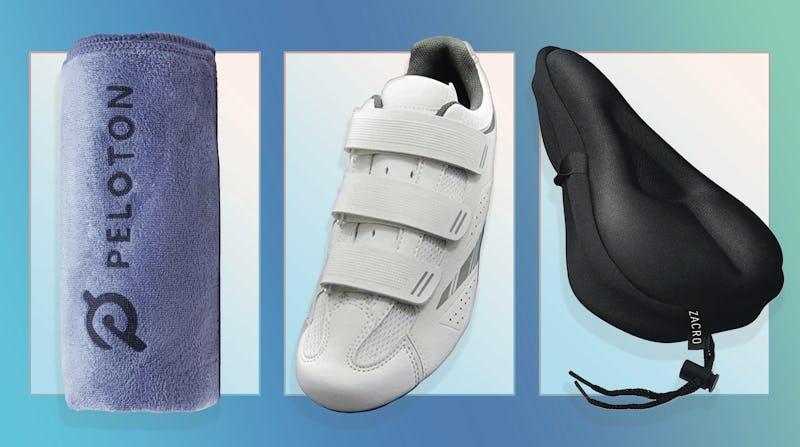 Bustle/Amazon
We may receive a portion of sales if you purchase a product through a link in this article.
You did it: you bought a Peloton, but that is just the beginning of your obsession. Peloton is more than a bike — it's practically a way of life. The best Peloton accessories make your home workout feel like a boutique fitness class. The list below includes accessories on Amazon that Peloton riders rave about. Even if you don't own a Peloton-branded bike but want to outfit your at-home spin studio, this list is for you.
What To Look For When Choosing Peloton Accessories
If you're new to Peloton and need the basic gear, you'll want a bike mat to protect your floors and a pair of shoes (you need Delta-compatible cleats). Alternatively, you can replace the Peloton pedals with a pair of pedals and toe clips that are SPD compatible (if you already own SPD cycle shoes). A chest strap heart rate monitor is what Peloton uses because it provides the most accurate measurements, and you can pick up a reliable (affordable!) version on Amazon that syncs with your bike — just make sure it is ANT+ compatible. Since Peloton weights are only available up to three pounds, you may want to consider investing in a pair that gives you more resistance options, whether that's just a heavier weight or an entire set. Also consider a pair of padded cycling shorts and some sweat-wicking headbands, because nothing will throw off a workout faster than being uncomfortable.
To upgrade your home Peloton studio, think about how you want to customize your ride. A dedicated Peloton towel hook will keep your sweat towel handy and out of your way. To create a more immersive sound for your workout, there's a Reddit-approved Bluetooth speaker — but if you need to sweat quietly, veterans recommend a pair of good wireless earbuds so you can turn it up without disturbing your neighbors. While you're at it, throw in a small fan that wraps around your handlebars and a Peloton-collab water bottle so you can end each workout feeling good.
Ahead, the 25 Peloton accessories that will take your at-home spin class to the next level.
This article was originally published on