The 7 Best Spice Jars
We only recommend products we love and that we think you will, too. We may receive a portion of sales from products purchased from this article, which was written by our Commerce team.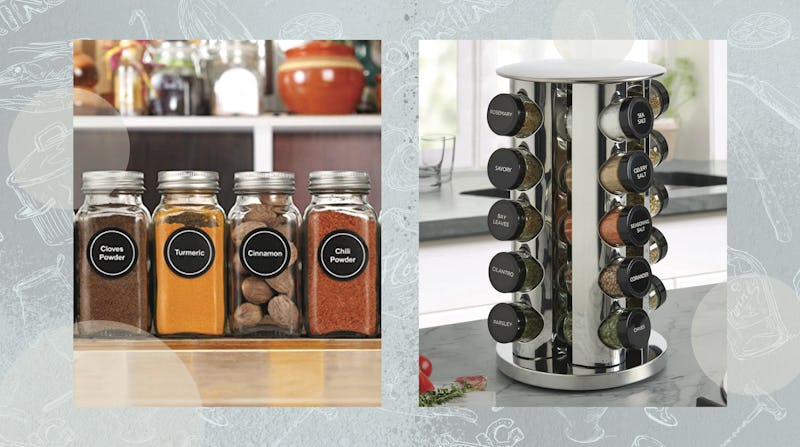 Bustle/Amazon
Whether you display them on your countertops or keep them stashed in a pantry or drawer, spice jars can help keep herbs, spices, and other dry ingredients fresh while providing a clean, uniform look. Available in empty and pre-filled sets, the best spice jars are easy to fill and label, and are made of durable glass or metal that won't stain or absorb flavors.
What Should You Look For?
Aesthetically speaking, you'll generally have a choice between jars with rounded or straight-sided bodies, so think about where you plan to store your spices and how many jars the space can accommodate. If you already have a dedicated spice rack or drawer, it's a good idea to take measurements to ensure your spice jars will fit (few things are as frustrating as a jammed spice drawer).
Spice jars come in a variety of sizes, so if you're someone who buys spices in bulk or does a lot of cooking, look for wide-mouth jars that hold a generous amount and are easy to fill. Spices are typically sold by weight, not volume, but as a general rule, most store-bought varieties can hold between a volume of 2 and 6 fluid ounces. All the spice jars below hold at least 3 fluid ounces, which is about the size of a Trader Joe's or tall McCormick spice container. Regardless of the style of spice jar you choose, a small funnel may be helpful for filling without making a mess.
Some jars are sold with coordinating racks or organizers, which are a good option if you're starting to amass a collection or want to make sure your spices have a dedicated spot. If storage space is at a premium, you might want to consider a set of magnetic spice tins that mount to a refrigerator or other metal surface. Last, while you can find pre-labeled spice jars, many sets come with blank and pre-printed labels for organization.
Shop The Best Spice Jars
If you're in a hurry, here's a snapshot of three of the very best spice jars on Amazon:
Whether you're looking for a set that's empty or pre-filled, here are the details you need to know about the best spice jars to help give your kitchen a streamlined look while keeping contents fresh and flavorful.
1. A Set With A Near-Perfect Overall Rating
Boasting a 4.8-star overall rating after 27,000 reviews, these 4-ounce glass spice jars have a straight-sided design that makes them easy to line up in a neat row or store on a range of spice racks. Tight-fitting lids keep air and moisture out, and the sift-and-pour shaker lids can be removed if you prefer to scoop out spices with a measuring spoon. Speaking of scooping, these jars have 1.25-inch openings, so it may be harder for them to accommodate larger measuring spoons. A collapsible funnel is included to help you fill the 24 jars (they come without the spices), and the set comes with two types of pre-printed labels to give your spice collection a uniform look: black chalkboard-style labels and clear PVC labels.
A reviewer wrote: "I spent a long time looking through all of the options for spice bottles before deciding on these. I'm glad I did! As far as the bottle itself, it's what you'd expect. Durable, glass, and the usual size. However, this set also came with two different types of labels - transparent ones and black circle ones. Each set had hundreds of spices, and some blank ones to fill in if you manage to find a spice not listed. It also included a collapsible mini strainer to aid you [in] transferring your spices into the bottles - something that I'll be storing and using in the future."
Size: 4 Ounces | Number of Jars: 24 | Features: two types of pre-printed labels
2. This Pre-Filled Set That Comes With A Spinning Rack
The makers of this sleek spice jar set pre-fill each of the 20 glass jars with some of the most common dried herbs and spices, like basil, thyme, sea salt, coriander, and bay leaves. The purchase includes five years of free spice refills to customers that register their set, making this pick an investment that pays off in the long run — even if you don't get to tailor the spice selection to your exact liking. The revolving stainless steel rack has a space-saving design that can be placed on the counter, and each jar's black lid is labeled for easy viewing. While the volume is not provided, several reviewers have noted that each jar holds approximately 3 ounces and that it measures about 1.5 inches across. A plastic sifter disk in each jar helps to control dispensing and can be removed if desired, but no funnel is included with the set.
A reviewer wrote: "Great looking product and spectacular value. This thing looks very sharp in my kitchen. Doesn't look cheap at all. Rotates smoothly. I haven't gotten a chance to sample the spices yet, since I have a ton of supermarket spices still left. But you can't beat the value. The spices alone would cost $50-$60 from a supermarket. Love it."
Size: 3 Ounces | Number of Jars: 20 | Features: revolving spice rack; 5 years of spices included
3. The Magnetic Spice Tins That Attach To Your Fridge
A space-efficient choice, these 3-ounce spice tins each have a magnetic base that mounts to metal surfaces like refrigerators and microwaves, so you can keep your favorite spices on hand without opening a drawer or cabinet. Each tin holds 3 ounces and has a transparent, twist-on lid so you can always see inside. Plus, the jars are wider — and shorter — than standard spice jars, which means it's easy to insert measuring spoons, and they won't stick too far out from the fridge or wherever else you plan to mount them. You can dispense spices by removing the lid completely, or twisting it slightly to sift through three holes. The set comes with 125 pre-printed clear PVC labels and 144 pre-printed chalkboard labels, but no funnel or spices.
A reviewer wrote: "These things are pretty awesome! We started off by ordering two 12-packs. At first when we unpacked them and started sticking to the refrigerator, it didn't feel like they had a lot of magnetic strength to hold themselves up, and we were a bit worried about adding contents. But after transferring in one spice, then another, then another, these tins felt like they had more of a stick to the refrigerator being packed full. Now that all of the tins are full, we realize these tins have a surprising amount of magnetic strength after all."
Size: 3 Ounces | Number of Jars: 12 | Features: magnetic design; pre-printed clear labels and chalkboard labels
4. These Large-Capacity Jars For Bulk Spices
If you do a lot of cooking or buy your ingredients in bulk, these 8-ounce spice jars offer more capacity than any other option on the list — but keep in mind you'll need more space in your kitchen to store them. Made from thick, durable glass, they feature wide, 2.9-inch mouths for easy filling and measuring, and come with airtight lids for keeping spices or perishable ingredients fresh. However, they don't have inner lids for shaking or pouring. They're sold in sets of 12 or 24, and include blank white labels to help you stay organized and find just what you need, whether you choose to stick them on the lids or on the glass itself. However, a funnel and spices are not included. In addition to spices, these jars are ideal for storing items like nuts, seeds, and other dry ingredients.
A reviewer wrote: "Super easy to clean. I used these for my spices and they are the perfect size."
Size: 8 Ounces | Number of Jars: 12 or 24 | Features: blank white labels are included
5. A Set With Natural Bamboo Lids
Rather than twist-off lids, the airtight spice jars in this 12-piece set have bamboo lids with tight-sealing gaskets that keep moisture and pests out. Though they don't come with a shaker or sifter lid, the 8-ounce glass jars are larger than most and include 131 pre-printed spice labels, nine labels that have been left blank, and eight expiration date labels. The set doesn't come with spices or a funnel for transferring.
A reviewer wrote: "These are both stylish and functional. They arrived in a box and there is a nice envelope that lists the names of the labels by type: Spices, blends, herbs, roots... The bamboo lids are seal-tight and pretty. Looking forward to using these."
Size: 8 Ounces | Number of Jars: 12 | Features: bamboo lids; pre-printed spice labels, nine labels, and expiration date labels
6. The Mini Mason Spice Jars With A Small Footprint
The word "spice" is appropriately embossed on the sides of these 24 mini mason-style spice storage jars, and they have a traditional curved design that gives them a vintage feel. Each glass jar can hold 4 ounces of your favorite herbs and spices and has an optional sifter disc that fits under the twist-on metal lid. Measuring 1.5 inches across, the jars come with a funnel for mess-free filling, a marker, as well as preprinted and blank labels to customize your spice collection — but no spices. This pick boasts a high 4.8-star rating.
A reviewer wrote: "The jars are pretty, fit in my drawer upright, and have uniform and attractive stickers. [...] A teaspoon fits easily into the jar. My spices used to take up two whole drawers and were so tall they had to lie on their sides, but now they all fit in one."
Size: 4 Ounces | Number of Jars: 24 | Features: includes a collapsible funnel and pre-printed and blank labels
7. A Pre-Filled Set Of Square Spice Jars & A Storage Rack
This set of 16 square spice jars from Kamenstein comes in a versatile rack with a unique design that can sit flat in a drawer, hang on a wall, or prop up on the counter via the integrated stand for a stylish storage solution. Like the jars in the revolving storage set above, the spice cubes arrive pre-filled with a variety of spices and, when registered, include five years of unlimited free refills. Each cube holds around 4 ounces, according to a reviewer, and comes with a tight-fitting lid with integrated pour and sift flaps. While the dimensions aren't specified by the brand, one reviewer noted that the jars measure 2 inches across, offering ample room for measuring spoons, but there's no funnel included, so you'll have to supply your own if that's important to you. Unlike the other options on the list, these spice cubes don't come with labels and instead, have the name of each spice printed directly on the glass.
A reviewer wrote: "[...] They are such a great size and shape. I had intended them for inside a small pullouts drawer. But the wooden display rack is so nice, we may keep them out if we can find a place. They are not only a perfect size and shape and made of glass, but they also have the flip top so you can access your spices without unscrewing a lid first. You can also insert a teaspoon which I think is an important feature. These are what I would have designed if I was making my own.[...]"
Size: 4 Ounces | Number of Jars: 16 | Features: spice names are already printed on glass; spices are included; you'll get 5 years of free spice refills when you register with the brand
Also Great: A Small Funnel For Easy Spice Transferring
Transferring spices can be a tricky task, but this stainless steel funnel is designed for the job. Boasting a 4.7-star overall rating on Amazon after more than 2,000 reviews, it has a smooth surface and seamless-welded construction to ensure tiny spice grains and powders don't get stuck. (A word of advice: You'll want to avoid collapsible silicone funnels for this reason, as the folds and rubbery material will catch and hold on to spices.) The handle on the side enhances stability while you pour, and it's dishwasher-safe for easy cleaning.
A reviewer wrote: "This product is perfect for transferring bulk spices from their plastic bags into spice jars. Regular funnels have narrow, long openings so you end up having to push the spices through the funnel opening into the jar. Spices cling to plastic funnels. This funnel is perfect."
This article was originally published on