Twitch Streamers Share The Best Video Games To Play With Friends
You don't even need a console for most.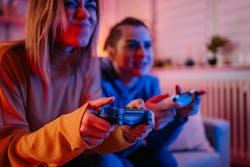 urbazon/E+/Getty Images
There's been a week-long lull in the group chat. After yet another round of lackluster Netflix suggestions and dim photos of everyone's dinner, you're officially out of things to talk about. If getting together isn't an option, there are other Zoom-less ways to engage with your friends from afar — like gaming. Even if you haven't thought about your Game Boy since it ran out of battery at sleep-away camp in 1998, there are plenty of video games that you'll be able to jump into, rusty thumbs and all. The best video games to play with friends will inspire some healthy competition and a lot of trash talking, which might be just what you need to revive the group morale.
According to seasoned Twitch gamers, playing video games with friends is a surprisingly connective experience. "It's just nice to hang out in a video game, especially since a lot of us are staying in," Bee, 32, a Final Fantasy streamer, tells Bustle. "My friends and I often hang out in voice chats while we play together too," Bee says, adding that gaming with friends is sort of like talking on the phone without the pressure of having to drive the conversation. "Sometimes we won't even be playing the same game but just hanging in voice chat, playing parallel, just to keep in touch," she says.
Gaming is on such a come-up that Instagram noted its popularity in a 2022 trend report, sharing that 40% of teens and young adults expect to see more video game trends in 2022. Read: if there was ever a time to dig out your old console, it's now. What's more, there are tons of popular games that you can play online or on your phone. No controller finger cramps necessary.
Here are are six video games to play with your friends to shake things up.