15 Conversation Starters For Group Chats During Quarantine
"What's Something You're Grateful For?"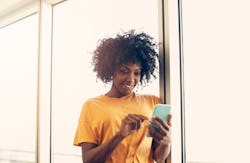 Brainsil/E+/Getty Images
At this point, you're propbably craving your favorite restaurant, in dire need for a manicure, and really miss your friends. But even though your friends are just a text or call away, the stress from staying home due to the coronavirus pandemic (adding on to the fact that you probably haven't done anything super exciting in a while) can make it hard to find things to talk about. If that's the case, you may need some help thinking of conversation starters for your group chats so you can stay connected.
If it's been hard trying to start conversations with even your closest friends lately, it's totally OK — it doesn't mean anything about the bond you share with your friends. Instead, it probably has to do with how you're all mentally coping with adjusting to life in quarantine. From worrying about getting sick to not being able to go outside as much as you'd like, quarantine can really take a toll on your mental health. And while keeping up with your friends can be a great way to improve your mood, sometimes it's hard to think of what to say to them when you're all dealing with the same, intense stresses.
So, to help you out, here are 15 text starters you can use in your next group chat to really get the conversation going.