21 Text Messages That'll Make Your Mom Laugh On Mother's Day
#12: Acknowledge you're the favorite.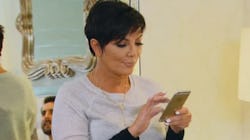 E!
Let's be honest: As much as you wish that notification buzz was your latest love interest, it's probably your mom. One day you'll begin to appreciate her inquiries about your whereabouts, or even her daily check-ins, or that day may have already come. The only thing Mom loves more than sending her children a text is receiving one, and what better way to brighten her spirit this Mother's Day than by one of these funny Mother's Day text ideas to send to your mom? You'll obviously be penning a gracious greeting card for her as well, but you can't let a day go by without a text conversation.
Whether you're the kind of kid she'd expect it from or not, a funny text will give mom a chuckle. And isn't the whole point of the day is to keep a smile on your mom's face? Some would even consider laughing to be the greatest gift. Plus, all those text alerts blowing up her phone will make her feel appreciated — just as a bouquet of flowers would. So forget the floral arrangement (or don't) and make sure your mom is laughing all day with a string of funny text messages.
This article was originally published on