Pret & Costa's Coffee Is The Strongest On The High Street, According To Which?
Not all caffeine is created equal.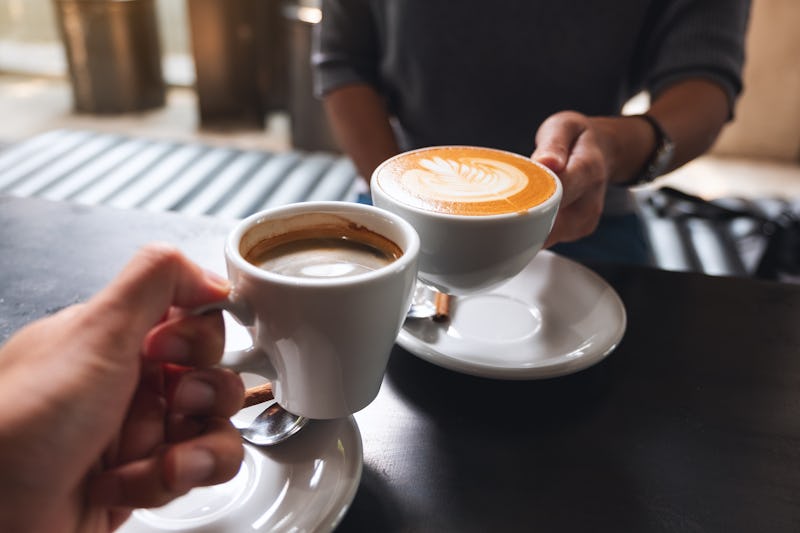 Shutterstock
With Costa, Pret, Starbucks, Caffe Nero, and Greggs on just about every corner, coffee lovers are spoiled for choice when getting their caffeine fix on the British High Street. However, a recent study found that the caffeine levels in some of our favourite beverages "vary significantly" depending on where you purchase them. Intrigued? Me too.
Research conducted by the consumer group Which? compared the amount of caffeine in espresso, cappuccino, and filtered coffee drinks at the five aforementioned coffee shop chains, and found some "huge differences."
For example, Costa Coffee's medium cappuccino was found to be the strongest with 325mg of caffeine — almost five times more than Starbucks' cappuccino, which contains 66mg of caffeine. As for espressos and filtered coffee, Pret came out on top with 180mg and 271mg of caffeine, respectively.
"Our research shows you may be consuming significantly more, or less, caffeine than you bargained for," Which? nutritionist, Shefalee Loth, said in a statement, adding that some consumers should be more aware of the caffeine levels in their beverages of choice. "Most of the time this shouldn't be an issue but if you drink a lot of coffee or need to limit your caffeine intake you might want to consider what you're ordering and where from," Loth added.
In a statement to the BBC, a Costa Coffee spokeswoman said they "encourage customers to be aware of the caffeine content in their favourite Costa coffee to ensure it is right for their dietary requirements or lifestyle choice."
A daily intake of 300-400mg of caffeine (which adds up to roughly three or four cups) is "fine for most people" and can have certain health benefits. However, the NHS recommends that some coffee drinkers should monitor their caffeine intake depending on the status of their health.