What Your Zodiac Sign Can Teach You About Breaking Up In Quarantine
Some signs will have an easier time than others.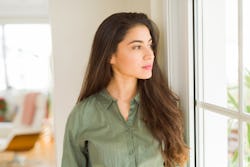 Shutterstock
A few months ago, you and your partner thought it would be cute to play house and social distance together. Now you're sitting on your couch alone — single and social distancing by yourself. Apparently, spending nearly 24/7 stuck at home with someone isn't something everyone can do, and you and your SO realized that a few months back. Going through a breakup is hard enough as it is, but how do you deal with a breakup during quarantine? Short answer: Let your zodiac sign be your guide.
As astrologer Elisa Robyn, Ph.D., tells Bustle, some zodiac signs will have an easier time dealing with a breakup during quarantine. For example, Taurus excels at being present in the moment and often needs more downtime than others. "They don't like to be rushed or pushed and find peace in a bit of solitude," Robyn says. "After a breakup, Taureans will want to watch TV alone, cook some great food, and heal their wounds in private." Aquarius and Pisces also prefer to deal with breakups solo, so having all this time to themselves can be very helpful.
If you're going through a breakup during quarantine, here's what an astrologer says you can do to heal, based on your sign.