How To Advocate For Gun Control Every Day
There are so many ways you can get involved.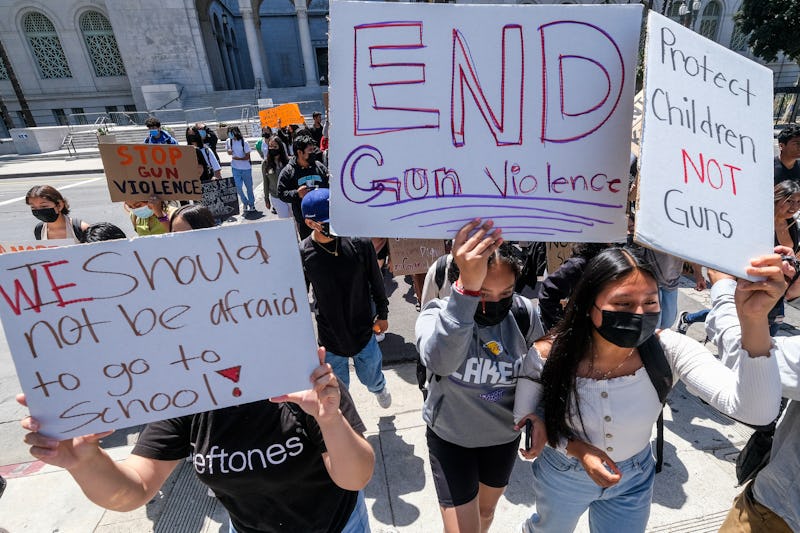 RINGO CHIU/AFP/Getty Images
On May 24, a gunman shot and killed 19 children and two teachers at Robb Elementary School in Uvalde, Texas. The incident was the 213th mass shooting of 2022 in the U.S., according to Gun Violence Archive, and occurred just 10 days after a gunman attacked the residents of a predominantly Black neighborhood in Buffalo, New York, killing 10 people. As the nation grapples with the insurmountable grief of these preventable deaths, many citizens have felt a deepened urgency to put a stop to this ongoing violence by pushing for gun reform.
According to a Morning Consult/Politico poll published in May 2022, over 59% of registered voters thought it was important to pass stricter gun control laws. A recent report from Everytown for Gun Safety Support Fund, the education, research, and litigation branch of the national organization, analyzing states' gun control laws and gun violence fatalities has also proven a direct correlation between the two: The states with the weakest gun control laws have nearly three times the amount of gun violence deaths as states with the strongest.
Still, despite clear evidence of the lifesaving potential of gun control laws, government officials refuse to vote on bills such as H.R. 8, which would close loopholes in background checks. Meanwhile, mass shootings, defined as a shooting incident with four or more victims, continue to occur across the country — with 20 reported since the Uvalde shooting alone. As the cycle of grief followed by inaction continues, many citizens have been left feeling hopeless, neglected, and numb. However, advocates say it's crucial for citizens to remain involved in the fight for gun reform.
"The antidote to despair is action," says Nicole Golden, executive director of Texas Gun Sense, the only statewide gun violence prevention organization in the state. "This takes all of us, so jump in."
If you are looking to channel your grief into change, here are some key ways you can advocate for gun control — today and every day.
1. Reach Out To Local Lawmakers
The most impactful gun control laws typically rest with local officials, with states like New York and California immediately strengthening gun control laws following the shootings in Buffalo and Uvalde. "Often the public's focus tends to be on the federal level," says Golden. "Never underestimate the power of state and local lawmakers to effect change we need to see that impacts our day to day lives."
Golden says that some key issues that your local lawmakers have the power to address are closing loopholes on background checks, enacting "red flag" laws, and encouraging city officials to "invest in community violence intervention programs in areas most impacted by daily gun violence."
If you're unfamiliar with your state's gun laws, or how to reach your local representatives, the Giffords Law Center annual Gun Law Scorecard is a great place to start. The map summarizes your state's overall gun law strength, key changes that have been made in the past year, where your state has room to improve, as well as each state governor's contact information. You can use your state's "room for improvement" list as a script of points to highlight while contacting your representatives. You can find your state's members of Congress here, and you can find your state governor here. Click through to their websites to contact them.
You can also use resources like Gun Sense Voter to find candidates in your area with proven track records for gun control advocacy. With the midterm elections coming up in November, you can support these candidates by donating to their campaigns, canvassing for them, and making a voting plan.
2. Donate To Local & Nationwide Gun Reform Organizations
If you have the means, donating to a gun violence prevention organization is another way to support the fight for gun control. When looking for an organization to support, Golden again recommends thinking local.
"Supporting local work and small orgs is super important," she says. Since the work of local organizations is often tailored to the specific needs of their community, supporting their work can create more tangible change in your area. That might look like pressuring local officials to pass laws or policies that would prevent gun violence, offering material support to communities impacted by gun violence, organizing local education programs, and more. Plus, local organizations typically have smaller budgets than national organizations, which means that your support can go a long way.
Research local organizations in your state, or look for local chapters of nationwide organizations. "Many of us [local organizations] lean on them for great research and resources that we can share," says Golden. The Sandy Hook Promise and Moms Demand Action both have chapters in all 50 states. Another national organization is Everytown, which operates across the U.S. through grassroots chapters to research and advocate for gun violence prevention solutions. Jordan Klepper, a correspondent for the Daily Show and host of the political satire special Jordan Klepper Solve Guns, has compiled an extensive list of organizations by region that focus on gun violence prevention and awareness.
3. Volunteer
One of the most impactful ways to get and stay involved in the gun violence prevention is by joining an organization as a volunteer. Golden highlights the fact that many organizations can quickly activate volunteers in a variety of roles. You can apply your own personal experience to make a difference — whether you're interested in organizing fundraisers and education programs, or want to apply technical skills like translation, graphic design, or editing to gun reform campaigns.
Be on the lookout for local orgs, or seek out statewide chapters of national organizations like Moms Demand Action, Sandy Hook Promise, Everytown, Gun Sense Voter, Students Demand Action, and more.
In volunteering, you'll also be in community with people who feel similarly about gun control, which can help you to remain hopeful in the fight for change and offer new ways to deepen your understanding of gun violence prevention. "I was a Moms Demand Action founding leader and it definitely changed who I am and offered me a community," Golden says.
4. Stay Informed
Knowledge is power, and staying informed on current gun-related legislation and concerns can empower you to spread awareness and fight for more effective solutions. Even if you keep up on local and national news, there are many gun violence-focused sources that can offer a deeper perspective on the country's gun violence crisis, as well as how to stop it.
Some sources that Golden recommends are Johns Hopkins Center for Gun Violence Solutions, Giffords, Everytown, and The Trace. Many of these websites offer mailing lists that you can sign up for to stay in the loop on current news.
5. Start Conversations In Your Community
One of the most crucial, and sometimes most difficult, steps in advocating for gun control is initiating conversations with those in your community. "It's a tough issue but so important to learn and discuss rather than assuming this is 'too political' and pushing it aside," says Golden.
Golden proposes discussing is asking the gun owners you know if they store guns safely. You can direct them to the Be SMART framework for gun safety, which can protect people living in households with guns from becoming victims of gun violence. You can also educate loved ones on Extreme Risk Orders, which temporarily suspend someone's access to firearms when they are showing signs of crisis. They can be a lifesaving intervention.
For those in your life who are not gun owners, you can initiate crucial conversations about gun violence prevention and work to mobilize together. You can make plans with loved ones to volunteer together, or discuss how to offer support if your local community has been impacted by gun violence.
"Find common ground," says Golden, "You will find that most of us share more in common on this issue than it may seem. You will be on the right side of history."