How To Make TikTok's Hot Cross Lamb Burger
Celebrate Easter with this sweet and savoury twist on a roast dinner.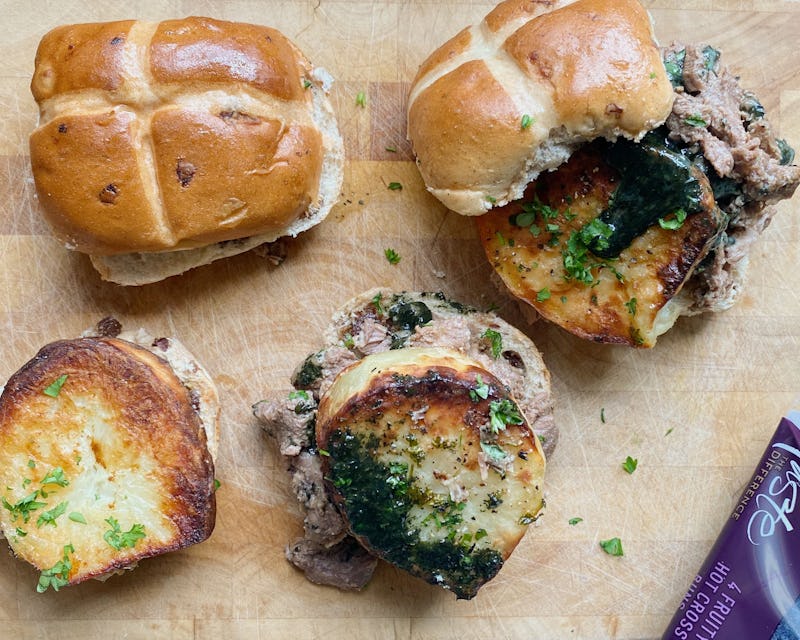 Courtesy of Sainsbury's
Whether it's feta pasta or dalgona coffee, TikTok has blessed us with plenty of tantalising new recipes over lockdown. If you're looking to shake up your Easter roast, then the app is a great place to go for inspiration. Imagine all of a roast dinner's best bits sandwiched between two halves of a hot cross bun. That's right, Tiktok chef Poppy O'Toole AKA Poppy Cooks, in collaboration with Sainsbury's, created a hot cross bun stuffed with roast lamb, along with a mint glaze and roast potato topping.
With the first lockdown restrictions lifting next week, over half the nation plans to spend Easter weekend outside with loved ones. This sweet and salty treat makes the perfect alternative to a traditional Easter lunch. After all, it's been a very untraditional year, so why not try out this mouthwatering recipe from Poppy Cooks?
How to make Hot Cross Lamb Burger:
Ingredients
2 sprigs of rosemary, leaves removed
2 sprigs of thyme, leaves removed
1 lamb stock cube, dissolved in 400ml boiling water
For your marinade, blend together the garlic, cinnamon, cayenne, coriander, rosemary, thyme, olive oil and salt and pepper. Preheat your oven to 170°C fan.
Make sure your lamb is at room temperature before piercing some holes in it so you can really rub the marinade in. Place the flavoured lamb into a deep baking tray with the lamb stock, cover in foil and place in the oven for four hours. When there's roughly an hour left on the lamb, it's time to get started on the roasted potatoes.
Courtesy of Sainbury's
Courtesy of Sainbury's
Peel and chop the potatoes into chunks and place in a saucepan of cold salted water. Put them on to boil for around 15 minutes until they're tender and falling off the end of a knife. Whilst they're on the boil, place a tray of oil in the oven to get hot. Once the potatoes are boiled and tender, drain them and leave them to steam dry with a tea towel covering them for about 10 minutes. Then place them in the tray of hot oil and put it back in the oven for another half an hour before taking out the lamb.
Once the lamb is done, remove it from the oven and turn up the heat to 210°C to get some more colour on the potatoes. Leave them to cook until they're golden and crispy. Remove the foil from the lamb and fork it into lovely long strips of tender meat.
Toast your hot cross buns, lather the mint sauce on the buns and top them with shredded lamb. Finally, fill the buns with crispy roasted potatoes. Attempt to fit the bun top on and get munching away.