7 Apps To Download If You Want Your IG Grid To Have A Theme
Achieve the esthetic of your dreams.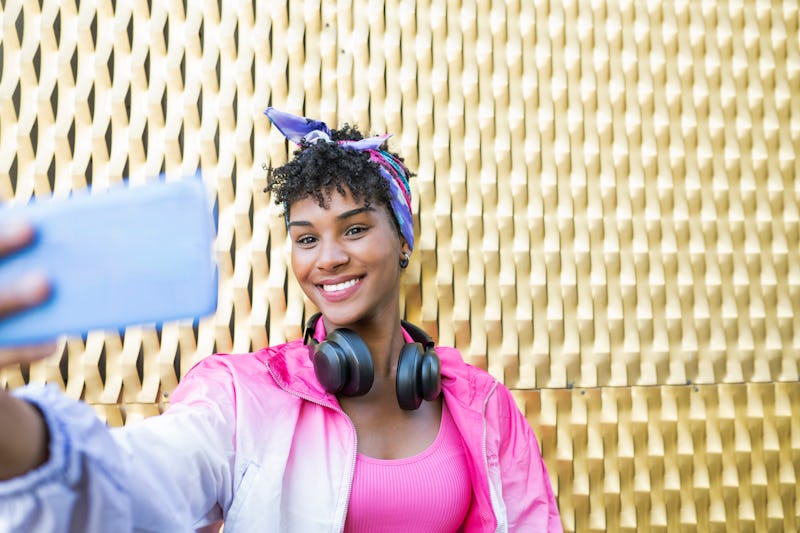 Westend61/Westend61/Getty Images
If you're a budding Instagram influencer or just want to have an Instagram aesthetic that you love, planning your Instagram grid is super important. And I'm not just talking about figuring out when to post or how often. Do the colors go together well? Are filters consistent? Is there a theme? All of these are essential to your "perfect" feed. It can be hard to figure that out if you post pictures as you take them, but apps that let you preview your Instagram grid before posting a photo can help.
We all know finding the perfect Instagram aesthetic is an art. If you look at accounts of famous bloggers like Tara Milk Tea, Amra Olvević Reyes, and Asiyami Gold, you'll see that on top of making sure each of their individual pictures looks incredible, they clearly pay attention to how their Instagram grid layout looks as a whole. Whether this means utilizing the color wheel to keep your Instagram grid colorful or giving all of your pictures the same dulled-out filter, the choice is up to you. But this type of feed doesn't just come out of guessing which photo will look the best next to your last post. No — you need the help of a professional. And in this case, the professional is an app.
Why Should You Use An Instagram Planning App?
An Instagram feed planning app is a great idea for those who are trying to increase either A) followers or B) engagement on their account. There are other ways of increasing followers, and therefore engagement levels, like investing time in making creative Instagram stories, sharing live videos, or creating an Instagram Reel. However, the aesthetically pleasing Instagram feed may be the most important, and surest way to reach your goals, quicker.
When users view your Instagram account, the first thing they notice is the feed. And although it has recently become a trend to have an almost "imperfect" feed in the recent months, it's still a good idea to plan out what you're going to post, for aesthetic purposes, of course. Curating your feed doesn't have to be hard, and these apps make it easy for anyone to have their feed looking influencer-esque in no time.
If You Don't Want To Use An App...
Sometimes people don't want to log their credentials into a third-party app, and that's totally OK. If you're one of those people, consider opting for the infamous "Finsta" account. And if you don't know by now, a Finsta is essentially a "fake Instagram." The premise is simple: You can use this account as a private Instagram for you and your closest friends or use it as a planning device to see what pictures will look good on your real feed — the choice is up to you!
But in the case that you do, here are seven Instagram grid apps that will help you achieve the Instagram aesthetic of your dreams.
This article was originally published on