If You're Messy AF, These 40 Tricks Are Life-Changing
We only recommend products we love and that we think you will, too. We may receive a portion of sales from products purchased from this article, which was written by our Commerce team.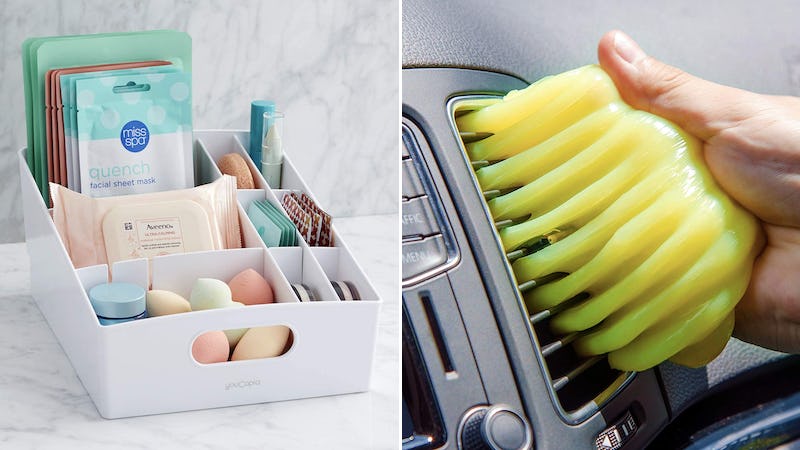 Amazon
If the rush of everyday life means you struggle to keep things tidy and clean, you don't have to resign yourself to being messy forever. There are tons of products that can actually help. These life-changing things can help you reel in the messes and prevent future ones at home, in the car, or in your office.
When it comes to preventing messes, look for products that can literally keep them contained. At home, consider snagging a bar soap dish, a spoon rest with multiple slots, or some laundry-detergent drip catchers to keep sticky residues from building up on household surfaces. Keeping your car clean is no easy feat, but coasters for your cup holders can collect drips and crumbs — and if they're dishwasher safe, they're convenient to clean, too. Need to clean dust in the cracks in your car's air vents? Opt for a reusable putty-like cleaning gel — and try using it on your keyboard, too.
Other products — like organizers and shelving — can give you more storage space and help wrangle existing clutter. There's a huge range of versatile organization products that are designed for everything from beauty products to kitchen tools to desk accessories. Installing some extra shelves can maximize wall space in various rooms in your house, and even in the shower. Or if you're looking for a place to put sleep essentials but can't fit a nightstand next to your bed, opt for a shelf that attaches to the bed frame.
If you're messy, you'll find a shortlist of super-easy ways to curb everyday messes.
This article was originally published on