21 Latinx-Owned Etsy Shops For Candles, Jewelry, & Skincare
Let's say a brief prayer for your bank account.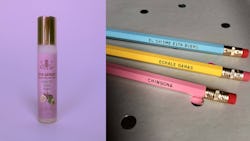 Etsy/Bustle
Sept. 15 marked the start of Latinx Heritage Month 2020. One way to celebrate from the comfort of your couch is by shopping and supporting Latinx-owned Etsy shops, something you can certainly continue doing after Latinx Heritage Month ends on Oct. 15.
If you're looking to start supporting small businesses, especially those owned by BIPOC, Etsy is a great place to start. Between 2019 and 2020, Etsy doubled its number of Black and Latinx employees, a goal initially set to be completed by 2023. Though there aren't hard numbers on the diversity in Etsy store ownership, the company has made a concerted effort to make it easier to find stops owned by people from underrepresented backgrounds.
In addition to searching phrases like "Latinx owned" — which can help direct you to shops run and founded by Latinx people across the country — Etsy has a handful of curated shops picked by editors. Their list of Black-owned Etsy shops, for example, has people who make everything from custom prints to baby apparel to pet gear.
So, attend a few virtual Latinx Heritage Month celebrations. Follow Latinx activists on social media. Then, make your way over to Etsy to refresh everything from your wall art to your wardrobe. Before we proceed, let's say a brief prayer for your bank account.
Happy shopping!